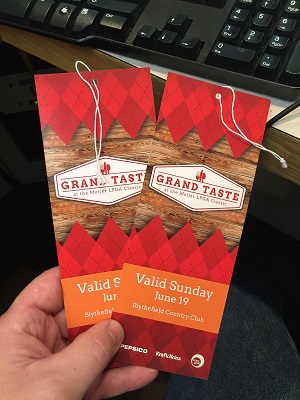 I'm always a little hesitant about an event the first year it is held. There are usually a lot of little kinks that need to be worked out. Usually by the second or third year, an event runs pretty smoothly.
This year, at the Meijer LPGA Classic, they added what they called "Grand Taste" (proceeds will go to the Meijer Simply Give program). It was a chance to check out food from various restaurants, and beverages from several different breweries (some great Michigan craft beers among them).
I expected to go and find a small tent set up some where at Blythefield Country Club. Once Inside I was expecting tiny samples, and maybe limits as to just what you could eat or drink. With this weekend's heat, , I figured the inside of that tent would be sweltering. I thought to myself, "this will be a day of sweating off all the calories you consume".
Boy, I could not have been more wrong!
My trip to the "Grand Taste" started by parking at Rockford High School. I was told there would be a shuttle that would take me from there, to Blythefield Country Club. Once again, my expectations were low. I was anticipating a school bus ride over to the golf course in vehicle with no air conditioning. (When I was in school, no buses had air conditioning…has that changed?). To my surprise they had several charter buses lined up to take spectators to their destination. The shuttles ran every couple of minutes. Within about 2 minutes of me boarding the bus, I was on my way to "Grand Taste".
Upon arrival, I walked over to the main "tent" for "Grand Taste". First, it was not a tent at all. Instead it was a metal structure with the front wide open so that those inside could see a view of the course. Once I got inside, I kind of felt like Dorothy when see got the first glimpse of "Oz"! I could not believe what a GRAND job Meijer had done putting this showcase of restaurants, breweries and products together. This wasn't just a few temporary tables and cheap banners. The set up was GRAND to say the least. And, despite the weather being near 90, they had air conditioner units which kept the main area very comfortable.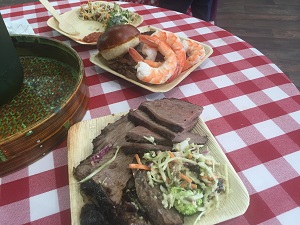 I decided to get in line for my first "sample". I chose to go right for the meat! Expecting a small, thinly sliced piece of steak…I was shocked when the plate was basically filled with the meat samplings…cooked just the way I requested it. This plate alone was almost the size of a meal at some restaurants. From there I tried out a few adult beverages (there were also sodas, water, smoothies and juices for those who didn't want any alcohol). I was able to sample a few of the beers I have been wanting to try. This way I didn't have to buy a whole bottle. I was able to try the beer in a reasonably sized glass. If I wanted more, I was not limited. I just had to return to the display for another pour.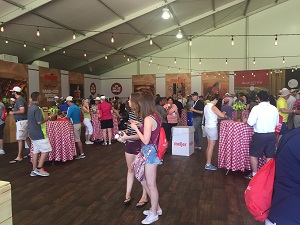 From here we moved to the second structure. Much like the first one, this was also set up with various restaurants and beverage samplings — an air conditioned. I also ran into "Mr. Peanut"! (As you can see in the picture below, I had stuffed myself with a lot of excellent food by that time! The diet starts Monday!)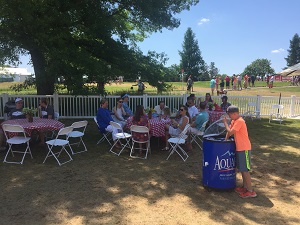 Between the second and third areas (Yes, there were three areas!) you could find several tables for people to sit around and enjoy not only GRAND food, but GRAND conversation with friends, family and maybe new acquaintances. The final area was even more food and beverage pouring stations.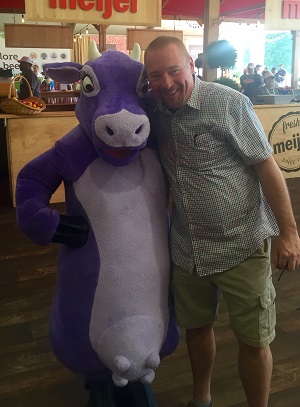 By the time I left the "Grand Taste" I was fat and full. Before I departed, I stopped back into the first building to get some Purple Cow ice cream before heading out. (I had to stop and get a picture with the Purple Cow!) They also has "Sandy" the mechanical horse on the scene! If people would not have looked at me so strangely, I might have climbed up on her back and went for a ride…just for a photo opportunity of course!
Once leaving, it was back on the shuttle bus back to Rockford High School to get to my car. Once again, the bus departed within just minutes of me getting on the bus. There was not a wait at any time for the shuttle.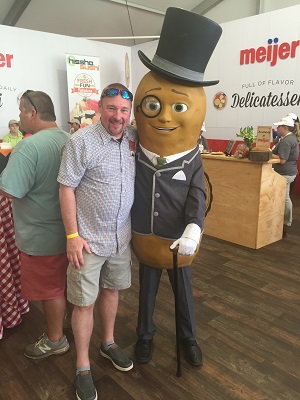 This event could not have been any better. (No wait, I could have worn a looser fitting shirt and shorts!) It cost just $25 for a day of all the food and drink you could consume. I was stuffed by the time I left, only to head to my parents for a Father's Day dinner. (Like I said, the diet starts tomorrow!)
Good job Meijer… no, GRAND job!
Update from News Release on July 7, 2016: The inaugural Grand Taste event had more than 10,000 attendees.