Here is a chance for you to help support Paws With A Cause!
Back in the mid 80's I was hosting a public access television show here in the area. One of the guests I had on that show was a man named Mike Sapp. He founded an organization called Ears for the Deaf. The organization trained Hearing Dogs. Around that same time, Ears for the Deaf trained their first Seizure Response Dog.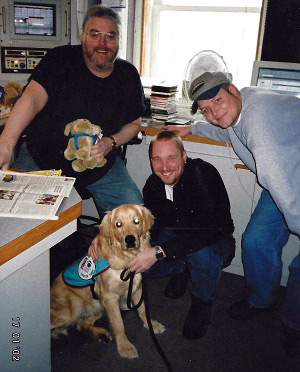 I remember being amazed at just what the dogs could do for people with handicaps. Besides being the "ears" for a deaf person, they also could perform many other duties for people with handicaps. I remember Mike having  a dog pick up a dime off the floor and give it to me. When I saw for myself all the ways these dogs could help, I was hooked. How could you not support an organization that involved dogs — and also help assist people with handicaps. It was a win/win as far as I was concerned.
The organization continued training Assistance Dogs and would become known as Paws With A Cause® in 1989. Mike is still there! He continues to lead this great organization well into this decade.
In 2016, Paws With A Cause® trains a variety of Assistance Dogs:
Over the years I have had many experiences with this great organization. (Here is a picture from 2002 when PAWS stopped by WGRD with one of their great dogs.) I continue to praise the work they do, and help support them whenever, and however I can…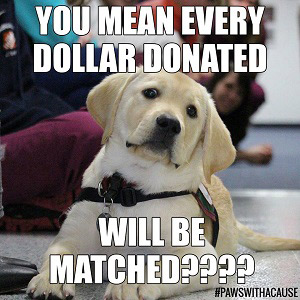 So, what are you THANKFUL for this year?
At Paws With A Cause®, they are thankful for people who support their mission to enhance the independence and quality of life for people with disabilities through custom-trained Assistance Dogs.
As the season of Thanksgiving approaches, they are putting together a fundraising campaign called "Paws To Be Thankful". The goal is to raise $40,000 in just 16 days, which covers the cost of creating a future client dog team from puppy to placement!
Starting Monday, November 14 through Tuesday, November 29, YOU can help them reach their goal by making a donation of support (you CAN donate early)! Like last year, I have put together a donation page to make this process as easy as possible. I set a goal of $1,000 on my fundraising page and have made the first donation to get things started. If you would like to make a donation, here is the website to do so:
http://pawswithacause.donordrive.com/participant/scottwinters2017
Every little bit helps and I greatly appreciate your donations!
Plus, THANKS to an anonymous donor, every dollar donated will be matched! So $1 becomes $2, $5 becomes $10, $25 becomes $50…you get my point!
In August, I was invited by Paws With A Cause® to one of their lunches. After we had a chance to eat and learn more about the organization, they gave us a tour of their facilities. As part of that tour, we were able to see a dog who is currently undergoing training. She was able to show us some of what she had learned. Her task was to get a client's medicine out of the refrigerator. Here is a video from that demonstration…