This is another one of those deaths where you may not know the person's name, but you will know them for that they did.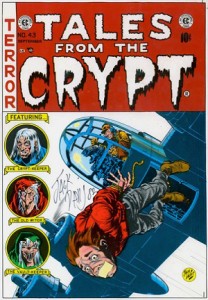 If you ever read EC Comics like "Tales from the Crypt" and "MAD" magazine, you have seen the artwork of Jack Davis. Davis died on Wednesday, July 27th, 2016 at the age of 91.
He did illustrations for "MAD" magazine for decades. His final cover for the magazine was in 1995. It featuring Alfred E. Newman plunging Howard Stern into a toilet bowl.
Along with "MAD" Magazine, you could also see Davis' work on the cover of "Time" and "TV Guide". Davis was also responsible for several movie posters, including "It's a Mad, Mad World" and Woody Allen's "Bananas."
To read more about the life of Jack Davis, here is his page on wikipedia.org.
Here are more examples of his work: www.americanartarchives.com.
And here is a gallery of his work on Flickr.com.