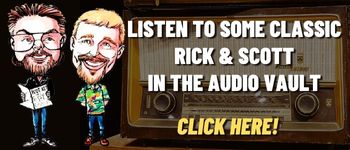 A quick look at Today in History, check out some Celebrity Birthdays, and find out what Days of the Year to celebrate.
TODAY IN HISTORY:
1797 – Albany became the capital of New York state, replacing New York City.
1808 – The United States prohibited importation of slaves from Africa.
1818 – English author Mary Shelley's novel "Frankenstien" was published.
1840 – The first recorded bowling match was recorded in the U.S.
1863 – President Abraham Lincoln signed the Emancipation Proclamation, which declared that all slaves in the rebel states were free.
1870 – The Grand River Valley Railroad began service when it's first train (Engine "Muskegon" and six cars) arrived in Grand Rapids, MI from Jackson, MI.
1879 – The present State Capitol building in Lansing, MI was dedicated.
1892 – Ellis Island Immigrant Station formally opened in New York, NY.
1892 – Brooklyn and New York merged to form the single city of New York.
1895 – In Battle Creek, MI, C.W. Post created his first usable batch of Monks Brew (later called Postum). It was a cereal-based substitute for caffeinated drinks.
1902 – The first Tournament of Roses (later the Rose Bowl) collegiate football game was played in Pasadena, CA between Michigan and Stanford.
1909 – The first payments of old-age pensions were made in Britain. People over 70 received five shillings a week.
1913 – The post office began parcel post deliveries.
1916 – The Pantlind Hotel (now the Amway Grand Plaza) opened to the public in Grand Rapids, MI.
1924 – Frank B. Cooney received a patent for ink paste.
1926 – The Rose Bowl was carried coast to coast on network radio for the first time.
1934 – Alcatraz Island officially became a Federal Prison.
1934 – The Federal Deposit Insurance Corporation (FDIC) began operation.
1939 – The Hewlett-Packard partnership was formed by Bill Hewlett and Dave Packard.
1942 – President Franklin D. Roosevelt and British Prime Minister Winston Churchill issued a declaration called the "United Nations." It was signed by 26 countries that vowed to create an international postwar World War II peacekeeping organization.
1954 – NBC made the first coast-to-cost color broadcast when it telecast the Tournament of Roses Parade. There were public demonstrations given across the U.S. on prototype color receivers.
1959 – Fidel Castro overthrew the government of Fulgencio Batista, and seized power in Cuba.
1971 – Tobacco ads representing $20 million dollars in advertising were banned from TV and radio broadcast.
1972 – Michigan lawmakers reduced the legal drinking age from 21 to 18. It remained in effect for seven years (until a petition drive to change it).
1975 – The magazine "Popular Electronics" announced the invention of a person computer called Altair. MITS, using an Intel microprocessor, developed the computer.
1983 – The ARPANET officially changed to using the Internet Protocol, creating the internet.
1984 – AT&T was broken up into 22 Bell System companies under terms of an antitrust agreement with the U.S. Federal government.
1985 – VH-1 premiered as an adult contemporary music video channel with Marvin Gaye's "Star Spangled Banner" video.
1985 – The Internet's Domain Name System was created.
1990 – David Dinkins was sworn in as New York City's first black mayor.
1992 – The ESPN Radio Network was officially launched.
1993 – The TV show "Dr. Quinn Medicine Woman" premiered.
1994 – The North American Free Trade Agreement (NAFTA) went into effect.
1995 – The Gary Larson cartoon, "The Far Side", appeared in daily newspapers for the last time. It first appeared on December 31, 1979.
1998 – A new anti-smoking law went into effect in California. The law prohibits people from lighting up in bars.
1999 – The euro became currency for 11 Member States of the European Union. Coins and notes were not available until January 1, 2002.
1999 – In California, a law went into effect that defined "invasion of privacy as trespassing with the intent to capture audio or video images of a celebrity or crime victim engaging in a personal of family activity."
1999 – Two new networks, Biography and DIY Network, debuted.
2007 – Binney & Smith Company became Crayola LLC under its parent company Hallmark.
BIRTHDAYS:
Frank Langella – 85 years old (1938) – Actor ("Frost/Nixon", "Superman Returns", "Good Night and Good Luck", "Lolita", "Dave", "Dracula", "The Mark of Zorro", "The Twelve Chairs", "Diary of a Mad Housewife")
Don Novello – 80 years old (1943) – Comedian ("Father Guido Sarducci" on TV's "Saturday Night Live")
Ren Woods – 65 years old (1958) – Actress (TV's "Roots", movie "Hair")
Dedee Pfeiffer – 59 years old (1964) – Actress (TV's "For Your Love", "Cybill")
Morris Chestnut – 54 years old (1969) – Actor ("Like Mike", "The Best Man", "Boyz n the Hood", TV's "V")
TODAY IS:
For additional information check out websites like: www.on-this-day.com, www.born-today.com, www.famousbirthdays.com, www.daysoftheyear.com, and www.nationaldaycalendar.com.