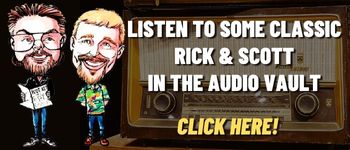 A quick look at Today in History, check out some Celebrity Birthdays, and find out what Days of the Year to celebrate.
TODAY IN HISTORY:
1866 – The metal screw, clamp skate was patented by Everett Barney.
1896 – The first five-player college basketball game was played at Iowa City, IA.
1909 – Ernest Shackleton's expedition found the magnetic South Pole.
1919 – The 18th Amendment to the Constitution, which prohibited the sale or transportation of alcoholic beverages, was ratified. It was later repealed by the 21st Amendment.
1920 – Prohibition went into effect in the United States.
1961 – Mickey Mantle signed a $75,000 per season contract with the New York Yankees that made him the highest paid baseball player in the American League.
1970 – Buckminster Fuller, the designer of the geodesic dome, was awarded the Gold Medal of the American Institute of Architects.
1974 – Peter Benchley's novel "Jaws" was published.
1976 – The TV show "Donny & Marie" premiered on ABC.
1985 – "Playboy" magazine switched its binding process, which eliminated the staples that were always an element of its nude centerfolds.
1986 – The first meeting of the Internet Engineering Task Force took place.
1988 – Jimmy "The Greek" Snyder was fired as a CBS sports commentator one day after telling a TV station in Washington, DC, that, during the era of slavery, blacks had been bred to produce stronger offspring. The comment worked its way to national television, and although Snyder apologized, his TV career was over.
1998 – Researchers announced that an altered gene helped to defend against HIV.
1991 – The White House announced the start of Operation Desert Storm. The operation was designed to drive Iraqi forces out of Kuwait.
1995 – The TV show "Star Trek: Voyager" premiered on UPN.
1996 – Janet Jackson signed an $80 million recording contract with Virgin Records. It was supposedly the biggest such deal in music history at the time.
1998 – NASA officially announced that Astronaut turned Senator John Glenn would fly aboard the Space Shuttle Discovery in October.
1998 – It was announced that Texas would receive $15.3 billion in a tobacco industry settlement. The payouts were planned to take place over 25 years.
1998 – Three federal judges secretly granted Kenneth Starr authority to probe whether President Bill Clinton or Vernon Jordan urged Monica Lewinsky to lie about her relationship with Clinton.
2003 – The Space Shuttle Columbia blasted off for mission STS-107 which would be its final one. Columbia disintegrated 16 days later on re-entry.
2004 – Michael Jackson pleaded not guilty to child molestation charges at his arraignment in Santa Maria, CA.
2005 – The TV cooking show "Iron Chef" made its debut in the United States.
2009 – The movie "Paul Blart: Mall Cop" debuted in theaters.
2009 – The iTunes Music Store reached 500 million apps downloaded.
2018 – A spectacular fireball meteor lit up the skies in southeast Michigan. The estimated time of the meteor was 8:08 pm. The fireball was also seen from seven states from E. Iowa to W. Pennsylvania plus SW Ontario, Canada. The resulting explosion created a thud strong enough to register as a 2.0 magnitude earthquake.
2018 – The Dow Jones industrial average closed above 26,000 for the first time.
2020 – The first impeachment of Donald Trump formally moved into its trial phase in the United States Senate.
2020 – The United States Senate ratified the United States–Mexico–Canada Agreement as a replacement for NAFTA.
BIRTHDAYS:
A.J. Foyt – 88 years old (1935) – Retired auto racing legend
Barbara Lynn – 81 years old (1942) – Singer ("You'll Lose A Good Thing")
Ronnie Milsap – 80 years old (1943) – Singer ("There's No Gettin' Over Me")
Jim Stafford – 79 years old (1944) – Comedian, musician, singer ("Spiders & Snakes", "My Girl Bill", "Wildwood Weed", TV's "The Jim Stafford Show")
Dr. Laura Schlessinger – 76 years old (1947) – Radio host
John Carpenter – 75 years old (1948) – Horror and science fiction movie director ("Halloween", "The Fog", "Escape from New York")
Debbie Allen – 73 years old (1950) – Actress, dancer, choreographer (TV's "Fame", "All of Us", "In the House")
Sade – 64 years old (1959) – Singer
Maxine Jones – 58 years old (1965) – Singer (En Vogue)
David Chokachi – 55 years old (1968) – Actor (TV's "Witchblade", "Baywatch", "Beyond The Break")
Kate Moss – 49 years old (1974) – Model
Yvonne Zima – 34 years old (1989) – Actress (TV's "The Young and the Restless")
TODAY IS:
International Hot and Spicy Food Day
National Appreciate a Dragon Day
National Religious Freedom Day
National Without a Scalpel Day
For additional information check out websites like: www.on-this-day.com, www.born-today.com, www.famousbirthdays.com, www.daysoftheyear.com, and www.nationaldaycalendar.com.