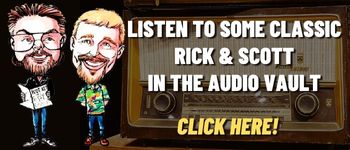 A quick look at Today in History, check out some Celebrity Birthdays, and find out what Days of the Year to celebrate.
TODAY IN HISTORY:
1825 – Ezra Daggett and Thomas Kensett of New York City patented a canning process to preserve salmon, oysters and lobsters.
1841 – The State of Michigan's first farm magazine, the "Western Farmer", was published. The first issue had 8 pages and 100 readers.
1861 – Georgia joined South Carolina, Florida, Mississippi, and Alabama in seceding from the United States.
1883 – The first electric lighting system employing overhead wires, built by Thomas Edison, began operation in Roselle, NJ.
1907 – The first film reviews appeared in "Variety" magazine.
1915 – George Claude, of Paris, France, patented the neon discharge tube for use in advertising signs.
1935 – Coopers Inc. began selling the world's first briefs.
1937 – Howard Hughes set a transcontinental air record. He flew from Los Angeles, CA, to New York, NY, in 7 hours, 28 minutes and 25 seconds.
1949 – The salary of the President of the United States was increased from $75,000 to $100,000 with an additional $50,000 expense allowance for each year in office.
1952 – The National Football League (NFL) bought the franchise of the New York Yankees from Ted Collins. The franchise was then awarded to a group in Dallas on January 24.
1953 – 71.7 percent of all televisions in the U.S. were tuned into CBS, as Lucy Ricardo (Lucille Ball), of "I Love Lucy," delivered a baby boy.
1955 – President Dwight Eisenhower allowed a filmed news conference to be used on television (and in movie newsreels) for the first time.
1957 – Philadelphia comedian, Ernie Kovacs, did a half-hour TV show without saying a single word of dialogue.
1963 – The Bluegrass duo Flatt and Scruggs topped Billboard's country chart with "The Ballad of Jed Clampett," the theme song from "The Beverly Hillbillies".
1977 – Snow fell in Miami, FL. This was the only time in the history of the city that snow had fallen. It also fell in the Bahamas.
1977 – President Gerald Ford pardoned Iva Toguri D'Aquino (the "Tokyo Rose").
1978 – The last Volkswagon Beetle made in Germany leaves the VW plan in Emden. Beetle production continued in Latin America until 2003.
1979 – Former U.S. Attorney General John N. Mitchell was released on parole after serving 19 months at a federal prison in Alabama.
1983 – The Apple Lisa, the first commercial personal computer from Apple Inc. to have a graphical user interface and a computer mouse, was announced.
1986 – The first IBM PC computer virus was released.
1988 – The CBS documentary/news magazine television show "48 Hours" debuted.
1989 – Michigan Governor James Blanchard banned corporal punishment in public schools
1990 – The movie "Tremors", starring Kevin Bacon, made its premiere in theaters.
1993 – IBM announced a loss of $4.97 billion for 1992. It was the largest single-year loss in U.S. corporate history.
1994 – The Animals, The Band, Duane Eddy, The Grateful Dead, Elton John, John Lennon, Bob Marley and Rod Stewart are inducted into the Rock and Roll Hall of Fame.
1996 – First Lady Hillary Rodham Clinton was subpoenaed to appear before a federal grand jury looking into the Whitewater real estate investment venture.
1997 – The cooking TV show "Emeril Live" debuted on the Food Network.
1999 – The Supreme Court refused to hear a 1998 lawsuit brought by ticket buyers against TicketMaster, claiming that the firm engaged in anti-competitive behavior and price-fixing with promoters.
1999 – RIM released their first Blackberry. It was a two-way pager that could receive email. It was named after it's keyboard's likeness to the fruit.
2000 – In New York's Time Square, the first WWF restaurant opened.
2006 – The New Horizons probe was launched by NASA on the first mission to investigate Pluto.
2011 – Jennifer Lopez made her debut as a judge on TV's "American Idol". She joined fellow newcomer Steven Tyler of Aerosmith and holdover Randy Jackson.
2013 – In Scottsdale, AZ, the original Batmobile for the TV series "Batman" sold at auction for $4.6 million. It was the first of six Batmobiles produced for the show.
BIRTHDAYS:
Tippi Hedren – 93 years old (1930) – Actress ("The Birds", "Marnie")
Robert MacNeil – 92 years old (1931) – Television anchor (PBS' "The MacNeil/Lehrer Report")
Richard Lester – 91 years old (1932) – TV and movie director ("A Hard Day's Night", "Help!", "Superman" II and III, "The Three Musketeers")
Michael Crawford – 81 years old (1942) – Actor ("The Phantom of the Opera")
Shelley Fabares – 79 years old (1944) – Actress, singer (TV's "The Donna Reed Show", movies "Girl Happy", "Spinout", "Clambake", "Brian's Song")
Laurie London – 79 years old (1944) – Singer ("He's Got the Whole World in His Hands")
Dolly Parton – 77 years old (1946) – Singer, actress ("Joyful Noise", "Steel Magnolias", "Best Little Whorehouse in Texas", "9 to 5")
Ann Compton – 76 years old (1947) – News reporter
Paula Deen – 76 years old (1947) – Restaurant owner, celebrity chef and TV cooking show host
Dewey Bunnell – 71 years old (1952) – Singer, guitarist (America)
Desi Arnaz Jr. – 70 years old (1953) – Actor (Born the same night as "Lucy Ricardo" delivered her child on TV. TV's "Here's Lucy")
Katy Sagal – 69 years old (1954) – Actress (TV's "Married With Children", "Eight Simple Rules", "Lost", "Sons of Anarchy")
Al Joyner – 63 years old (1960) – Olympic gold medalist in 1984 in the triple jump
Paul McCrane – 62 years old (1961) – Actor ("Fame", "RoboCop", TV's "ER")
William Ragsdale – 62 years old (1961) – Actor ("Fright Night", TV's "Herman's Head")
Shawn Wayans – 52 years old (1971) – Actor ("White Chicks", "Scary Movie", "Scary Movie 2", "Don't Be a Menace", TV's "The Wayans Brothers", "In Living Color")
Drea de Matteo – 51 years old (1972) – Actress (TV's "Desperate Housewives", "Joey", "The Sopranos")
Frank Caliendo – 49 years old (1974) – Comedian (TV's "Mad TV", "Frank TV", "Fox NFL Sunday")
Bitsie Tulloch – 42 years old (1981) – Actress (TV's "Grimm", movie "The Artist")
Jodie Sweetin – 41 years old (1982) – Actress (TV's "Full House", "Fuller House")
Logan Lerman – 31 years old (1992) – Actor ("Perks of Being a Wallflower", "The Three Musketeers", "The Number 23″, 3:10 to Yuma")
TODAY IS:
Get to Know Your Customers Day
For additional information check out websites like: www.on-this-day.com, www.born-today.com, www.famousbirthdays.com, www.daysoftheyear.com, and www.nationaldaycalendar.com.