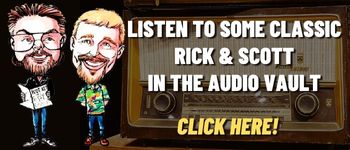 A quick look at Today in History, check out some Celebrity Birthdays, and find out what Days of the Year to celebrate.
TODAY IN HISTORY:
1845 – Edgar Allan Poe's poem, "The Raven", was published for the first time. It appeared in the "New York Evening Mirror".
1861 – Kansas became the 34th state of the Union.
1886 – Karl Benz patented the first successful gasoline-driven automobile.
1900 – The American Baseball League was organized in Philadelphia. PA. It consisted of eight teams.
1919 – Michigan ratified the 18th Amendment, prohibiting the sale of intoxicating liquors in the U.S.
1924 – R. Taylor patented the ice cream cone rolling machine.
1936 – The first members of Major League Baseball's Hall of Fame, including Ty Cobb and Babe Ruth, were named in Cooperstown, NY.
1959 – Walt Disney's animated movie "Sleeping Beauty" premiered in theaters.
1963 – The first members to the NFL's Hall of Fame were named in Canton, OH.
1969 – The "Glen Campbell Goodtime Hour" debuted on CBS. His first guests on the television show included The Smothers Brothers, comedian Pat Paulsen and singer Bobbie Gentry.
1988 – The NBA's Detroit Pistons set an attendance record with just under 62,000 fans at the Silverdome. They beat the Boston Celtics 125-108.
1990 – Joseph Hazelwood, the former skipper of the Exxon Valdez, went on trial in Anchorage, AK, on charges that stemmed from America's worst oil spill. He was later acquitted of all the major charges and was convicted of a misdemeanor.
1995 – The San Francisco 49ers became the first team in National Football League history to win five Super Bowl titles. The 49ers defeated the San Diego Chargers 49-26.
1997 – America Online agreed to give refunds to frustrated customers under threat of lawsuits across the country. Customers were unable to log on after AOL offered a flat $19.95 a month rate.
1999 – Paris prosecutors announce the end of the investigation into the accident that killed Britain's Princess Diana.
1999 – The U.S. Senate delivered subpoenas for Monica Lewinsky and two presidential advisers for private, videotaped testimony in the impeachment trial of President Bill Clinton.
2001 – At a ceremony at the British Embassy in Washington, DC, Steven Spielberg was named an honorary knight of the United Kingdom for his contribution to film in the UK.
2009 – Illinois Governor Rod Blagojevich was removed from office following his conviction of several corruption charges, including the alleged solicitation of personal benefit in exchange for an appointment to the U.S. Senate as a replacement for then President-elect Barak Obama.
2020 – The Trump administration established the White House Coronavirus Task Force under Secretary of Health and Human Services Alex Azar to fight the COVID-19 pandemic.
BIRTHDAYS:
Katharine Ross – 83 years old (1940) – Actress ("The Graduate", "Butch Cassidy and the Sundance Kid", "Donnie Darko", "The Stepford Wives")
Tom Selleck – 78 years old (1945) – Actor (TV's "Magnum P.I.", "Blue Bloods", movies "In and Out", "Quigley Down Under", "Three Men and a Baby"). Born in Detorit, MI.
Marc Singer – 75 years old (1948) – Actor ("Beastmaster" films, TV's "V", "Dallas")
Ann Jillian – 73 years old (1950) – Actress (TV's "It's a Living", "Ann Jillian", "Hazel")
Louie Pérez – 70 years old (1953) – Percussionist, guitarist (Los Lobos)
Oprah Winfrey – 69 years old (1954) – Talk show host, movie producer, magazine publisher, actress ("The Color Purple", TV's "Oprah")
Irlene Mandrell – 67 years old (1956) – Singer, actress
Diane Delano – 66 years old (1957) – Actress (TV's "Northern Exposure", "Popular")
Judy Norton Taylor – 65 years old (1958) – Actress (Played Mary Ellen Walton on TV's "The Waltons")
Greg Louganis – 63 years old (1960) – Olympic diver
Nicholas Turturro – 61 years old (1962) – Actor (TV's "NYPD Blue")
Dominik Hašek – 58 years old (1965) – Hockey player (Detroit Red Wings 2001–2004, 2006–2008)
Edward Burns – 55 years old (1968) – Actor ("The Brothers McMullen", "She's the One", "Sidewalks of New York", "Nice Guy Johnny", "Friends With Kids", "27 Dresses")
Heather Graham – 53 years old (1970) – Actress ("The Hangover" movies, "Austin Powers: The Spy Who Shagged Me", "Bowfinger", "From Hell", "Boogie Nights", "Drugstore Cowboy", TV's "Californication", "Emily's Reasons Why Not", "Scrubs")
Sara Gilbert – 48 years old (1975) – Actress, talk show host (TV's "Roseanne", "The Talk")
Andrew Keegan – 44 years old (1979) – Actor (TV's "7th Heaven", "Party of Five", "Thunder Alley", movies "10 Things I Hate About You")
Jonny Lang – 42 years old (1981) – Singer, songwriter, guitarist ("Turn Around")
TODAY IS:
For additional information check out websites like: www.on-this-day.com, www.born-today.com, www.famousbirthdays.com, www.daysoftheyear.com, and www.nationaldaycalendar.com.