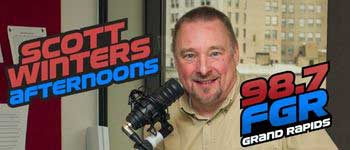 A quick look at Today in History, check out some Celebrity Birthdays, and find out what Days of the Year to celebrate.
TODAY IN HISTORY:
1858 – In a speech in Springfield, IL, U.S. Senate candidate Abraham Lincoln said the slavery issue had to be resolved. He declared, "A house divided against itself cannot stand."
1884 – At Coney Island, in Brooklyn, NY, the first roller coaster in America opened. It was called the "Switchback Railway".
1884 – John Ball Park in Grand Rapids, MI, officially opened.
1890 – The second Madison Square Gardens opened.
1893 – The Rueckheim Brothers produced a new snack called "Cracker Jack". It was made with popcorn, peanuts, and molasses, and first presented it to the public at the World's Columbian Exposition (Chicago's first World's Fair). Unfortunately, the molasses of this early version was too sticky and the recipe had to be changed.
1883 – The New York Giants baseball team admitted all ladies for free to the ballpark. It was the first Ladies Day.
1897 – The U.S. government signed a treaty of annexation with Hawaii.
1903 – The Pepsi-Cola Company officially trademarked "Pepsi-Cola".
1903 – Ford Motor Company was incorporated. The firm's ten employees begin producing its first car, the Model A.
1909 – Glenn Hammond Curtiss sold his first airplane, the "Gold Bug" to the New York Aeronautical Society for $5,000.
1910 – The first Father's Day was celebrated in Spokane, WA.
1922 – Henry Berliner accomplished the first helicopter flight at College Park, MD.
1941 – President Franklin D. Roosevelt ordered the closure of all German consulates in the United States. The deadline was set as July 10.
1952 – The TV show "My Little Margie" debuted on CBS.
1952 – "Anne Frank: Diary of a Young Girl" was published in the United States.
1955 – The U.S. House of Representatives voted to extend Selective Service until 1959.
1960 – The movie "Psycho" debuted in New York, NY.
1963 – 26-year-old Valentina Tereshkova went into orbit aboard the Vostok 6 spacecraft for three days. She was the first female space traveler.
1976 – The TV show "The Jacksons" began airing for four weeks on CBS.
1978 – The film "Grease" premiered in New York, NY. The movie became the summer's #1 film and spun off several big hits, including Frankie Valli's #1 theme, written by Barry Gibb.
1980 – The movie "The Blues Brothers" opened in Chicago, IL.
1981 – The "Chicago Tribune" purchased the Chicago Cubs baseball team from the P.K. Wrigley Chewing Gum Company for $20.5 million.
1985 – Willie Banks broke the world record for the triple jump with a leap of 58 feet, 11-1/2 inches in the U.S.A. championships in Indianapolis, IN.
1992 – President George H.W. Bush welcomed Russian President Boris Yeltsin to a meeting in Washington, DC. The two agreed in principle to reduce strategic weapon arsenals by about two-thirds by the year 2003.
1993 – The U.S. Postal Service released a set of seven stamps that featured Bill Haley, Buddy Holly, Clyde McPhatter, Otis Redding, Ritchie Valens, Dinah Washington and Elvis Presley.
1995 – The movie "Batman Forever", starring Val Kilmer, debuted in theaters.
1995 – Pearl Jam began a tour without using Ticketmaster. They chose to use a mail order ticket service.
1998 – The Detroit Red Wings completed a four-game sweep of the Washington Capitals with a 4-1 victory in Game 4 of the Finals. The Red Wings became the first time since the Pittsburgh Penguins in 1991 and 1992 to repeat as champions.
1999 – Al Gore declared his Presidential candidacy.
1999 – The U.S. Circuit Court of Appeals said that a 1992 federal music piracy law does not prohibit a palm-sized device that can download high-quality digital music files from the Internet and play them at home.
1999 – Phil Collins received a star on the Hollywood Walk of Fame.
2000 – Oscar winning actor Michael Caine was knighted by Queen Elizabeth II.
2000 – U.S. federal regulators approved the merger of Bell Atlantic and GTE Corp. The merger created the nation's largest local phone company.
2000 – U.S. Secretary of Energy Bill Richardson reported that an employee at the Los Alamos National Laboratory in New Mexico had discovered that two computer hard drives were missing. The hard drives contained sensitive data. They were later found behind a copying machine.
2011 – New York Democrat Anthony Weiner resigned from Congress, having admitted that he'd tweeted lewd photos to six women over the past few years.
BIRTHDAYS:
Joyce Carol Oates – 84 years old (1938) – Author ("Black Water", "What I Lived For", "Blonde", "The Wheel of Love", "Lovely, Dark, Deep: Stories")
Billy 'Crash' Craddock – 83 years old (1939) – Country singer ("Rub It In," "Broken Down in Tiny Pieces", "Ruby Baby")
Lamont Dozier – 81 years old (1941) – Songwriter ("Heat Wave," "Come and Get These Memories", "This Old Heart of Mine", "How Sweet It Is", "Baby I Need Your Lovin'," "Reach Out I'll Be There", "Band of Gold", "Want Ads"). Born in Detroit, MI.
Eddie Levert – 80 years old (1942) – Singer (The O'Jays)
Joan Van Ark – 79 years old (1943) – Actress (TV's "Knot's Landing")
Roberto Durán – 71 years old (1951) – Boxer
Gino Vannelli – 70 years old (1952) – Singer
Laurie Metcalf – 67 years old (1955) – Actress (TV's "Roseanne", "Desperate Housewives", movies "Scream 2", "Making Mr. Right", "Toy Story")
Jenny Smimizu – 55 years old (1967) – Model, Actress
Phil Mickelson – 52 years old (1970) – Golfer
John Cho – 50 years old (1972) – Actor ("Harold and Kumar" movies, "Star Trek", TV's "American Dad!")
Eddie Cibrian – 49 years old (1973) – Actor (TV's "CSI: Miami", "Invasion", "Tilt", "Third Watch", "Sunset Beach", "Baywatch Nights", "The Young and the Restless")
Frederick Koehler – 47 years old (1975) – Actor (TV's "Kate & Allie", "Oz")
China Shavers – 45 years old (1977) – Actress (TV's "Boston Public", "Sabrina, the Teenage Witch")
Missy Peregrym – 40 years old (1982) – Actress (TV's "Rookie Blue")
Olivia Hack – 39 years old (1983) – Actress ("Brady Bunch" movie, TV's "Hey Arnold!")
Diana DeGarmo – 35 years old (1987) – Singer (Finished 2nd on TV's "American Idol: Season 3")
Abby Elliott – 35 years old (1987) – Actress, comedian (TV's "Saturday Night Live")
TODAY IS:
International Day of Family Remittances
International Day of the African Child
National Career Nurse Assistants' Day
For additional information check out websites like: www.on-this-day.com, www.born-today.com, www.famousbirthdays.com, www.daysoftheyear.com, and www.nationaldaycalendar.com.