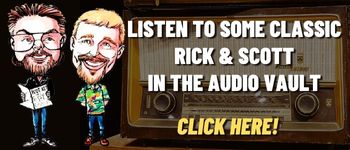 A quick look at Today in History, check out some Celebrity Birthdays, and find out what Days of the Year to celebrate.
TODAY IN HISTORY:
1844 – Charles Goodyear was granted a patent for vulcanized rubber.
1896 – Booker T. Washington became the first African American to receive an honorary MA degree from Howard University.
1905 – Nick Fink Jr. of Comstock Park, MI escaped serious injury when he made the first area airplane flight. His home-built pedal plane crashed into a telephone pole.
1916 – Mary Pickford became the first female film star to sign a million dollar contract.
1922 – The American Professional Football Association took the name of The National Football League.
1933 – A reconstructed Fort Michilimackinac opened to the public in Mackinaw City, MI.
1940 – TV cameras were used for the first time in a political convention as the Republican party convened in Philadelphia, PA.
1947 – Kenneth Arnold reported seeing flying saucers over Mt. Rainier, WA.
1949 – The first television western, "Hopalong Cassidy", was aired on NBC, starring William Boyd.
1953 – John F. Kennedy and Jacqueline Bouvier announced their engagement.
1957 – In Roth vs. United States, the Supreme Court ruled that obscenity is not protected by the First Amendment.
1962 – The New York Yankees beat the Detroit Tigers, 9-7, after 22 innings.
1964 – The Federal Trade Commission announced that starting in 1965, cigarette manufactures would be required to include warnings about the harmful effects of smoking on their packaging.
1971 – The National Basketball Association modified its four-year eligibility rule to allow for collegiate hardship cases.
1982 – The Supreme Court ruled 5-4 that no President could be sued for damages connected with actions taken while serving as President of the United States.
1986 – The Empire State Building was designated a National Historic Landmark.
1987 – The Mel Brooks spoof film "Spaceballs" premiered in theaters.
1997 – The U.S. Air Force released a report titled "The Roswell Report, Case Closed" that dismissed the claims that an alien spacecraft had crashed in Roswell, NM, in 1947. The report suggested that the alien bodies witnesses in reported seeing were actually life-sized dummies.
1998 – AT&T Corp. struck a deal to buy cable TV giant Tele-Communications Inc. for $31.7 billion.
1998 – Walt Disney World Resort admitted its 600-millionth guest.
2001 – It was announced that Kelsey Grammer would earn an all-time TV record salary of $1.6 million per episode for "Frasier".
2002 – The Supreme Court ruled that juries, not judges, must make the decision to give a convicted killer the death penalty.
2005 – The movie "March of the Penquins" premiered in theaters.
2007 – Paris Hilton was sprung from jail after serving 23 days of her original 45-day sentence for probation violation.
2010 – Apple released the iPhone 4.
2021 – In Surfside, Florida, the Champlain Towers South condominium partially collapsed, killing 98 people inside.
2022 – The Supreme Court overturned Roe v. Wade, holding that there was no longer a federal constitutional right to an abortion.  Abortion rights would be determined by the states.
BIRTHDAYS:
Michele Lee – 81 years old (1942) – Actress (TV's "Knots Landing", movies "How to Succeed in Business Without Really Trying", "The Love Bug")
Georg Stanford Brown – 80 years old (1943) – Actor ("Bullitt", "Stir Crazy", TV's "The Rookies", "Nip/Tuck")
Jeff Beck – 79 years old (1944) – Guitarist (Yardbirds)
Colin Blunstone – 78 years old (1945) – Musician (The Zombies)
George Pataki – 78 years old (1945) – Former New York Governor (1996-2006)
Mick Fleetwood – 76 years old (1947) – Drummer (Fleetwood Mac)
Peter Weller – 76 years old (1947) – Actor ("RoboCop", "Naked Lunch", "Screamers")
John Illsley – 74 years old (1949) – Bass guitarist (Dire Straits)
Nancy Allen – 73 years old (1950) – Actress ("Dressed to Kill", "Blow Out", "Robo Cop")
Astro – 66 years old (1957) – Rapper, musician (UB40)
Andrew McCluskey – 64 years old (1959) – Singer, bass guitarist (Orchestral Manoeuvres in the Dark)
Curt Smith – 62 years old (1961) – Bass guitarist, lead vocalist (Tears For Fears)
Danielle Spencer – 58 years old (1965) – Actress (Played Dee on TV's "What's Happening!!")
Jeff Cease – 56 years old (1967) – Guitarist (The Black Crowes)
Sherry Stringfield – 56 years old (1967) – Actress (TV's "ER")
Glenn Medeiros – 53 years old (1970) – Singer ("Nothing's Gonna Change My Love For You", "She Ain't Worth It")
Mindy Kaling – 44 years old (1979) – Actress (TV's "The Mindy Project", "The Office")
Minka Kelly – 43 years old (1980) – Actress (TV's "Friday Night Lights", "Parenthood")
Solange Knowles – 37 years old (1986) – Singer, actress ("Johnson Family Vacation")
Candice Patton – 35 years old (1988) – Actress (TV's "The Flash")
TODAY IS:
National Take Back the Lunch Break Day
For additional information check out websites like: www.on-this-day.com, www.born-today.com, www.famousbirthdays.com, www.daysoftheyear.com, and www.nationaldaycalendar.com.