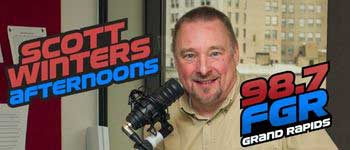 A quick look at Today in History, check out some Celebrity Birthdays, and find out what Days of the Year to celebrate.
TODAY IN HISTORY:
1804 – The Lewis and Clark Expedition reached the mouth of the Kansas River after completing a westward trek of nearly 400 river miles.
1819 – The bicycle was patented by W.K. Clarkson, Jr.
1844 – John Tyler took Julia Gardiner as his bride, thus becoming the first President to marry while in office.
1870 – The first section of the boardwalk in Atlantic City, NJ, was opened to the public.
1894 – The American Railway Union called a general strike in sympathy with Pullman workers.
1900 – A commission that included Dr. Walter Reed began the fight against the deadly disease yellow fever.
1927 – The Coney Island "Cyclone" roller coaster opened in New York, NY.
1934 – President Franklin D. Roosevelt signed the Federal Credit Union Act, which established credit unions.
1936 – The Focke-Wulf Fw 61 made its first flight. It is often considered the first practical helicopter.
1942 – The Grumman F6F Hellcat fighter was flown for the first time.
1945 – The U.N. Charter was signed by 50 nations in San Francisco, CA.
1959 – President Dwight Eisenhower joined Britain's Queen Elizabeth II in ceremonies officially opening the St. Lawrence Seaway.
1963 – President John Kennedy announced "Ich bin ein Berliner" (I am a Berliner) at the Berlin Wall.
1971 – The U.S. Justice Department issued a warrant for Daniel Ellsberg, accusing him of giving away the Pentagon Papers.
1974 – In Troy, OH, a Marsh supermarket installed the first bar code scanning equipment, made by IBM. A Universal Product Code (UPC) bar code was placed on Juicy Fruit gum and a bar code was scanned for the first time.
1975 – Sonny and Cher were divorced in Santa Monica, CA. Four days later, she married Gregg Allman.
1976 – In Toronto, Canada, the CN Tower opened to the public. The official opening date was listed as October 1, 1976. At 1,815 foot tall, it was the world's tallest free-standing structure and the world's tallest tower until 2010.
1977 – Elvis Presley's final concert took place at Market Square Arena, in Indianapolis, IN.
1979 – Muhammad Ali, at 37 years old, announced that he was retiring as world heavyweight boxing champion.
1981 – In Mountain Home, ID, a woman named Virginia Campbell used her coupons and rebates to buy $26,460 worth of groceries for just 67 cents.
1985 – Wilbur Snapp was ejected after playing "Three Blind Mice" during a baseball game. The incident followed a call made by umpire Keith O'Connor.
1987 – The movie "Dragnet" opened in the U.S.
1987 – The movie "Full Metal Jacket" premiered in theaters.
1996 – The Supreme Court ordered the Virginia Military Institute to admit women or forgo state support.
1997 – The Supreme Court struck down the Communications Decency Act of 1996 that made it illegal to distribute indecent material on the Internet.
1997 – J.K. Rowlings book, "Harry Potter and the Philosopher's Stone", was published in the U.K. The book was later released in the U.S. under the name "Harry Potter and the Sorcerer's Stone." This was the first book in the Harry Potter series.
1997 – The Supreme Court upheld state laws that allow for a ban on doctor-assisted suicides.
1998 – The Supreme Court ruled that employers are always potentially liable for supervisor's sexual misconduct toward an employee.
2000 – The Human Genome Project and Celera Genomics Corp. jointly announced that they had created a working draft of the human genome.
2002 – R. Kelly pleaded not guilty to 21 counts of child pornography in Chicago, IL.
2002 – A federal appeals court in San Francisco, CA ruled that the words "under God" in the Pledge of Allegiance violate the separation of church and state.
2002 – David Hasseloff checked into The Betty Ford Center for treatment of alcoholism.
2013 – The Supreme Court struck down the federal law defining marriage as the union of a man and a woman.
2015 – The U.S. Supreme Court ruled, 5–4, that same-sex couples have a constitutional right to marriage under the 14th Amendment to the United States Constitution.
BIRTHDAYS:
Dave Grusin – 88 years old (1934) – Composer, arranger, producer
Billy Davis Jr. – 84 years old (1938) – Musician (The 5th Dimension)
John Beasley – 79 years old (1943) – Actor ("The Sum of All Fears", TV's "Everwood")
Georgie Fame – 79 years old (1943) – Rhythm and blues, jazz singer, keyboard player
Pamela Bellwood – 71 years old (1951) – Actress (TV's "Dynasty")
Mick Jones – 67 years old (1955) – Lead guitarist, vocalist (Clash, Big Audio Dynomite)
Chris Isaak – 66 years old (1956) – Singer ("Wicked Game")
Patty Smyth – 65 years old (1957) – Singer
Greg LeMond – 61 years old (1961) – Road racing cyclist
Terri Nunn – 61 years old (1961) – Vocalist (Berlin)
Colin Greenwood – 53 years old (1969) – Bassist (Radiohead)
Sean Hayes – 53 years old (1969) – Actor (TV's "Will & Grace", "Sean Saves the World", movies "The Three Stooges", "The Bucket List", "Win a Date With Tad Hamilton", "Martin and Lewis", "The Cat in the Hat", "Cats and Dogs")
Paul Thomas Anderson – 52 years old (1970) – Producer, director ("There Will Be Blood", "Magnolia", "Boogie Nights", "Inherent Vice")
Chris O'Donnell – 52 years old (1970) – Actor ("Max Payne", "Kit Kittredge: American Girl", "Batman Forever", "Batman & Robin", "Kinsey", TV's "NCIS: Los Angeles", "Grey's Anatomy")
Derek Jeter – 48 years old (1974) – Retired New York Yankees shortstop and team captain
Chad Pennington – 46 years old (1976) – Football player, TV analyst (FOX)
Ryan Tedder – 43 years old (1979) – Singer (OneRepublic)
Jason Schwartzman – 42 years old (1980) – Actor ("Moonlight Kingdom", "Funny People", "The Darjeeling Limited", "Rushmore")
Kaitlin Cullum – 36 years old (1986) – Actress (TV's "Grace Under Fire")
Jennette McCurdy – 30 years old (1992) – Actress, singer (TV's "iCarly")
Ariana Grande – 29 years old (1993) – Singer, actress ("Victorious")
TODAY IS:
International Day Against Drug Abuse and Illicit Trafficking
International Day in Support of Victims of Torture
National Chocolate Pudding Day
For additional information check out websites like: www.on-this-day.com, www.born-today.com, www.famousbirthdays.com, www.daysoftheyear.com, and www.nationaldaycalendar.com.