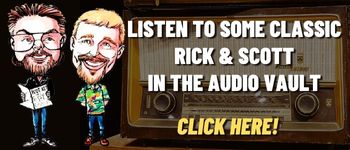 A quick look at Today in History, check out some Celebrity Birthdays, and find out what Days of the Year to celebrate.
TODAY IN HISTORY:
1652 – In Rhode Island, a law was passed that made slavery illegal in North America. It was the first law of its kind.
1798 – The first Secretary of the U.S. Navy was appointed. He was Benjamin Stoddert.
1846 – Michigan outlawed the Death Penalty.
1897 – A novel by Irish author Bram Stoker, called "Dracula", was published.
1912 – The Detroit Tigers staged baseball's first strike to protest the suspension of their star, Ty Cobb, who had slugged a fan. Faced with a $100 per day fine, the team ended the strike after missing one game and rescheduling another.
1917 – The U.S. Congress passed the Selective Service act, which called up soldiers to fight in World War I.
1927 – In Bath, MI, Andrew Kehoe, a farmer and local school board member who was angry over losing an election for town clerk and under notice for foreclosure, killed his wife, detonated bombs in his house and farm buildings, and at the same time set off a bomb in the consolidated school. He drove to the school in a truck rigged with more explosives, which he detonated next to the school superintendent. In all, 44 people were killed, 38 of them children, and himself, in the worst school murders in U.S. history. Only half of the 1,000 pounds of explosives set under the school went off, greatly lowering the death toll. Thirty-eight of the 314 students, three teachers, the superintendent, the postmaster, and a local farmer assisting at the scene were killed. Most of the dead were students from second to sixth grade. Fifty-eight others were injured..
1929 – Holland, MI held its first Tulip Time Festival.
1934 – Congress approved an act, known as the "Lindberg Act," that called for the death penalty in interstate kidnapping cases.
1953 – The first woman to fly faster than the speed of sound, Jacqueline Cochran, piloted an F-86 Sabrejet over California at an average speed of 652.337 miles-per-hour.
1968 – Tiny Tim's "Tiptoe through the Tulips" was released. It was originally a number one hit for Nick Lucas in 1929.
1969 – Apollo 10 was launched.
1980 – The Mount St. Helens volcano in Washington state erupted, leaving 57 people dead or missing. It caused $3 billion in damages.
1983 – The Senate revised immigration laws and gave millions of illegal aliens legal status under an amnesty program.
1986 – The Firearm Owners Protection Act was signed into law by President Ronald Reagan.
1995 – Shawn Nelson stole a tank from a National Guard Armory in San Diego, CA, destroying cars and other property. He was shot to death by police after immobilizing the tank.
1998 – The TV show "Murphy Brown" aired its final episode after 10 years on the air. The show was brought back to TV in 2018.
1998 – The U.S. federal government and 20 states filed a sweeping antitrust case against Microsoft Corp., saying the computer software company had a "choke hold" on competitors which denied consumer choices by controlling 90% of the software market.
2001 – The DreamWorks animated feature film, "Shrek", premiered in theaters.
2000 – In a malpractice lawsuit, Dana Carvey testified that, in 1998, a surgeon performed angioplasty on the wrong artery. The doctor blames the mistake on the comedian's "unusual anatomy."
2002 – Will Ferrell said goodbye to TV's "Saturday Night Live" on the show's season finale.
2004 – Martha Stewart pulled the plug on her syndicated series, "Martha Stewart Living", until "my personal legal situation is resolved."
2004 – The "Hee Haw Collection" was released. It was the first time that full shows of TV's "Hee Haw" were released on VHS and DVD
2005 – A second photo from the Hubble Space Telescope confirmed that Pluto has two additional moons, Nix and Hydra.
2007 – TV's "That '70s Show" aired their 200th episode and series finale after eight seasons.
2012 – Facebook Inc. held its initial public offering and began trading on the NASDAQ. The company was valued at $104 billion making it the largest valuation for a newly listed public company.
BIRTHDAYS:
Brooks Robinson – 86 years old (1937) – Baseball player
Candice Azzara – 78 years old (1945) – Actress (TV's "Caroline in the City", "Who's the Boss?", "Love Boat", movies "Who Is Harry Kellerman and Why Is He Saying Those Terrible Things About Me?", "Made for Each Other", "The World's Greatest Lover", "House Calls", "Fatso", "Easy Money", "Unstrung Heroes", "Catch Me If You Can", "Ocean's Twelve", "In Her Shoes", "Little Boy")
Reggie Jackson – 77 years old (1946) – Baseball player
Joe Bonsall – 75 years old (1948) – Singer (The Oak Ridge Boys)
Rick Wakeman – 74 years old (1949) – Keyboardist (Yes)
Mark Mothersbaugh – 73 years old (1950) – Lead singer, keyboardist (Devo)
James Stephens – 72 years old (1951) – Actor (TV's "The Paper Chase", movies "True Grit: A Further Adventure", "First Monday in October", "The Getaway", "Against the Law")
George Strait – 71 years old (1952) – Country singer
Chow Yun-fat – 68 years old (1955) – Actor ("Crouching Tiger, Hidden Dragon", "Pirates of the Caribbean: At World's End")
Martika – 54 years old (1969) – Singer ("Toy Soldiers", "Love…Thy Will Be Done")
Tina Fey – 53 years old (1970) – Actress, comedian (TV's "30 Rock," "Saturday Night Live", movies "Baby Mama", "Mean Girl", "Date Night", "Admission")
Jack Johnson – 48 years old (1975) – Singer
Allen Leech – 42 years old (1981) – Actor (TV's "Downton Abbey")
Spencer Breslin – 31 years old (1992) – Actor ("Disney's The Kid", "The Santa Clause 2: The Mrs. Clause", "The Santa Clause 3: The Escape Clause", "Return to Neverland")
TODAY IS:
Global Accessibility Awareness Day
National HIV Vaccine Awareness Day
National Visit Your Relatives Day
For additional information check out websites like: www.on-this-day.com, www.born-today.com, www.famousbirthdays.com, www.daysoftheyear.com, and www.nationaldaycalendar.com.