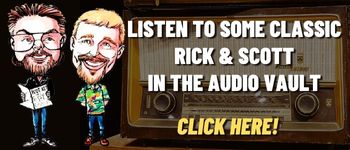 A quick look at Today in History, check out some Celebrity Birthdays, and find out what Days of the Year to celebrate.
TODAY IN HISTORY:
1628 – The Massachusetts colony was founded by Englishmen.
1822 – The city of Boston, MA, was incorporated.
1831 – The first bank robbery in America was reported. The City Bank of New York, NY, lost $245,000 in the robbery.
1855 – The newspaper, "The Grand Rapids Herald", published its first edition in Grand Rapids, MI.
1865 – Grand Rapids, MI put their first steam fire engine into service.
1915 – Pluto was photographed for the first time. However, it was not known at the time.
1917 – The Supreme Court upheld the Adamson Act that made the eight-hour workday for railroads constitutional.
1918 – Congress established time zones and approved Daylight Saving Time.
1925 – The law was passed that required fisherman to purchase a license to fish in the state of Michigan.
1931 – The state of Nevada legalized gambling.
1931 – Alka Seltzer went on sale.
1953 – The Academy Awards aired on television for the first time.
1954 – Viewers saw the first televised prize fight shown in color when Joey Giardello knocked out Willie Tory in round seven at Madison Square Garden in New York, NY.
1954 – The first rocket-driven sled that ran on rails was tested in Alamogordo, NM.
1957 – Elvis Presley bought the mansion he would name "Graceland", in Memphis, TN for $100,000.
1977 – The last episode of television's "The Mary Tyler Moore Show" aired.
1979 – The U.S. House of Representatives began broadcasting their daily business on TV via the C-SPAN cable network.
1981 – The Buffalo Sabres set an NHL record when they scored 9 goals in one period against Toronto.
1984 – The TV show "Kate and Allie" premiered.
1985 – IBM announced their plans to stop making the PC jr computer.
1985 – The Senate voted to authorize production of the MX missile.
1985 – "Spin Magazine" began publishing.
1987 – Televangelist Jim Bakker resigned from the PTL due to a sex scandal involving Jessica Hahn. He handed over control to Jerry Falwell.
1988 – Michael Jackson purchased a ranch near Santa Ynez, CA, and built his own personal zoo and amusement park. He called it Neverland.
1998 – Major League Baseball approves Rupert Murdoch's purchase of the Los Angeles Dodgers for a reported $350 million.
1999 – Johnny Carson, at age 73, underwent quadruple bypass surgery.
2000 – Vector Data Systems conducted a simulation of the 1993 Branch Davidian siege in Waco, TX. The simulation showed that the government had not fired first.
2002 – Actor Ben Kingsley was knighted by Queen Elizabeth II at Buckingham Palace.
2003 – President George W. Bush announced that U.S. forces had launched a strike against "targets of military opportunity" in Iraq.
2004 – Paul "Peewee Herman" Reubens pleaded guilty to possessing vintage photos of naked children.
2007 – Naomi Campbell arrived at New York City's Department of Sanitation to begin a week sweeping the building, her community service for tossing a phone at her maid's head.
2013 – NASA's Mars rover Curiosity discovered further evidence of water-bearing minerals.
2018 – The last male northern white rhinoceros, Sudan, died, ensuring a chance of extinction for the species.
2020 – Art Van Furniture ends it's bankruptcy liquidation sale early to limit social contact due to COVID 19.
BIRTHDAYS:
Renée Taylor – 90 years old (1933) – Actress (TV's "The Nanny")
Ursula Andress – 87 years old (1936) – Actress (The first "Bond girl" in "Dr. No")
Clarence "Frogman" Henry – 86 years old (1937) – Singer ("Ain't Got No Home")
Ruth Pointer – 77 years old (1946) – Singer (The Pointer Sisters)
Glenn Close – 76 years old (1947) – Actress (TV's "Damages", movies "Alfred Nobbs", "Dangerous Liaisons", "Fatal Attraction", "The Natural", "The Big Chill", "The World According to Garp")
Derek Longmuir – 72 years old (1951) – Drummer (The Bay City Rollers)
Chris Brubeck – 71 years old (1952) – Musician, composer
Billy Sheehan – 70 years old (1953) – Bassist (Mr. Big)
Bruce Willis – 68 years old (1955) – Actor ("Die Hard" series, "The Sixth Sense", "Cop Out", "Sin City", "Armageddon", "Pulp Fiction", "Red", "Red 2", TV's "Friends", "Moonlighting")
Craig Lamar Traylor – 34 years old (1989) – Actor (TV's "Malcolm in the Middle", "ER")
TODAY IS:
National Chocolate Caramel Day
For additional information check out websites like: www.on-this-day.com, www.born-today.com, www.famousbirthdays.com, www.daysoftheyear.com, and www.nationaldaycalendar.com.