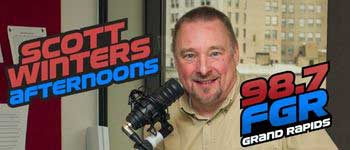 A quick look at Today in History, check out some Celebrity Birthdays, and find out what Days of the Year to celebrate.
TODAY IN HISTORY:
1847 – William Clayton invented the odometer.
1883 – The University of Michigan played their first ever home football game against the Detroit Independents at the Ann Arbor fairgrounds. U of M won the game 40-5.
1888 – Charles Sherrill, of the Yale track team, became the first runner to use the crouching start for a fast break in a foot race.
1926 – The airship Norge became the first vessel to fly over the North Pole.
1929 – Zehnder's restaurant in Frankenmuth, MI opens.
1932 – Ten weeks after his abduction, the infant son of aviator Charles Lindbergh was found dead in Hopewell, NJ, just a few miles from Lindbergh's home.
1935 – Bill Wilson and Dr. Bob Smith (founders of Alcoholics Anonymous) met for the first time in Akron, OH, at the home of Henrietta Siberling.
1950 – The American Bowling Congress abolished its white males-only membership restriction after 34 years.
1957 – A.J. Foyt won his first auto racing victory in Kansas City, MO.
1970 – Ernie Banks, of the Chicago Cubs, hit his 500th home run.
1978 – The National Oceanic and Atmospheric Administration announced that they would no longer exclusively name hurricanes after women.
1993 – The final episode of TV's "The Wonder Years", starring Fred Savage as Kevin Arnold, aired on ABC.
1999 – George Jones pleaded guilty to driving while impaired and violating the Tennessee's open-container law in Franklin. He was fined $550.
2002 – Former President Jimmy Carter arrived in Cuba for a five day visit with Fidel Castro. It was the first time a U.S. head of state, in or out of office, had gone to the island since Castro's 1959 revolution.
2002 – At Miami International Airport, Dionne Warwick was arrested when baggage screeners found 11 marijuana cigarettes inside her lipstick container.
2003 – New rules required airlines to increase the assumed passenger weight to 190 pounds, up from 180 pounds.
2008 – The price for a one-ounce First-Class stamp increased from 41 to 42 cents.
2015 – It was announced that Verizon would be acquiring AOL.
BIRTHDAYS:
Burt Bacharach – 94 years old (1928) – Composer ("Raindrops Keep Fallin' on My Head", "Arthur's Theme", "That's What Friends Are For")
John Bucyk – 87 years old (1935) – Hockey player (Detroit Red Wings 1955-1957)
Frank Stella – 86 years old (1936) – Abstract artist, sculptor, painter
Susan Hampshire – 85 years old (1937) – Actress ("Cry Terror", "David Copperfield")
Millie Perkins – 84 years old (1938) – Actress ("Wall Street", "Ensign Pulver", "The Diary of Anne Frank")
Billy Swan – 80 years old (1942) – Singer, songwriter ("I Can Help")
Linda Dano – 79 years old (1943) – Actress (TV's "Another World")
Lindsay Crouse – 74 years old (1948) – Actress ("The Juror", "Slap Shot", "Traps", "Places in the Heart")
Steve Winwood – 74 years old (1948) – Musician (Blind Faith, Traffic, Spencer Davis Group)
Bruce Boxleitner – 72 years old (1950) – Actor ("The Babe", "Tron", "Tron: Legacy", TV's "Scarecrow and Mrs. King", "Babylon 5")
Gabriel Byrne – 72 years old (1950) – Actor (TV's "In Treatment", movies "Miller's Crossing", "The Usual Suspects")
Billy Squier – 72 years old (1950) – Singer ("The Stroke", "Everybody Wants You")
Kix Brooks – 67 years old (1955) – Singer (Brooks and Dunn)
Lou Whitaker – 65 years old (1957) – Baseball player (Detroit Tigers 1977-1995)
Kim Greist – 64 years old (1958) – Actress ("Homeward Bound" movies, TV's "Chicago Hope")
Ving Rhames – 63 years old (1959) – Actor ("Mission: Impossible" movies, "Pulp Fiction", "Dawn of the Dead", "Piranha 3D")
Billy Duffy – 61 years old (1961) – Guitarist (The Cult)
Emilio Estevez – 60 years old (1962) – Actor ("Breakfast Club", "The Mighty Ducks" movies, "Young Guns", "The Outsiders", "Repo Man", "St. Elmo's Fire")
Stephen Baldwin – 56 years old (1966) – Actor ("Born on the Fourth of July", "The Usual Suspects", TV's "Celebrity Apprentice")
Tony Hawk – 54 years old (1968) – Skateboarder
Kim Fields – 53 years old (1969) – Actress (Played Tootie on TV's "The Facts of Life", "Living Single")
Samantha Mathis – 52 years old (1970) – Actress ("Pump Up the Volume", "Little Women", "The American President", "Broken Arrow", "American Psycho", "The Punisher", "Atlas Shrugged: Part II")
Jamie Luner – 51 years old (1971) – Actress (TV's "Just the Ten of Us", "Melrose Place", "Profiler", "All My Children")
Mackenzie Astin – 49 years old (1973) – Actor (TV's "The Facts of Life")
Malin Akerman – 44 years old (1978) – Actress (TV's "Billions", movies "Watchmen", "Couples Retreat")
Jason Biggs – 44 years old (1978) – Actor ("American Pie" movies, "My Best Friend's Girl", "Jersey Girl")
Emily VanCamp – 36 years old (1986) – Actress (TV's "Everwood", "Brothers & Sisters", "Revenge", movies "Captain America: The Winter Soldier", "Captain America: Civil War")
Malcolm David Kelley – 30 years old (1992) – Actor (TV's "Lost")
TODAY IS:
International ME/CFS Awareness Day
National Fibromyalgia Awareness Day
For additional information check out websites like: www.on-this-day.com, www.born-today.com, www.famousbirthdays.com, www.daysoftheyear.com, and www.nationaldaycalendar.com.