It's Tuesday. Monday is behind us…and the weekend is in our future. Keep forging ahead. Here are today's "Random Thoughts"!
THE NUMBERS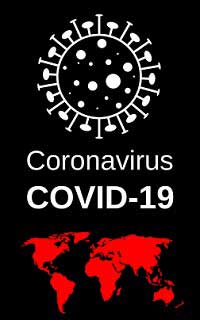 According to the website put together by the Michigan Department of Health and Human Services, as of Monday afternoon at 3 pm there are 47,552 confirmed cases of COVID-19 in the state of Michigan. That number jumped up by 414 in 24 hours.
Here in West Michigan, there are 2,332 confirmed cases in Kent County (up by 51), 420 in Ottawa (up by 32), 384 in Muskegon (up by 17), 157 in Allegan (up by 7), 110 in Ionia County (up by 2), 51 in Barry County (up by 3), 46 in Montcalm (no change), and 35 in Newaygo County (up by 1).
We have had a total of 4,584 deaths in our state due to COVID-19 (an increase of 33). We have had 42 deaths in Kent County (up by 1), 20 in Muskegon County (no change), 19 deaths in Ottawa County (no change), three deaths in Ionia County (up by 1), two deaths in Allegan County (no change), one death in Barry County (no change), and one death in Montcalm County (no change).
They are now also giving us the Cumulative Total of Recovered COVID-19 Cases. They will update this number every Saturday. As of May 8th, 22,686 have recovered from the virus.
There are now 4.1 million confirmed cases of coronavirus worldwide with more than 286,000 deaths. In the U.S., there are more than 1.3 million confirmed cases and more than 80,000 deaths.
The latest we have on percentages from WDIV TV in Detroit: These results lag by a few days, but on Saturday, May 9th, the results of 12,657 tests came back with 883 confirmed as positive. That's 7% of the tests that came back positive. The previous day, Friday, May 8th, 6.8% of the tests came back positive. That means we have seen an increase of .2% in cases testing positive in just a day. Those numbers are down overall from the peak on April 4th of 41.8%.
Stay Home, Wash Your Hands, and Social Distance Yourself! Please stay healthy.
CORONAVIRUS MASCOT
I've seen this on social media for the last couple of days and think it's a great idea…
WEARING SUNSCREEN INDOORS
Who knew?!
Don't skip the sunscreen…even indoors. If you've been skipping your daily sunscreen because you've barely left the house in the last month, you're going to want to start wearing it again
Apparently the blue light emanating from your computer, phone, and tablet screens is just as bad for your skin as the sun's UVA and UVB rays. To prevent dryness and early signs of aging from extra screen time, dermatologists recommend wearing mineral based sunscreens, which are good at blocking all kinds of light damage on your skin. They also recommend using it on  your hands and neck too.
WHAT A BARGAIN!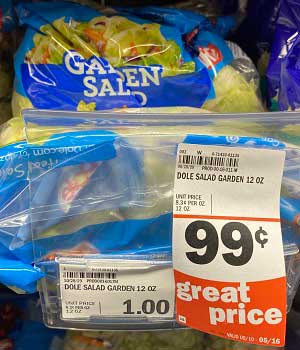 Every once in a while I will stumble across a bargain at the grocery store I just can't refuse!
That was the case over the weekend when I found bagged salad on sale.
The original price is $1.00 per bag, but the store had it on sale for the incredibly low price of 99 cents a bag! What a savings!
It's a good thing that salad doesn't last long, or I might have been tempted to stock up on many bags of this stuff at that type of savings!
Now I just have to figure what I'm going to do with all my savings from the sale.
Hmmm, how far can I stretch a penny?!
A LOOK BACK
On this date in 1993, the final episode of TV's "The Wonder Years", starring Fred Savage as Kevin Arnold, aired on ABC.
And there are a couple of Celebrity Birthdays that will make you feel old:
First Kim Fields, who played Tootie on TV's "The Facts of Life", is 51 years old today.
And Jason Biggs, who starred in the "American Pie" movies is 42 today.
Find out what else has happened on May 12th.
WRAPPING UP
Today is "Odometer Day"! Just think, without an odometer we would never now how far we've traveled!
Have a TERRIFIC Tuesday! I will be on the air this afternoon — local and live — from 3-7 pm on 98.7 WFGR. I'll talk to you then!
If you have any comments on the above stories, please leave your remarks below…