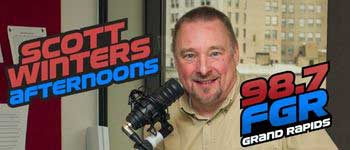 A quick look at Today in History, check out some Celebrity Birthdays, and find out what Days of the Year to celebrate.
TODAY IN HISTORY:
1607 – An expedition led by Captain Christopher Newport went ashore at Jamestown, VA. The group had arrived at the location the day before. This became the first permanent English colony in America.
1787 – Delegates began gathering in Philadelphia, PA, for a convention to draw up the U.S. Constitution.
1796 – The first smallpox vaccination was given by Edward Jenner.
1804 – William Clark set off the famous expedition from Camp Dubois. A few days later, in St. Louis, Meriwether Lewis joined the group. The group was known as the "Corps of Discovery."
1853 – Gail Borden applied for a patent for condensed milk.
1874 – McGill University and Harvard met at Cambridge, MA, for the first college football game to charge admission.
1878 – The name Vaseline was registered by Robert A. Chesebrough.
1879 – Thomas Edison incorporated the Edison Telephone Company of Europe.
1897 – "The Stars and Stripes Forever", by John Phillip Sousa, was performed for the first time. It was at a ceremony where a statue of George Washington was unveiled.
1897 – Guglielmo Marconi made the first communication by wireless telegraph.
1913 – The Rockefeller Foundation was created by John D. Rockefeller with a gift of $100 million.
1939 – Lina Medina became the youngest confirmed mother in medical history at the age of five.
1942 – The Women's Auxiliary Army Corps (WAAC) was established by an act of the U.S. Congress.
1960 – The birth control pill was introduced in the United States.
1967 – Mickey Mantle hit the 500th home run of his career, off Baltimore's Stu Miller.
1972 – In his first game as a Met, Willie Mays hit a game winning home run against his old team, the Giants.
1973 – Skylab One was launched into orbit around Earth as the first U.S. manned space station.
1980 – President Jimmy Carter inaugurated the Department of Health and Human Services.
1985 – Ray Kroc's first McDonald's restaurant became the first fast-food business museum. It is located in Des Plaines, IL.
1989 – The final episodes of TV's "Moonlighting" and "Family Ties" were broadcast.
1996 – Magic Johnson retired from the Los Angeles Lakers for the second and final time.
1998 – The Associated Press marked its 150th anniversary.
1998 – Jerry, Elaine, George, and Kramer went to jail in the final episode of the TV series "Seinfeld" aired after nine years on NBC.
1998 – George Michael pleaded no contest in the Beverly Hills, CA Municipal Court to committing a lewd act in a park restroom. He was fined $810, given 80 hours of community service, and ordered to undergo counseling.
1998 – The animated TV show called "Celebrity Deathmatch" premiered on MTV. Clay models of famous celebrities would wresting each other. The show remained on the air for 6 seasons.
1999 – Jess Marlow received a star on the Hollywood Walk of Fame.
2000 – The six cast members of TV's "Friends" signed two year contracts that guaranteed each actor $750,000 per episode, up from $125,000.
2010 – Space Shuttle Atlantis launched on the STS-132 mission to deliver the first shuttle-launched Russian ISS component — Rassvet. This was originally slated to be the final launch of Atlantis, before Congress approved STS-135.
2021 – Michigan Governor Gretchen Whitmer lifted the mask mandate in all settings for those who were fully vaccinated for COVID-19.
BIRTHDAYS:
Charlie Gracie – 86 years old (1936) – Singer ("Boogie Woogie Blues", "I'm Gonna Sit Right Down And Write Myself a Letter")
George Lucas – 78 years old (1944) – Film producer, screenwriter, director ("Star Wars" movie series)
Francesca Annis – 77 years old (1945) – Actress ("Krull", "Dune", "The Debt Collector", "The Libertine")
David Byrne – 70 years old (1952) – Lead singer, guitarist (Talking Heads)
Robert Zemeckis – 70 years old (1952) – Film director, producer, screenwriter ("Forrest Gump", "Back to the Future", "Who Framed Roger Rabbit?", "Castaway", "Flight", "Romancing the Stone")
Tom Cochrane – 69 years old (1953) – Singer ("Life Is a Highway")
Tim Roth – 61 years old (1961) – Actor ("Resovoir Dogs," "Pulp Fiction")
Ian Astbury – 60 years old (1962) – Lead vocalist (The Cult)
C.C. DeVille – 60 years old (1962) – Guitarist (Poison)
Mike Inez – 56 years old (1966) – Bassist (Alice in Chains)
Fabrice Morvan – 56 years old (1966) – Singer? (Milli Vanilli)
Cate Blanchett – 53 years old (1969) – Actress ("Blue Jasmine", "The Aviator", "Elizabeth, Elizabeth: The Golden Age", "Carol", "Notes on a Scandal", "I'm Not There", "Cinderella", "Robin Hood", "The Curious Case of Benjamin Button", "Indiana Jones & the Kingdom of the Crystal Skull", "The Lord of the Rings" trilogy, "The Hobbit" trilogy)
Danny Wood – 53 years old (1969) – Singer (New Kids on the Block)
Sofia Coppola – 51 years old (1971) – Director ("Lost in Translation", "The Virgin Diaries", "Somewhere", "The Bling Ring", "Marie Antoinette")
Shanice – 49 years old (1973) – Singer ("I Love Your Smile", "Silent Prayer")
Amber Tamblyn – 39 years old (1983) – Actress (TV's "General Hospital", "The Unusuals", "Joan of Arcadia", "Sisterhood of the Traveling Pants", "The
Grudge 2")
Mark Zuckerberg – 38 years old (1984) – Founder of Facebook
Miranda Cosgrove – 29 years old (1993) – Actress (TV's "iCarly", "Drake and Josh", movie "School of Rock")
TODAY IS:
Cornelia De Lange Syndrome Awareness Day
National Buttermilk Biscuit Day
National Dance Like Chicken Day
National Underground America Day
Stamp Out Hunger Food Drive Day
For additional information check out websites like: www.on-this-day.com, www.born-today.com, www.famousbirthdays.com, www.daysoftheyear.com, and www.nationaldaycalendar.com.