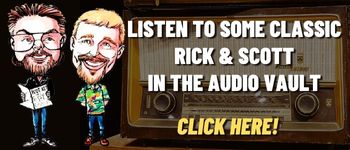 A quick look at Today in History, check out some Celebrity Birthdays, and find out what Days of the Year to celebrate.
TODAY IN HISTORY:
1785 – Benjamin Franklin wrote in a letter that he had invented bifocals.
1788 – South Carolina became the eighth state to ratify U.S. Constitution.
1827 – The first nursery school in the U.S. was established in New York, NY.
1846 – Arabella Mansfield was born. She was the first woman in the U.S. to pass the bar exam, though she never used her law degree.
1876 – Boston's Joe Borden pitched the very first no-hitter in the history of the National League.
1879 – The first U.S. veterinary school was established by Iowa State University.
1922 – Walt Disney incorporated his first movie company, LaughoGram Films.
1922 – "Daylight Saving Time" was debated in the first debate ever to be heard on radio in Washington, DC.
1929 – The first cartoon with Mickey Mouse talking was released. It was called "The Karnival Kid".
1934 – In Bienville Parish, LA, Bonnie Parker and Clyde Barrow were ambushed and killed by Texas Rangers. The bank robbers were riding in a stolen Ford Deluxe.
1941 – Joe Louis beat Buddy Baer in the seventh round to retain the heavyweight crown.
1962 – The National Basketball Association agreed to transfer the Philadelphia Warriors to San Francisco, CA. The team became the San Francisco Warriors (and later the Golden State Warriors).
1973 – Clive Davis was fired as president of Columbia Records for allegedly using company funds for his personal use. They included $53,700 for work on his apartment and $20,000 for his son's bar mitzvah.
1984 – The movie "Indiana Jones and the Temple of Doom" premiered in theaters.
1984 – The Surgeon General warned that smokers can inflict lung damage on non-smokers who inhale second-hand smoke.
1995 – The first version of the Java programming language was released.
1995 – The Alfred P. Murrah Federal Building in Oklahoma City, OK, was demolished.
1997 – The movie "The Lost World: Jurassic Park" premiered in theaters.
1999 – Gerry Bloch, at age 81, became the oldest climber to scale El Capitan in Yosemite National Park. He broke his own record that he set in 1986 when he was 68 years old.
2005 – Tom Cruise publicly declared his love for Katie Holmes on "The Oprah Winfrey Show" by jumping up and down on Winfrey's couch during the show. Cruise and Holmes married in 2006 and divorced in 2012.
2010 – Bret Michaels won Season 3 of TV's "The Celebrity Apprentice".
2012 – Phillip Phillips won the 11th season of TV's "American Idol".
BIRTHDAYS:
Barbara Barrie – 92 years old (1931) – Actress ("One Potato, Two Potato", "Breaking Away", TV's "Barney Miller", "Suddenly Susan")
Joan Collins – 90 years old (1933) – Actress (TV's "Dynasty")
Lauren Chapin – 78 years old (1945) – Actress (Played Kitten on TV's "Father Knows Best")
Danny Klein – 77 years old (1946) – Bass guitarist (J. Geils Band)
Judy Rodman – 72 years old (1951) – Country singer ("Until I Met You")
Drew Carey – 65 years old (1958) – Actor, comedian, game show host (TV's "The Drew Carey Show, "Whose Line Is It Anyway?", "The Price is Right")
Shelly West – 65 years old (1958) – Country singer
Linden Ashby – 63 years old (1960) – Actor ("Mortal Kombat", TV's "Melrose Place", "Teen Wolf")
Karen Duffy – 61 years old (1962) – Actress, model, VJ for MTV ("Dumb and Dumber", TV's "TV Nation", "The Awful Truth")
Melissa McBride – 58 years old (1965) – Actress (TV's "The Walking Dead")
Phil Selway – 56 years old (1967) – Drummer (Radiohead)
Matt Flynn – 53 years old (1970) – Drummer (Maroon 5)
Laurel Holloman – 52 years old (1971) – Actress ("The L Word")
Maxwell – 50 years old (1973) – Singer
Ken Jennings – 49 years old (1974) – Won 74 consecutive episodes of TV's "Jeopardy" in 2004. His total of $2,520,700 makes him the biggest winner ever in television game show history.
Jewel – 49 years old (1974) – Singer, actress ("Ride With the Devil")
Kelly Monaco – 47 years old (1976) – Actress, Playboy playmate (TV's "General Hospital", "Port Charles", "Dancing With the Stars")
Adam Wylie – 39 years old (1984) – Actor ("Kindergarten Cop", "Picket Fences")
TODAY IS:
International Day to End Obstetric Fistula
For additional information check out websites like: www.on-this-day.com, www.born-today.com, www.famousbirthdays.com, www.daysoftheyear.com, and www.nationaldaycalendar.com.