Michael James "Jim" Delligatti, the McDonald's franchisee who created the Big Mac sandwich almost 50 years ago, died Monday, November 28, 2016, at his home in Pittsburgh, PA. He was 98.
You probably didn't recognize his name, but you've almost certainly devoured his creation: two all-beef patties, special sauce, lettuce, cheese, pickles, onions, on a sesame seed bun.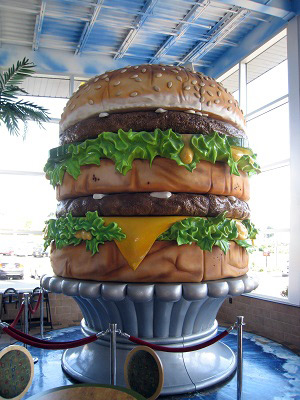 Delligatti's franchise was based in Uniontown, not far from Pittsburgh, when he invented the Big Mac in 1967 after deciding customers wanted a bigger sandwich. Because of high demand, this new sandwich spread to the rest of his 47 stores in Pennsylvania. The Big Mac hit the menu board nationwide in 1968.
McDonald's has sold billions of Big Macs since then, in more than 100 countries. When the burger turned 40, McDonald's estimated it was selling 550 million Big Macs a year, or roughly 17 every second. Delligatti received no payment or royalties for coming up with the sandwich. According to his son, Delligatti ate at least one Big Mac a week for decades.
Delligatti also helped introduce breakfast service at McDonald's. He developed the hotcakes and sausage meal to feed hungry steelworkers on their way home from overnight shifts in the mills.
Delligatti is survived by his wife Ellie, his two sons, five grandchildren and eight great-grandchildren. His funeral will be held Saturday in O'Hara Township, PA.
To read more about Jim Delligatti, here is his Wikipedia page.
Here is the classic McDonald's commercial where customers try to name the ingredients of a Big Mac…
And then there's this classic commercial…
Photo: McDonald's