This year we celebrate our Mothers on Sunday, May 12th. According to Wikipedia.org, the first Mother's Day celebration was held in this country in 1908.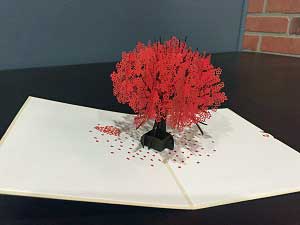 I was able to spend some time with my mother, Gloria Winters, today. I had my Mom and some family over for a cookout. (That's my Dad, Dick Winters, and Mom in the picture above.)
This year, one of the things I purchased for my Mom was a very cool pop-up card from a company called LovePop. The card had a blank little pull-out for you to write something personal. That meant I had to come up with something to say in the card.
Now I've never been very good at writing sappy things like on the inside of a Mother's Day card. So, what should I write?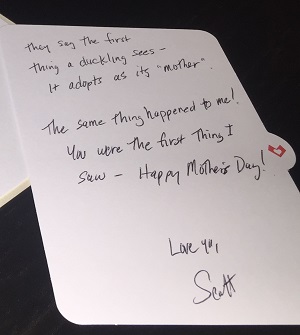 Here's what I came up with…
"They say the first thing a duckling sees — it adopts as its 'mother'. The same thing happened to me! You were the first thing I saw! Happy Mother's Day!"
Wow! I thought was pretty good! Maybe I have a new career ahead of me as a card writer…but then again, probably not!
What did you do for dear old Mom?
This year total spending is expected to reach $25 billion, up from $23.1 billion last year. We will spend an average of $196, compared to $180 last year. Those between the ages of 35-44 will spend the most at an average of $248, up from $224 last year. And believe it or not, men are likely to spend more than women — $237 vs. $158.
What will we be buying for mom?
Greeting cards: 75%
Flowers: 67%
Special outing: 55%
Gift cards: 45%
Clothing: 38%
Jewelry: 35%
Personal service (like a spa treatment): 24%
Housewares or gardening tools: 20%
Books/music: 20%
Electronics: 15%
Other: 24%
Another interesting survey asked who you would want to play your Mother in a movie. Here is what people said:
Meryl Streep
Sally Field
Julia Roberts
Jennifer Lopez
Angelina Jolie
If I had to pick from that list, I would say Sally Field is probably the most like my Mother.
And a new survey found that 38% of mothers say they want to hear from their kids a few times a week…instead of just on Mother's Day. So don't forget to call mom from time to time. She's waiting for your call!
And if you haven't seen the video I did for Mother's Day a few years ago — here it is. And yes, that is my Mother's actual voice in the video…