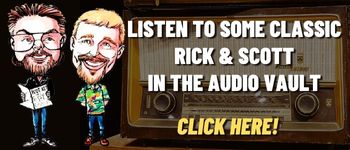 A quick look at Today in History, check out some Celebrity Birthdays, and find out what Days of the Year to celebrate.
TODAY IN HISTORY:
1512 – Michelangelo's paintings on the ceiling of the Sistine Chapel were first exhibited to the public.
1800 – President John Adams became the first President to live in the White House when he moved in.
1864 – The U.S. Post Office started selling money orders. The money orders provided a safe way to make payments by mail.
1870 – The Weather Bureau made its first official meteorological forecast. It later was renamed the National Weather Service.
1879 – Thomas Edison applied for a patent for his high-resistance carbon filament.
1894 – Thomas Edison filmed American sharpshooter Annie Oakley. The film was instrumental in her getting hired by Buffalo Bill for his Wild West Show.
1894 – "Billboard Advertising" was published for the first time. It later became known as "Billboard."
1896 – A picture showing the bare breasts of a woman appeared in National Geographic magazine for the first time.
1914 – 19 year old Mary Jacobs invented the brassiere.
1930 – The Detroit-Windsor Tunnel was dedicated. It was the only underwater international border crossing.
1938 – Seabiscuit defeated War Admiral in an upset victory during a match race deemed "the match of the century" in horse racing.
1939 – The first rabbit born after artificial insemination was exhibited to the world.
1941 – Photographer Ansel Adams took a picture of a moonrise over the town of Hernandez, NM, that would become one of the most famous images in the history of photography.
1950 – Two Puerto Rican nationalists tried to assassinate President Harry Truman. One of the men was killed when they tried to force their way into Blair House in Washington, DC.
1955 – The Vietnam War began.
1957 – The Mackinac Bridge, the world's longest suspension bridge between anchorages at the time, opened to traffic connecting the upper and lower peninsula of Michigan.
1959 – Montreal Canadiens goaltender Jacques Plante wore a protective mask and became the first goalie in the NHL to wear a mask.
1960 – While campaigning for President, John F. Kennedy announced his idea of the Peace Corps.
1962 – WZZM TV 13 went on the air for the first time at 6:30 pm. A tube failed 20 minutes later and they were off the air.
1963 – Wham-O patented the Frisbee.
1967 – The movie "Cool Hand Luke", starring Paul Newman and featuring George Kennedy, premiered in theaters.
1968 – The movie rating system of G, M, R, X went into effect (PG-13 and NC-17 were added later).
1973 – Interstate 75 was completed in Michigan. It is the state's longest expressway covering 395 miles from the Ohio border to Sault Ste. Marie.
1973 – Leon Jaworski was appointed the new Watergate special prosecutor in the Watergate case.
1977 – President Jimmy Carter signed a bill to gradually raise the minimum wage to $3.35 by 1981.
1979 – A law went into effect in Michigan requiring vehicle owners to renew their license plates on their birthday.
1981 – The U.S. Postal Service raised the first-class letter rate from 18 to 20 cents.
1982 – Honda becomes the first Asian automobile company to produce cars in the United States when the opened their factory in Marysville, OH. The Honda Accord was the first car produced there.
1991 – Clarence Thomas was sworn in as the newest Justice on the U.S. Supreme Court.
1994 – The Amazon.com domain name was registered.
1998 – Iridium inaugurated the first handheld, global satellite phone and paging system.
2003 – Reverend V. Gene Robinson was consecrated as the Episcopal bishop of New Hampshire. He's the first openly gay man to reach that level in the Episcopal Church in America.
BIRTHDAYS:
Gary Player – 87 years old (1935) – Golfer
Bill Anderson – 85 years old (1937) – Country music singer, TV host ("The Better Sex", "Fandango")
Barbara Bosson – 83 years old (1939) – Actress (TV's "Hill Street Blues", "Murder One")
Robert Foxworth – 81 years old (1941) – Actor (TV's "The Storefront Lawyers", "Falcon Crest, "Six Feet Under")
Jeannie Berlin – 73 years old (1949) – Actress ("The Heartbreak Kid", "Sheila Levine Is Dead and Living in New York", "Margaret", "Inherent Vice", "Cafe Society")
Ronald Bell – 71 years old (1951) – Singer, saxophonist (Kool and the Gang)
Lyle Lovett – 65 years old (1957) – Country singer
Rachel Ticotin – 64 years old (1958) – Actress ("The Sisterhood of the Traveling Pants" 1 & 2, "Falling Down", "Total Recall", "Fort Apache, The Bronx", "Total Recall, ", "Falling Down", "Con Air", TV's "Ohara", "For Love and Honor", "Law & Order: Los Angeles")
Mags Furuholmen – 60 years old (1962) – Keyboardist (A-ha)
Anthony Keidis – 60 years old (1962) – Singer (Red Hot Chili Peppers). Born in Grand Rapids, MI
Rick Allen – 59 years old (1963) – Drummer (Def Leppard)
Sophie B. Hawkins – 58 years old (1964) – Singer
Toni Collette – 50 years old (1972) – Actress ("Little Miss Sunshine", "Sixth Sense", "Connie and Carla", "About a Boy", "Velvet Goldmine", "Muriel's Wedding", TV's "United States of Tara")
Jenny McCarthy – 50 years old (1972) – Actress, TV host ("Dirty Love", "Scary Movie 3", "Scream 3", "BASEketball", TV's "The Jenny McCarthy Show", "Singled Out")
Bo Bice – 47 years old (1975) – Singer ("The American Idol: Season Four" runner-up)
LaTavia Roberson – 41 years old (1981) – Singer (Destiny's Child)
Penn Badgley – 36 years old (1986) – Actor (TV's "Gossip Girl")
TODAY IS:
National Biologic Coordinators Day
National Cook For Your Pets Day
For additional information check out websites like: www.on-this-day.com, www.born-today.com, www.famousbirthdays.com, www.daysoftheyear.com, and www.nationaldaycalendar.com.