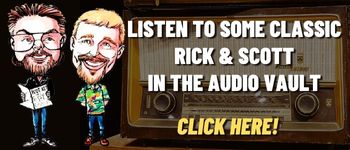 A quick look at Today in History, check out some Celebrity Birthdays, and find out what Days of the Year to celebrate.
TODAY IN HISTORY:
1889 – Montana became the 41st U.S. state.
1895 – While experimenting with electricity, Wilhelm Roentgen discovered the X-ray.
1910 – William H. Frost patented the insect exterminator.
1932 – Franklin D. Roosevelt was elected the 32nd President of the United States, defeating incumbent Herbert Hoover.
1933 – The Civil Works Administration was created by executive order by President Franklin D. Roosevelt. The organization was designed to create jobs for more than 4 million unemployed people in the United States.
1954 – The American League approved the transfer of the Philadelphia Athletics baseball team to Kansas City, MO.
1956 – Director Cecil B. DeMille's epic, "The Ten Commandments", has its world premiere. The star-studded cast was headed by Charlton Heston, Edward G. Robinson, Anne Baxter and Debra Paget.
1956 – After turning down 18,000 names, the Ford Motor Company decided to name their new car the "Edsel," after Henry Ford's only son.
1960 – Massachusetts Senator John F. Kennedy defeated Vice President Richard M. Nixon in one of the closest Presidential elections of the twentieth century to become the 35th President of the United States.
1962 – Lucille Ball bought out ex-husband Desi Arnaz's share in Desilu Productions.
1965 – The television soap opera "Days of Our Lives" debuted on NBC.
1966 – Ronald Reagan was elected governor of California.
1971 – Led Zepplin released their song "Stairway to Heaven".
1972 – HBO launched its programming with the broadcast of the 1971 movie "Sometimes a Great Notion", starring Paul Newman and Henry Fonda.
1973 – The right ear of John Paul Getty III was delivered to a newspaper together with a ransom note, convincing his father to pay $2.9 million.
1973 – Disney's movie "Robin Hood" premiered in theaters.
1979 – The late night television news program, "The Iran Crisis: America Held Hostage", premiered on ABC. The show was to be temporary, but it evolved into "Nightline" in March of 1980.
1979 – U.S. Senators John Warner (R-VA) and Mac Mathias (R-MD) introduced legislation to provide a site on the National Mall, in Washington, DC, for the building of the Vietnam Veterans Memorial.
1980 – Scientists at the Jet Propulsion Laboratory in California announced that they had discovered a 15th moon orbiting the planet Saturn.
1985 – A letter signed by four American hostages in Lebanon was delivered to The Associated Press in Beirut. The letter, contained pleas from Terry Anderson, Rev. Lawrence Jenco, David Jacobsen and Thomas Sutherland to President Ronald Reagan to negotiate a release.
1990 – President George H.W. Bush ordered more troop deployment in the Persian Gulf, adding about 150,000 soldiers to the multi-national force fighting against Iraq.
1991 – After announcing that he was HIV positive, Magic Johnson appeared on TV's "The Arsenio Hall Show".
1994 – Sonny Bono was elected to U.S. Congress. He was re-elected two years later.
2000 – A statewide recount began in Florida to decide the winner of the 2000 Presidential election.
2000 – Waco special counsel John C. Danforth released his final report that absolved the government of wrongdoing in the 1993 siege of the Branch Davidian compound in Texas.
2005 – The original "Guitar Hero" game was released in North America.
2009 – The game "Angry Birds Star Wars" was released.
2010 – Conan O'Brien returned to late night, this time with "Conan" on TBS.
2011 – The asteroid 2005 YU55 passed 0.85 lunar distances (201,700 miles) from Earth, the closest known approach by an asteroid of its brightness since 2010 XC15 in 1976.
2016 – Donald Trump became the first Republican candidate for President to win Michigan in many years. Trump won the election to become the 45th President of the United States. (In Michigan, Trump won 47.6% to 47.31%, the closest race in state history.)
BIRTHDAYS:
Roy Wood – 76 years old (1946) – Musician (ELO, Wizzard)
Bonnie Raitt – 73 years old (1949) – Singer
Mary Hart – 72 years old (1950) – TV host (TV's "Entertainment Tonight")
Christie Hefner – 70 years old (1952) – Former chairman and chief executive officer of Playboy Enterprises
Alfre Woodard – 70 years old (1952) – Actress ("Beauty Shop", "KPax", "Cross Creek", TV's "Memphis Beat", "Desperate Housewives", "St. Elsewhere")
Rickie Lee Jones – 68 years old (1954) – Singer
Pearl Thompson – 65 years old (1957) – Musician (The Cure)
Leif Garrett – 61 years old (1961) – Actor, singer ("The Outsiders", the "Walking Tall" movies, TV's "Three for the Road", "Fear Factor", "Celebrity Rehab with Dr. Drew")
Courtney Thorne-Smith – 55 years old (1967) – Actress (TV's "Melrose Place", "Ally McBeal", "According to Jim", "Two and a Half Men")
Parker Posey – 54 years old (1968) – Actress ("For Your Consideration", "You've Got Mail", "Best in Show", "Josie & the Pussycats", "The Anniversary Party")
Roxana Zal – 53 years old (1969) – Actress ("Testament", "Table for Five")
Matthew Rhys – 48 years old (1974) – Actor (TV's "The Americans", "Brothers and Sisters")
Tara Reid – 47 years old (1975) – Actress ("Sharknado", "American Pie", "Josie & the Pussycats", "The Boss's Daughter")
Bucky Covington – 45 years old (1977) – Singer (Finished 8th on "American Idol Season 5")
Dania Ramirez – 43 years old (1979) – Actress (TV's "Devious Maids", "Entourage", "Heroes", movie "XMen: The Last Stand")
Azura Skye – 41 years old (1981) – Actress (TV's "Zoe, Duncan, Jack and Jane", "Buffy the Vampire Slayer")
Jack Osbourne – 37 years old (1985) – Ozzy and Sharon's son (TV's "The Osbournes")
Jessica Lowndes – 34 years old (1988) – Actress (TV's "90210")
Lauren Alaina – 28 years old (1994) – Country singer (Runner-up on Season 10 of "American Idol")
TODAY IS:
Cook Something Bold and Pungent Day
National Harvey Wallbanger Day
National Parents as Teachers Day 
For additional information check out websites like: www.on-this-day.com, www.born-today.com, www.famousbirthdays.com, www.daysoftheyear.com, and www.nationaldaycalendar.com.