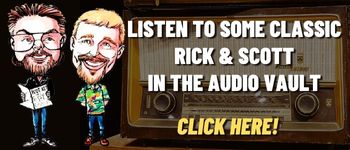 A quick look at Today in History, check out some Celebrity Birthdays, and find out what Days of the Year to celebrate.
TODAY IN HISTORY:
1888 – Thomas Edison applied for a patent for the Optical Phonograph (the first movie).
1888 – The first issue of "National Geographic Magazine" went on sale.
1919 – The Radio Corporation of America (RCA) was incorporated.
1931 – Al Capone was convicted on income tax evasion and was sentenced to 11 years in prison. He was released from jail in 1939.
1933 – "News-Week" appeared for the first time at newsstands. The name was later changed to "Newsweek".
1956 – The movie "Around the World in 80 Days" premiered in theaters.
1956 – Donald Byrne and Bobby Fischer played their famous chess gamed referred to as "The Game of the Century". Fischer beat Byrne and won a Brillancy prize.
1957 – Lake Michigan was accidentally crossed by two Milwaukee men in a hot air balloon. The balloon (the actual one used in the movie "Around the World in 80 Days") was being used in a shopping center promotion and eventually ended up in a wild seven hour ride that ended in a Benton Harbor tree.
1966 – The TV game show "Hollywood Squares" premiered on NBC. The show was originally hosted by Peter Marshall, and had two contestants competing in a game of tic-tac-toe to win cash and prizes..
1966 – NBC started offering all of their news content in color.
1978 – President Jimmy Carter signed a bill that restored full U.S. citizenship rights to Confederate President Jefferson Davis.
1979 – The Department of Education Organization Act was signed into law creating the Department of Education and the Department of Health and Human Services.
1979 – Mother Teresa won the Nobel Peace Prize for peace.
1987 – First Lady Nancy Reagan underwent a modified radical mastectomy at Bethesda Naval Hospital in Maryland.
1989 – The Loma Prieta earthquake, measuring 7.1 on the Richter Scale, hit the San Francisco Bay area in California. The quake caused 63 deaths, 3,757 injuries, and up to $7 billion in damages.
2000 – Madame Tussaud's Wax Museum opened to the public in New York, NY. The 42nd Street location joined Tussaud's other exhibitions already in operation in London, Hong Kong, Amsterdam and Las Vegas, NV.
2001 – The U.S. Capitol and the House Office Building were closed for inspection following the discovery of anthrax in a Senate office building.
2003 – In Taipei, Taipei 101, a 101-floor skyscraper, became the world's tallest highrise.
2003 – The U.S. Food and Drug Administration approved the drug Memantine to help people with Alzheimer's symptoms.
2007 – The TV show "Storm Chasers" premiered on the Discovery Channel.
2008 – The TV show that searched out paranormal activity, "Ghost Adventures", premiered on the Travel Channel.
BIRTHDAYS:
Gary Puckett – 80 years old (1942) – Singer (The Union Gap)
Michael McKean – 75 years old (1947) – Actor ("This is Spinal Tap", "A Mighty Wind", "Auto Focus", "The Producers", played Lenny on TV's "Laverne and Shirley", "Better Call Saul", "Family Tree", "Saturday Night Live")
George Wendt – 74 years old (1948) – Actor (Played Norm on TV's "Cheers")
Bill Hudson – 73 years old (1949) – Singer, actor (The Hudson Brothers)
Mae Jemison – 66 years old (1956) – Doctor, former astronaut (First African-American woman in space)
Vincent Van Patten – 65 years old (1957) – Actor, tennis player
Alan Jackson – 64 years old (1958) – Singer, musician
Mike Judge – 60 years old (1962) – Animator, director (TV's "Beavis and Butthead", "King of the Hill", "Silicon Valley", directed movies "Office Space", "Idiocracy", "Extract")
Ziggy Marley – 54 years old (1968) – Reggae musician
Wyclef Jean – 53 years old (1969) – Musician, actor, politician
Chris Kirkpatrick – 51 years old (1971) – Singer ('N Sync)
Eminem (Marshall Mathers III) – 50 years old (1972) – Rapper, actor, author
Felicity Jones – 39 years old (1983) – Actress ("The Theory of Everything")
TODAY IS:
International Day for the Eradication of Poverty
National Clean Your Virtual Desktop Day
National Playing Card Collection Day
Wear Something Gaudy Day (I celebrate this just about every day!)
For additional information check out websites like: www.on-this-day.com, www.born-today.com, www.famousbirthdays.com, www.daysoftheyear.com, and www.nationaldaycalendar.com.