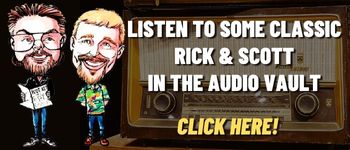 A quick look at Today in History, check out some Celebrity Birthdays, and find out what Days of the Year to celebrate.
TODAY IN HISTORY:
1789 – George Washington sent proposed Constitutional amendments (The United States Bill of Rights) to the States for ratification.
1889 – The first international Conference of American States began in Washington, DC.
1919 – President Woodrow Wilson suffered a stroke that left him partially paralyzed.
1920 – The Cincinnati Reds and the Pittsburgh Pirates played the only triple-header in baseball history. (The Reds won 2 of the 3 games.)
1925 – John Logie Baird performed the first test of a working television system.
1937 – Warner Bros. released "Love Is on the Air, which included the film debut of 26-year-old actor Ronald Reagan.
1948 – The first automobile race to use asphalt, cement and dirt roads took place in Watkins Glen, NY. It was the first road race in the U.S. following World War II.
1950 – The "Peanuts" comic strip, created by Charles M. Schulz, was published for the first time in seven newspapers. The strip is originally called "Li'l Folks" and introduced the character Charlie Brown. The strip ran until February 13, 2000, and then continued in reruns.
1955 – TV's "Alfred Hitchcock Presents" debuted on CBS.
1959 – The television show "The Twilight Zone" debuted on CBS. The show ran for 5 years for a total of 154 episodes.
1967 – Thurgood Marshall was sworn in as the first black Justice of the Supreme Court.
1977 – The bodies of Elvis Presley and his grandmother were moved to Graceland in Memphis, TN.
1986 – The Everly Brothers were given a star on the Hollywood Walk of Fame.
1992 – The hockey movie, "The Mighty Ducks", premiered in theaters.
1996 – The Electronic Freedom of Information Act Amendments were signed by President Bill Clinton.
1996 – Former Los Angeles Police Department detective Mark Fuhrman was given three years probation and fined $200 after pleading no contest to perjury at O.J. Simpsons's murder trial.
2001 – The TV show "Scrubs" premiered on NBC. It eventually moved to ABC and ran until March 17, 2010.
2002 – The Beltway sniper attacks began, extending over three weeks.
2016 – The HBO series "Westworld" debuted.
2020 – The Michigan Supreme Court struck down Governor Gretchen Whitmer's Emergency Powers.
BIRTHDAYS:
Rex Reed – 84 years old (1938) – Film critic, TV host (TV's "At the Movies")
Don McLean – 77 years old (1945) – Singer ("American Pie")
Avery Brooks – 74 years old (1948) – Actor (TV's "Star Trek: Deep Space Nine", "Spenser: For Hire", "A Man Called Hawk")
Annie Leibovitz – 73 years old (1949) – Photographer
Mike Rutherford – 72 years old (1950) – Guitarist, vocalist (Mike & the Mechanics, Genesis)
Sting – 71 years old (1951) – Musician (Police), Actor ("Lock Stock and Two Smoking Barrels", "The Bride", "Dune", "Quadrophenia")
Lorraine Bracco – 68 years old (1954) – Actress (TV's "The Sopranos", "Rizzoli and Isles", movies "Someone to Watch Over Me", "The Basketball Diaries", "Goodfellas")
Philip Oakey – 67 years old (1955) – Singer (The Human League)
Robbie Nevil – 64 years old (1958) – Singer ("C'est la Vie," "Dominoes", "Wots It to Ya")
Kelly Ripa – 52 years old (1970) – TV host, actress ("Live With Kelly and Michael", "Live With Regis and Kelly", "All My Children", "Hope and Faith")
Tiffany – 51 years old (1971) – Singer ("I Think We're Alone Now")
TODAY IS:
International Day of Non-Violence
National Custodial Worker Recognition Day
For additional information check out websites like: www.on-this-day.com, www.born-today.com, www.famousbirthdays.com, www.daysoftheyear.com, and www.nationaldaycalendar.com.