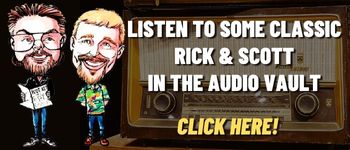 A quick look at Today in History, check out some Celebrity Birthdays, and find out what Days of the Year to celebrate.
TODAY IN HISTORY:
1858 – Roland Macy opened Macy's Department Store on 6th Avenue in New York, NY. It was Macy's eighth business adventure (the other seven failed).
1904 – The New York subway system, the IRT, officially opened. It was the first rapid-transit subway system in the United States. It would become the biggest system in the United States and one of the biggest in the world.
1925 – Fred Waller received a patent for his water skis.
1927 – The first newsreel featuring sound was released in New York, NY.
1938 – DuPont announced "nylon" was the new name for its new synthetic fiber.
1947 – "You Bet Your Life," the radio show starring Grouch Marx, premiered on ABC. It was later shown on NBC television.
1954 – The first Walt Disney television show, "Disneyland", premiered on ABC.
1955 – The movie "Rebel Without a Cause", starring James Dean, premiered in theaters.
1961 – NASA tested the first Saturn I rocket in Mission Saturn-Apollo 1.
1966 – The animated Halloween classic "It's a Great Pumpkin, Charlie Brown" debuted on TV.
1967 – The heaviest October snowstorm on record across Michigan occurred. On October 26, 1967, the snow began falling and by the next day, Grand Rapids had 8.4 inches, Lansing 7.5 inches and Muskegon had 4.9 inches. In the Upper Peninsula, Ironwood had a whopping 26.7 inches of new snow.
1975 – Bruce Springsteen was simultaneously on the cover of "Time" and "Newsweek." This was the first time this happened for a rock star.
1989 – Tom Petty released "Free Fallin" from his debut solo album "Full Moon Fever".
1994 – The U.S. Justice Department announced that the U.S. prison population had exceeded one million for the first time in American history.
1996 – VH1 added fun facts to music videos with "pop-up" bubbles — officially called "info nuggets" — and called the program "Pop-Up Video".
1997 – Stock markets around the world crashed because of fears of a global economic meltdown. The Dow Jones Industrial Average dropped 554.26 points to 7,161.15. The stock market was shut down for the first time since the 1981 assassination attempt on President Ronald Reagan.
2001 – In Washington, DC, the search for anthrax widened to thousands of businesses and 30 mail distribution centers.
2003 – Bank of America Corp. announced it had agreed to buy FleetBoston Financial Corp. The deal created the second largest banking company in the U.S.
2004 – The Boston Red Sox defeated the St. Louis Cardinals to win their first World Series in 86 years.
2014 – The new Grand Rapids passenger train station (named for Vernon Ehlers) opened for service.
BIRTHDAYS:
John Cleese – 84 years old (1939) – Actor, comedian ("Monty Python's Flying Circus", "A Fish Called Wanda", "Die Another Day", "The World Is Not Enough", "Clockwise", TV's "Fawlty Towers")
Lee Greenwood – 81 years old (1942) – Singer ("God Bless the USA")
Garry Tallent – 74 years old (1949) – Bass player (E Street Band). Born in Detroit, MI
Jayne Kennedy – 72 years old (1951) – Actress ("Body and Soul")
Roberto Benigni – 71 years old (1952) – Actor, director ("Life is Beautiful")
Peter Firth – 70 years old (1953) – Actor ("Equus")
Robert Picardo – 70 years old (1953) – Actor (TV's "China Beach", "Star Trek: Voyager", "Innerspace", "The Wonder Years", movies "Wagons East", "Stargate")
Simon Le Bon – 65 years old (1958) – Singer (Duran Duran)
Matt Drudge – 57 years old (1966) – Newshound
Sheeri Rappaport – 46 years old (1977) – Actress (TV's "CSI: Crime Scene Investigation", "NYPD Blue")
Patrick Fugit – 41 years old (1982) – Actor ("We Bought a Zoo", "Saved!", "Almost Famous")
Kelly Osbourne – 39 years old (1984) – TV personality (TV's "The Osbournes")
TODAY IS:
National Parmigiano Reggiano Day
For additional information check out websites like: www.on-this-day.com, www.born-today.com, www.famousbirthdays.com, www.daysoftheyear.com, and www.nationaldaycalendar.com.