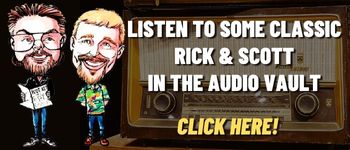 A quick look at Today in History, check out some Celebrity Birthdays, and find out what Days of the Year to celebrate.
TODAY IN HISTORY:
1894 – The time clock was patented by Daniel M. Cooper of Rochester, NY.
1938 – Orson Welles broadcast his radio play of H.G. Wells' "The War of the Worlds" on CBS radio, convincing many listeners that a Martian invasion was really happening.
1945 – Jackie Robinson, of the Kansas City Monarchs, signed a contract with the Brooklyn Dodgers, breaking the baseball color line.
1945 – The U.S. government announced the end of wartime shoe rationing.
1960 – Michael Woodruff performed the first successful kidney transplant in the United Kingdom.
1970 – Jim Morrison was sentenced to 6 months in jail and fined $500 for exposing himself in Miami, FL. He was also sentenced to 60 days of hard labor for using profanity. He was released on $50,000 bond until the appeal could be heard.
1972 – President Richard Nixon approved legislation to increase Social Security spending by $5.3 billion.
1972 – In Illinois, 45 people were killed and 332 were injured when two trains collided on Chicago's south side.
1974 – The Rumble in the Jungle boxing match between Muhammad Ali and George Foreman took place in Kinshasa, Zaire. Ali won by a knock out in the 8th round, regaining the World Heavyweight Champion title and giving Foreman his first professional defeat.
1974 – The movie "The Texas Chainsaw Massacre" premiered.
1975 – The New York Daily News ran the headline "Ford to City: Drop Dead." The headline came a day after President Gerald R. Ford said he would veto any proposed federal bailout of New York City.
1985 – The Space Shuttle Challenger lifted off for mission STS-61-A, its final successful mission.
1987 – In Japan, NEC released the first 16-bit video game console, the PC Engine. It was later sold in other markets with the name TurboGrafx-16.
1993 – America's first veterinarian in space, Martin Fettman, performed the world's first animal dissections in space, while aboard the Space Shuttle Columbia.
2001 – In New York, NY, President George W. Bush threw out the first pitch at Game 3 of the World Series between the New York Yankees and the Arizona Diamondbacks.
2001 – Michael Jordan returned to the NBA with the Washington Wizards after a 3-1/2 year retirement.
BIRTHDAYS:
Grace Slick – 83 years old (1939) – Singer (Jefferson Airplane/Starship)
Otis Williams – 81 years old (1941) – Singer (The Temptations)
Henry Winkler – 77 years old (1945) – Actor, producer, director ("The Fonz" on TV's "Happy Days", movie "The Lords of Flatbush")
Timothy B. Schmit – 75 years old (1947) – Bassist, vocalist (Poco, The Eagles)
Harry Hamlin – 71 years old (1951) – Actor (TV's "L.A. Law", "Veronica Mars", movie "Clash of the Titans")
Charles Martin Smith – 69 years old (1953) – Actor ("American Graffiti", "Never Cry Wolf", "Starman", "The Buddy Holly Story", "The Untouchables")
Shanna Reed – 67 years old (1955) – Actress (TV's "Major Dad")
Kevin Pollak – 65 years old (1957) – Actor ("Willow", "Ricochet", "A Few Good Men", "End of Days", "The Wedding Planner", "The Usual Suspects", "The Whole Nine Yards")
Michael Beach – 59 years old (1963) – Actor ("Soul Food", "One False Move", TV's "Third Watch")
Gavin Rossdale – 57 years old (1965) – Lead singer, rhythm guitarist (Bush)
Nia Long – 52 years old (1970) – Actress ("Are We There Yet?", "Are We Done Yet?", "Premonition", "Alfie", both "Big Momma's House" movies, "Soul Food", "Friday", "Boyz n the Hood", TV's "Third Watch")
Matthew Morrison – 44 years old (1978) – Actor (TV's "Glee")
Christopher Backus – 41 years old (1981) – Actor (TV's "Will & Grace", "The O.C.", "Life on Mars", "It's Always Sunny in Philadelphia", "Sons of Anarchy", "The Mentalist", "Perception")
Ivanka Trump – 41 years old (1981) – The daughter of Donald and Ivana Trump has regularly helped out on his reality TV show, "The Apprentice"
Janel Parrish – 34 years old (1988) – Actress (TV's "Pretty Little Liars")
Tequan Richmond (T-Rich) – 30 years old (1992) – Actor (TV's "Everybody Hates Chris")
TODAY IS:
National Speak Up For Service Day
For additional information check out websites like: www.on-this-day.com, www.born-today.com, www.famousbirthdays.com, www.daysoftheyear.com, and www.nationaldaycalendar.com.