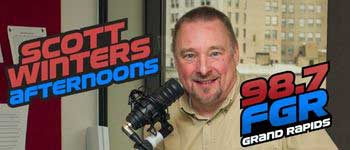 A quick look at Today in History, check out some Celebrity Birthdays, and find out what Days of the Year to celebrate.
TODAY IN HISTORY:
1723 – Benjamin Franklin arrived in Philadelphia at the age of 17.
1848 – The steamboat SS California left the New York Harbor to set sail for San Francisco, CA via Cape Horn. The trip took 4 months and 21 days. The steamboat arrived in San Francisco on February 28, 1849.
1866 – The Reno Brothers pulled the first train robbery in America near Seymour, IN. The got away with $10,000.
1872 – Fredrick Wurzburg opened Wurzburg Dry Goods, which later became Wurzburg's Department Store in downtown Grand Rapids, MI.
1880 – The National League kicked the Cincinnati Reds out for selling beer.
1889 – Thomas Edison showed his first motion picture.
1927 – The first prominent "talkie" movie, "The Jazz Singer", premiered.
1945 – Billy Sianis and his pet billy goat were ejected from Wrigley Field during Game 4 of the 1945 World Series.
1960 – The movie "Spartacus", starring Kirk Douglas in the title role, premiered in theaters.
1961 – President John F. Kennedy urged American families to build or buy bomb shelters to protect themselves in the event of a nuclear exchange with the Soviet Union.
1972 – Pictured Rocks National Lakeshore was officially dedicated.
1975 – The Detroit Lions played their first Football game in their new home — the Pontiac Silverdome. (They would play their final game there on January 6, 2002.) The Silverdome was demolished in the Winter of 2017.
1979 – Pope John Paul II became the first pontiff to visit the White House.
1991 – Elizabeth Taylor married Larry Fortensky. The ceremony was held at Michael Jackson's estate near Los Angeles, CA. It was Taylor's 8th marriage and Fortensky's 3rd.
1992 – Ross Perot appeared in his first paid broadcast on CBS-TV after entering the U.S. Presidential race.
1995 – 51 Pegasi was discovered to be the second major star, apart from the Sun, to have a planet orbiting around it.
1998 – Matthew Shepard, a college student in Wyoming, was beaten to death for being gay.
1998 – The band Alabama received a star on the Hollywood Walk of Fame.
2004 – The Syfy network TV series "Ghost Hunters" premiered. It ran until October 26, 2016.
2007 – Jason Lewis completed the first human-powered circumnavigation of the globe.
2010 – Instagram was official launched. Two years later it was purchased by Facebook for $1 billion.
2015 – Rock Band 4 was released for Playstation 4 and Xbox One.
BIRTHDAYS:
Britt Ekland – 80 years old (1942) – Actress ("The Wicker Man", "The Man With the Golden Gun", "The Night They Raided Minsky's")
Thomas McClary – 73 years old (1949) – Guitarist (The Commodores)
Kevin Cronin – 71 years old (1951) – Singer, guitarist (REO Speedwagon)
David Hidalgo – 68 years old (1954) – Musician (Los Lobos)
Tony Dungy – 67 years old (1955) – NFL Coach, TV Personality (Indianapolis Colts 2002-2008, TV's "Sunday Night Football"). Born in Jackson, MI.
Elisabeth Shue – 59 years old (1963) – Actress ("Leaving Las Vegas", "Piranha 3D", "Hide and Seek", "Hollow Man", "The Saint", "Cocktail", "Adventures in Babysitting", "The Karate Kid", "Back to the Future" 2 & 3)
Matthew Sweet – 58 years old (1964) – Musician
Amy Jo Johnson – 52 years old (1970) – Actress ("Mighty Morphin Power Rangers", "Felicity", "The Division", "Flashpoint")
Jeremy Sisto – 48 years old (1974) – Actor (TV's "Suburgatory", "Six Feet Under", "Law & Order")
Olivia Thirlby – 36 years old (1986) – Actress ("Juno", "Dredd", "The Darkest Hour")
Rhyon Brown – 30 years old (1992) – Actress (TV's "Lincoln Heights")
TODAY IS:
Bring Your Bible to School Day
National Physician Assistant Day
National Plus Size Appreciation Day
National Transfer Money to Your Daughter Day
For additional information check out websites like: www.on-this-day.com, www.born-today.com, www.famousbirthdays.com, www.daysoftheyear.com, and www.nationaldaycalendar.com.