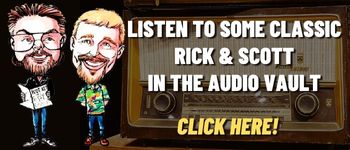 A quick look at Today in History, check out some Celebrity Birthdays, and find out what Days of the Year to celebrate.
TODAY IN HISTORY:
1913 – Henry Ford's entire Highland Park, MI, automobile factory was run on a continuously moving assembly line for the first time when the chassis was added to the process.
1916 – Georgia Tech defeated Cumberland University 222-0 in the most lopsided college football game in American history.
1935 – The Detroit Tigers won the World Series when they beat Chicago in six games. It was the first World Series win for the Tigers.
1951 – The Western Hills Hotel in Fort Worth, TX, became the first hotel to feature all foam-rubber mattresses and pillows.
1952 – The music-performance and dance television program "Bandstand" debuted in Philadelphia, PA. Dick Clark would take over the hosting duties in 1956. The show was picked up nationally, becoming "American Bandstand", on August 5, 1957. It aired until October 7, 1989.
1956 – A Congressional committee began an investigation into rigged TV quiz shows.
1958 – The U.S. manned space flight project was renamed "Project Mercury".
1960 – The television show "Route 66" debuted on CBS.
1968 – The Motion Picture Association of America adopted the film-rating system, labeling movies from "G" to "X".
1982 – A record 147,000,000 shares were exchanged on the New York Stock Exchange.
1988 – An Inupiag hunter discovered three gray whales trapped under the ice in Barrow, AK. The situation turned into a multinational effort to free the whales.
1993 – The flood of '93 ended in St. Louis, MO, as the Mississippi River fell below flood stage for the first time in 103 days.
1996 – The Fox News Channel debuted.
1998 – Matthew Shepard, a gay student at the University of Wyoming, was found tied to a fence after being beaten by two young adults in Laramie, WY.
1999 – American Home Products Corp. agreed to pay up to $4.83 billion to settle claims that the diet drug fen-phen caused dangerous problems with heart valves.
1999 – The 24 foot bronze horse statue model of DiVinci's "Il Cavallo" was unveiled at Frederik Meijer Gardens in Grand Rapids, MI.
2001 – The Global War on Terrorism started as a result of the September 11th attacks. The U.S. invasion of Afghanistan began with an air assault and covert operations on the ground.
2001 – Barry Bonds became baseball's single-season homer champ by hitting his 73rd.
2002 – The Washington, DC, sniper's reign of terror continued as a 13 year-old was shot and wounded outside his school in Bowie, MD.
2003 – California governor Gray Davis was ousted in a recall vote that put Austrian-born actor Arnold Schwarzenneger in office.
2003 – Randy Quaid received a star on the Hollywood Walk of Fame.
2004 – Billy Bob Thornton got a star on the Hollywood Walk of Fame.
BIRTHDAYS:
Thomas Keneally – 87 years old (1935) – Novelist ("Schindler's Ark", which was later adapted for the movie "Schindler's List")
Joy Behar – 80 years old (1942) – Comedian, actress, TV host (TV's "The View", "The Joy Behar Show")
Oliver North – 79 years old (1943) – Iran-Contra scandal figure, author, broadcaster
Kevin Godley – 77 years old (1945) – Drummer (10cc)
Dave Hope – 73 years old (1949) – Bass guitarist (Kansas)
John Mellencamp – 71 years old (1951) – Singer ("Hurts So Good", "Jack & Diane", "Crumblin' Down", "Pink Houses")
Christopher Norris – 69 years old (1953) – Actress (TV's "Trapper John, M.D.", "Santa Barbara", "Another World", "Guiding Light")
Tico Torres – 69 years old (1953) – Drummer (Bon Jovi)
Michael W. Smith – 65 years old (1957) – Singer
Judy Landers – 64 years old (1958) – Actress ("Stewardess School", "Armed and Dangerous", "Ghost Writer", "Club Fed")
Simon Cowell – 63 years old (1959) – TV Judge, producer, record exceutive (TV's "American Idol", "X Factor")
Toni Braxton – 55 years old (1967) – Singer ("You're Makin' Me High", "Un-Break My Heart")
Nicole Ari Parker – 52 years old (1970) – Actress ("Boogie Nights")
Taylor Hicks – 46 years old (1976) – Singer (Winner of "American Idol" Season 5)
Charles Woodson – 46 years old (1976) – Football player (played college football for the University of Michigan)
TODAY IS:
National Chocolate Covered Pretzel Day
National Forgiveness and Happiness Day
National Trigeminal Neuralgia Awareness Day
Team Margot Stem Cell and Bone Marrow Awareness Day
For additional information check out websites like: www.on-this-day.com, www.born-today.com, www.famousbirthdays.com, www.daysoftheyear.com, and www.nationaldaycalendar.com.