I was out driving the other night when I looked down at my odometer and realized it had hit 333,334 miles! That is one-third of a million miles!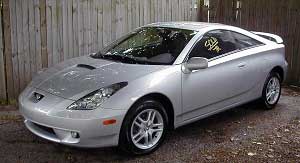 I remember when I bought my 2002 Toyota Celica (I call it my "Silver Bullet"…although it only has a 4-cylinder engine!), the salesman at the dealership said as long as I did the required maintenance on the vehicle it would go well over 100,000 miles. That was something I had never achieved with a vehicle before — despite always being a stickler on maintenance. Usually for most of my cars, around 80,000, they would start to nickle and dime me — and it was time to replace them.
Of the 333,334 miles on my Celica, I have probably been behind the wheel for all but about 5-10 of those miles. I purchased the car brand new in 2002 with just under 5 miles on it. I have now owned the car for 15 years. I have been driving for 38 years, so I have driven the "Silver Bullet" for a majority of my driving years. We have developed quite a "friendship"!
I thought it might be interesting to do a little math…
Let's say I averaged a speed of 50 miles per hour over all of the time I've owned my car…that would put me behind the wheel for 6,667 hours! That would be almost 278 days I have been in the driver's seat of the "Silver Bullet" — almost one year of my life has been spent driving that car.
How far could I have traveled? It's 238,900 miles to the moon. So if there were a road to travel, I could have driven to the moon and almost half way back.
The circumference of the earth is 24,901 miles, so I could have driven around the world 13 times!
The longest time spent in the driver's seat were the times I drove to Ft. Lauderdale, FL to visit a friend. I drove non-stop (except for food, restroom and gasoline breaks). That was a 23 hour drive each way. I made that trip down, and back, probably a half dozen times or so before my friend moved closer. I drove straight through on most of those trips.
The shortest trip…probably those days when I'm too lazy to walk down my 1/4 mile drive way to get the mail. On those days, I hop in the car and drive down and back!
The scariest time in the car was also on a trip to Florida. I was traveling in the southbound lanes, just outside of Tampa, when a trailer that was heading the other direction lost a wheel. The tire bounced across the median and was heading right towards me…hopping on each bounce. I thought for sure I was going to be eating a "tire sandwich". Somehow the tire hit the road just inches in front of the car, bounced again and my car went right underneath the airborne tire without a scratch. Luck was with me that day!
The Toyota has traveled most of the old "Route 66", traveled the east coast (including driving the streets of New York City), it has crossed Lake Michigan a few times on the "Badger", it's been as far north as Canada, and as far south as Key West, FL.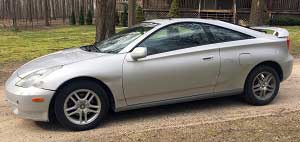 Overall, the little silver beauty is still in pretty good shape. She's got a few bumps and bruises…most of them are  from a deer charging into the car one night will driving a country road. I slowed down because I saw the deer on the side of the road. She put her head down and charged the car like a bull as soon as I got close enough. The windshield has a few stone chips. the sides have suffered a few door dings in parking lots.
The first five years or so, I would put a bra on the front of the car for long trips — to protect it from stone chips and bugs. She's gone bra-less for the last 10 or so years!
I would store the Celica for the winter up until about 5 years ago. With good tires, she is a tank in the winter. I've had better control with this car on slippery roads than I have had in some of my 4-wheel SUV's.
I wish I would have purchased two Celicas back in 2002. Then I would only have 165,000 on each one!
Believe it or not, it still has the original muffler system, the original timing chain, original water pump…I've had to put tires and brakes on it. I've installed in a few new batteries over the years. I've had it in for tune-ups and oil changes and normal maintenance. She burns about a quart of oil every 500 miles, but that's a small sacrifice to keep my dear automotive friend on the road. It still gets 35-40 miles per gallon on the highway.
I will admit, there will be a little tear in my eye when it does come time to retire the "Silver Bullet". We have spent a lot of time together…almost 7,000 hours!
The next milestone…400,000 miles!
"Are we there yet?!"
Here is an Australian TV commercial from 2000 for the Toyota Celica (or as it is pronounced in the ad…Sah-LEE-ka). The car in the ad looks exactly like mine…
Here is a commercial from Canada in 2000. They also pronounce it Sah-LEE-ka. Hmm, maybe I've been saying it wrong all these years!