The year was 1978. There was a new movie in the theaters called "Grease". Starring in the lead roles were John Travolta as "Danny Zuko" and Olivia Newton-John as "Sandy Olsson". I was 15 at the time. I saw the movie and instantly fell in love with Olivia.
Over the years, into my adulthood, I would have this vision that some day I would run into her and there would be this special magic between us. My hope was someday she would become the future "Mrs. Scott Winters". Sadly, that never happened.
On Monday, October 10th, 2016, Olivia was at the Cascade Meijer here in Grand Rapids. She was in town to promote her Pink & Blue for Two charity wines.
The color pink is associated with breast cancer and blue is used for prostate cancer. The Pink & Blue for Two wines are sold to help promote breast cancer and prostate cancer awareness. The wine brand was started by her nephew — race car driver Emerson Newton-John. A portion of the proceeds from the sale of the wines go to the Pink & Blue campaign, which raises money for early detection of breast and prostate cancer. Some of the funds also go to Olivia's Wellness and Research Centre in Australia. The wines can be found at all Meijer locations. Meijer is the first major retailer to sell the wine.
When I heard that Olivia was going to be in town, I thought this could be my chance! (I realize she is married, but I thought maybe I could change that!)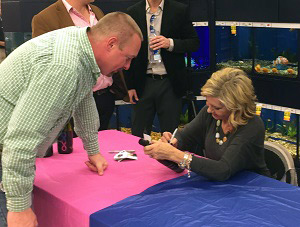 I stood in line with over 100 other fans, waiting to get up to the table where she was sitting. I even purchased a bottle of Pink & Blue chardonnay (they also have a cabernet) for her to sign.
As I reached the table I told her that I admired her work and thanked her for coming to Grand Rapids. I could feel the magic between us. I think I even saw a twinkle in her eye.
As I write this I can hear her telling me she honestly loves me… or wait, maybe that's just the YouTube video playing in the background.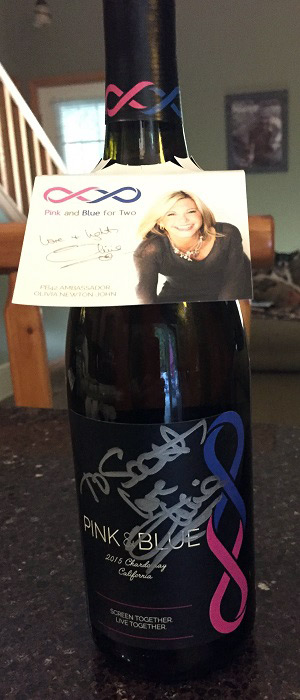 But back to my dream… I think she honestly does love me! When I walked away from that table (or more likely floated away on cloud nine), I looked at the signed wine bottle and there it was…."To Scott, Love Olivia"! Wait… did that say what I thought it did? "Love Olivia"? See, she does honestly love me.
Now I'm begging you, please don't tell me she signs all the bottles this way. Please don't shatter my dreams!
Well, maybe I need to cross Olivia off the list. I wonder if Dawn Wells (Mary Ann from "Gilligan's Island") is still available?