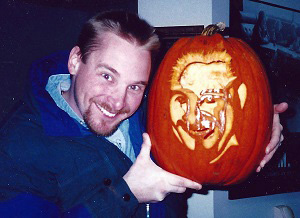 I first met Randy Finch, Derek Maxfield, and the gang from Ice Sculptures, Ltd., back in the mid 90's. We were working at WGRD and they were just getting their company started. It was nearing Valentine's Day, and one of their big sellers was an ice heart with a "Happy Valentines Day" message frozen inside. Those things sold like hotcakes.
That fall, near Halloween, they stopped by with carved pumpkins for all of us. Now these weren't just ordinary Jack-o-lanterns. These pumpkins have the images of our very own faces on them! This was the first time my face had ever been reproduced on a pumpkin! I have to admit, it was cool to see a pumpkin light up at night with MY face!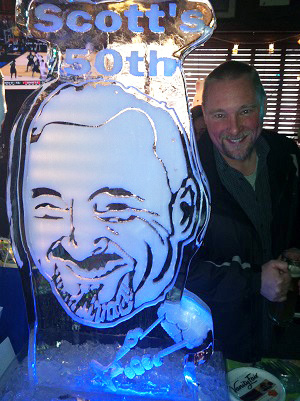 Over the years since then, Randy and his crew have grown their company and have even been feautred in a reality TV show called "Ice Brigade" on the Food Network in 2011. (If you'd like to see a video and read more about the show, here is a link.)
We jump ahead to 2013… Some of my friends put together a surprise "50th Birthday Party" for me. The first thing I saw when I walked into the local establishment was a ice sculpture of my face. How cool! After the party I took the ice home and had it sitting on my deck for a few days. In early April is was just cold enough for the ice to do a slow melt over a few days. It was interesting watching my face slowly melt away after a couple of days.
Now it's 2016. Once again my mug seems to be the subject of another work of art by Randy and the crew. This one has to be the best ever. This time they carve a reproduction of my face — in 3D — into a pumpkin!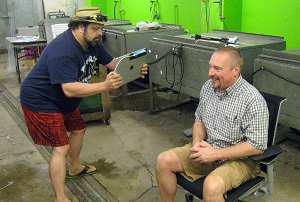 It all started with me taking a trip to the Ice Sculptures, Ltd., world headquarters. Once there I had to sit still and "hold a pose" while Randy walked around me with an tablet that had an attached camera on it. This device was actually scanning my face into a 3-dimensional file that would be used to carve my face into the pumpkin!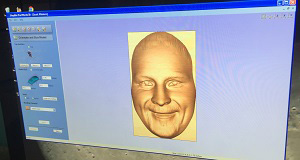 Once the scan was complete, Randy had to go in and "fine tune" the scan. I should have asked him to clean up the wrinkles, the bags under my eyes, and maybe given me a nose job! After the final details were updated, my face now existed as a 3D file on their computer.
With this file, they could take a pumpkin (thanks to Nancy at Fruit Ridge Hayrides for supplying the pumpkins), and with the help of some very sophisticated carving equipment, reproduce my face into a pumpkin…in 3D! The actual process took about 15 minutes, but here is a quick time lapse video of the carving process…
Once the machine carved out the rough texture of my face, Randy went to work with a few final touches…
And then the final process was to hose me down! (This kind of reminds me of my mother washing my face as a child!)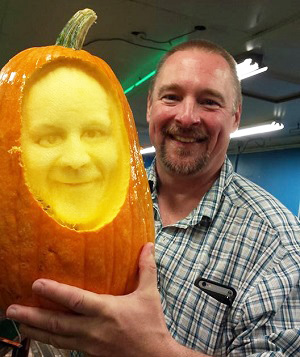 Wow, how cool…and a little creepy to see how accurate the carving actually was! The carving was almost life-size which made it even weirder. Imagine seeing your "face" sitting on your kitchen counter when you walk into the room. Or perhaps sitting on your front porch when company arrives for Halloween!
Ice Sculptures, Ltd., will be offering four standard "Halloween" themed pumpkin designs for sale this season. They will have a few different styles.. perhaps Frankenstein, a scary clown or some other creepy face for your pumpkin. How about a "Trumpkin" for your home (with the likeness of Donald Trump)? They can also do a scan of your face and carve that into a pumpkin, but this requires more work…including you having to go and get your face scanned. For more information on the products they have available, check out the Randy Finch's Facebook page or the Ice Brigade Facebook page.
Randy plans to put this technology to work for his ArtPrize entry this year. Carved pumpkins will be part of his installation. The entry is going to be called "The Lawn Chair" (Entry #64514) and will be an interactive entry where you can actually have a selfie taken of you, and your friends, while walking around ArtPrize 8. Their entry will be at Peaches Bed and Breakfast at 29 Gay Ave SE, Grand Rapids, MI 49503. There will be 28 other exhibits in that same location, so make sure you plan on stopping in to see the various works of art. For more information on Randy's ArtPrize installation, here is the Facebook page for "The Lawn Chair" or you can check out the information on the official ArtPrize website.