First, a big THANKS for all the kind words and comments on my "Random Thoughts" yesterday. I actually expected to get more kick-back than I did. I'm glad I'm not the only one that feels that way about the latest Executive Stay at Home and do nothing order.
OK, onward we go. Here are today's "Random Thoughts".
THE NUMBERS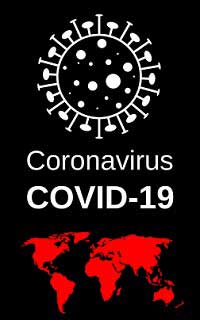 According to the website put together by the Michigan Department of Health and Human Services, as of Friday afternoon at 3 pm there are 22,783 confirmed cases of COVID-19 in the state of Michigan. That number jumped up by 1,279 in 24 hours.
Here in West Michigan, there are 250 confirmed cases in Kent County (up by 17), 61 in Ottawa (up by 2), 57 in Muskegon (up by 4), 20 in Montcalm (up by 1), 19 in Allegan (up by 1), 14 in Ionia County (up by 1), seven in Barry County (no change), and four in Newaygo County (up by one).
We have had a total of 1281 deaths in our state due to COVID-19 (an increase of 205). We have had 13 deaths in Kent County (up by 4), four in Muskegon County, two deaths in Ionia County (up by 1), one death in Montcalm County, and one death in Ottawa County.
Stay Home, Wash Your Hands, and Social Distance Yourself! Please stay healthy.
ANOTHER GREAT CORONAVIRUS PARODY SONG
I love how creative people are getting with their parody songs. Some of these are so well done.
Thank you to Kristie for sending me this one…
CELEBRITY DEATH
As a kid I couldn't wait for the new issue of "Mad" magazine or "Cracked" magazine to hit the newstand. I loved those publications.
I was saddened to hear of the passing of Mort Drucker. Mort was "Mad" magazine's longest-tenured artist. He also did the poster for the movie "American Graffiti". Mort died on Thursday at the age of 91. No cause of death was given.
RIP, Mort Drucker, whose caricatures revealed as much as they ridiculed. In your memory, we will continue to satirize even in dark times, and laugh like Idiots while doing it. pic.twitter.com/AUWEaIMWUe

— MAD Magazine (@MADmagazine) April 9, 2020
 MORE "TIGER KING"
A "Tiger King" after show called "The Tiger King and I", will be hosted by Joel McHale. It will feature brand new interviews with John Reinke, Joshua Dial, John Finlay, Saff, Erik Cowie, Rick Kirkman, and Jeff and Lauren Lowe. You will be able to find it on Netflix starting tomorrow, April 12th.
The Tiger King and I — a Tiger King after show hosted by Joel McHale and featuring brand new interviews with John Reinke, Joshua Dial, John Finlay, Saff, Erik Cowie, Rick Kirkman, and Jeff and Lauren Lowe — will premiere April 12 pic.twitter.com/8fbbNdaiDA

— Netflix (@netflix) April 9, 2020
Have a GREAT Weekend. I will be on the air today from 10 am-3 pm on 98.7 WFGR. Join me! (On Monday, we start giving away lots of MONEY! Tune in for details!)
If you have any comments on the above stories, please leave your remarks below…