Welcome to Wednesday. Being April 15th it would have been Tax Day, but the tax deadline has been extended to July 15th. Great, now I'll put it off  until July 14th!
Here are my "Random Thoughts" for Wednesday…
THE NUMBERS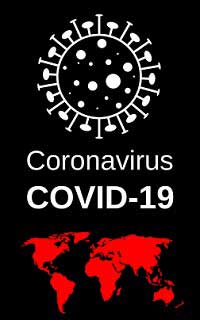 According to the website put together by the Michigan Department of Health and Human Services, as of Tuesday afternoon at 3 pm there are 27,001 confirmed cases of COVID-19 in the state of Michigan. That number jumped up by 1,366 in 24 hours.
Here in West Michigan, there are 325 confirmed cases in Kent County (up by 14), 67 in Ottawa (down by 2), 85 in Muskegon (up by 17), 23 in Montcalm (up by 1), 23 in Allegan (no change), 17 in Ionia County (up by 2), 14 in Barry County (up by 3), and seven in Newaygo County (up by 1).
We have had a total of 1,768 deaths in our state due to COVID-19 (an increase of 166). We have had 14 deaths in Kent County (up by 1), five in Muskegon County (up by one), two deaths in Ionia County (no change), two deaths in Ottawa County (no change), and one death in Montcalm County (no change).
They are now also giving us the Cumulative Total of Recovered COVID-19 Cases. They will update this number every Saturday. As of April 10th, 433 have recovered from the virus.
There are now about 2 million confirmed cases of the coronavirus worldwide, with more than 126,700 deaths. In the U.S., there are more than 609,400 confirmed cases and more than 26,000 deaths.
Stay Home, Wash Your Hands, and Social Distance Yourself! Please stay healthy.
MORNING SHOW REUNION THIS SATURDAY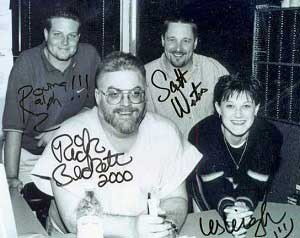 This is going to be so much fun. This coming Saturday, April 18th at 7 pm, join me on Zoom as we do a video chat with a bunch of former cast members from morning radio back in the 80s and 90s!
We will do this on the Zoom Video meeting program. We will be limited to 100 participants, so you will want to make sure you sign in right at 7 to get a spot. I will also stream it to Facebook Live and monitor comments there. So even if you can't join us on Zoom, you will be able to watch it on Facebook Live and take part that way.
Confirmed so far are:
Darla Jaye
Lesleigh Green
Leanne Suter (if her schedule permits)
Stephanie Web
Rovin' Ralph
Moose
I have also heard from some of our regular callers who will be joining us, including:
Aneurysm Jim
John Baker the Hitmaker
Big Phil
Bruce Doll our Official/Unofficial Photographer
We will update everyone on what we have been up to as well as take your questions and comments.
Mark your calendars now for this Saturday at 7 pm. I will post the meeting information here on Friday and Saturday. (I hesitate to post it publicly on Facebook because I don't want hackers or uninvited people to be joining us.) Check back here later in the week and I'll post the meeting I.D. number and access information.
And if you can't join us on Saturday, I will record the event and post the video here on my blog on Sunday for all to see,
HOW MANY DO YOU SEE?
Remember about a year or so ago the debate over what color the dress was?
Well now this picture is circulating around on social media. How many people do you see in the picture?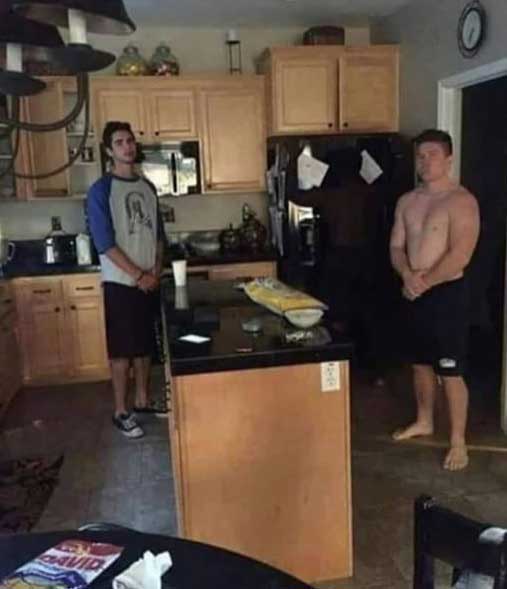 Most people immediately say they see just two guys.
But if you look closely, there is actually a third male in the picture.
Here is the same photo with the contrast and brightness levels adjusted…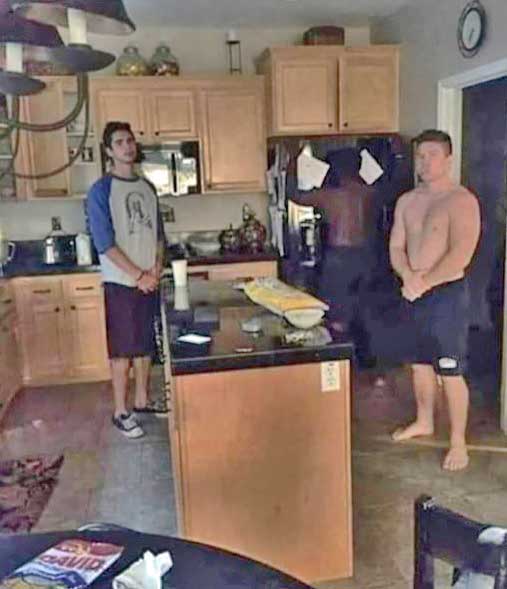 WHAT PEOPLE ARE DOING IN THEIR FREE TIME
It's amazing how bored we can get sitting at home with nothing to do.
Some of us have spent a lot of time with our pets.
One person decided to combine toilet paper and their dog to put their pooch through an agility challenge. The goal was to see how high of a T.P. hurdle the dog could jump…
I'm always amazed at how our dogs can outsmart us. They are so much more intelligent than we want to believe!
Have a WONDERFUL Wednesday. I will be on the air today — local and live — from 3-7 pm on 98.7 WFGR. It's a "One Hit Wonder Wednesday" and I'll have a "Social Distance Dollars" code word for you at 4:30 pm — giving you the chance to win $1,000 and get registered for the Grand Prize of $10,000! Tune in for details and to win cash!
If you have any comments on the above stories, please leave your remarks below…