Look at that…it's Thursday! Here are today's "Random Thoughts"…
THE NUMBERS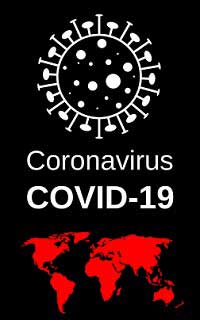 According to the website put together by the Michigan Department of Health and Human Services, as of Wednesday afternoon at 3 pm there are 28,059 confirmed cases of COVID-19 in the state of Michigan. That number jumped up by 1,058 in 24 hours.
Here in West Michigan, there are 354 confirmed cases in Kent County (up by 29), 74 in Ottawa (up by 7), 93 in Muskegon (up by 8), 25 in Allegan (up by 2), 23 in Montcalm (no chagne), 18 in Barry County (up by 4), 18 in Ionia County (up by 1), and seven in Newaygo County (no c change).
We have had a total of 1,921 deaths in our state due to COVID-19 (an increase of 153). We have had 16 deaths in Kent County (up by 2), five in Muskegon County (no change), two deaths in Ionia County (no change), two deaths in Ottawa County (no change), and one death in Montcalm County (no change).
They are now also giving us the Cumulative Total of Recovered COVID-19 Cases. They will update this number every Saturday. As of April 10th, 433 have recovered from the virus.
There are more than 2 million cases of the coronavirus worldwide, with more than 137,000 deaths. In the U.S., there are about 640,000 cases and more than 30,000 deaths.
Stay Home, Wash Your Hands, and Social Distance Yourself! Please stay healthy.
PROTEST IN LANSING ON WEDNESDAY
I have a few thoughts on yesterday's protest in Lansing…
First, I think it's great that so many people showed up to let Governor Gretchen Whitmer know how unhappy they are with her latest Executive Stay at Home Order and how restrictive it is.
I was very disappointed in several aspects of the rally yesterday though…
I did not like seeing so many people out of their cars and interacting with others. They were not social distancing themselves and many were not wearing masks.
I never know what to believe on the internet anymore. I saw some reports and pictures that the gridlock of vehicles was not letting ambulances through to the hospital. I hope that was not the case, but it is was…how truly disappointing.
I also saw a few pictures of people there with their guns. Why? This was not a gun rally. The Governor was not taking away any of our gun rights. Was there really a need to bring your big guns with you to Lansing? Once again I hope this wasn't really happening, but if it did I know why…because you could! There are many that because they have the right to carry and bring their gun — they are going to do it. I have a lot of rights, but I don't always have to exercise them every time I'm in public. Leave your guns at home.
And finally, I saw many banners with some great messages of support. And then there were those signs with misspelled words! If you are going to paint a sign…make sure you spell the words correctly.
So what happens now? Well get ready. The Governor is not going to let yesterday's protest just fade away without reacting. In a couple of news interviews she has already dropped the hint that she may have to extent the Stay at Home order past April 30th. You can BET that she is definitely going to do this, whether the numbers show it is needed or not. I feel like back when I was in grade school and the whole class got punished for the actions of a few. That's what is going to happen to the residents of Michigan. Don't expect this Stay at Home order to end until at least the middle, if not the end, of May. Mark my words.
STIMULUS CHECKS AND UNEMPLOYMENT

How many have received their checks from the government?
I have heard of some people that have received the money into their account. Nothing yet it my bank account. I tried to check it out on the website to see when I would be getting my money. Yesterday I got the message that they didn't have enough information. I saw many posts on social media that people were getting the same message. Today I get the error page that says "Please Wait. Due to high demand, you may have to wait longer than usual to access this site. We appreciate your patience." An IRS spokesperson said that those messages are popping up because the system is overloaded.
And how about those waits to get through the file for unemployment? The website either doesn't work properly or crashes. Or, if you try to get through by phone, you hang on hold for hours…only to then get disconnected.
What a mess. I am fortunate I still have some income coming in, but only about 1/3 of my average monthly income. I can get by, but I know some people need this money ASAP. They can't wait for weeks while the system gets the kinks worked out. I saw one report that said if they had to mail you your stimulus check, it could take up to 11 weeks! That's almost three months. People need that money now, not in July.
MORNING SHOW REUNION THIS SATURDAY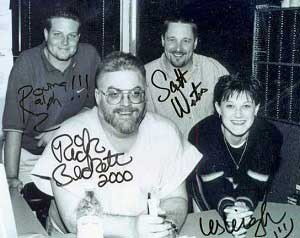 OK, let's talk about something fun!
This coming Saturday, April 18th at 7 pm, join me on Zoom as we do a video chat with a bunch of former cast members that I worked with doing morning radio back in the 80s and 90s!
We will do this on the Zoom Video meeting platform. We will be limited to 100 participants, so you will want to make sure you sign in right at 7 to get a spot. I will also stream it to Facebook Live and monitor comments there. So even if you can't join us on Zoom, you will be able to watch it on Facebook Live and take part that way.
Confirmed so far are:
Darla Jaye
Lesleigh Green
Leanne Suter (if her schedule permits)
Stephanie Web
Rovin' Ralph
Moose
I have also heard from some of our regular callers who will be joining us, including:
Aneurysm Jim
John Baker the Hitmaker
Big Phil
Bruce Doll our Official/Unofficial Photographer
We will update everyone on what we have been up to as well as take your questions and comments.
Mark your calendars now for this Saturday at 7 pm. I will post the meeting information here on Friday and Saturday. (I hesitate to post it publicly on Facebook because I don't want hackers or uninvited people to be joining us.) Check back here later in the week and I'll post the meeting I.D. number and access information.
And if you can't join us on Saturday, I will record the event and post the video here on my blog on Sunday for all to see,
(Disclaimer: I had someone ask me the other day if I was getting a kickback from Zoom for this. The answer is NO! Actually I had to pay for their upgraded package to be able to extend our meeting beyond 40 minutes and to be able to simulcast it on Facebook Live. I'm using Zoom strictly because I know a lot of people are already using it for work meetings and it can handle up to 100 participants.)
CEDAR POINT
I love to visit Cedar Point whenever I get the chance.
This year they are celebrating 150 years of operation.
The park is closed because of COVID-19, but you can still enjoy the roller coasters virtually.
They have set up a YouTube Playlist with several point of view videos of their coasters.
One of my favorites is Maverick…
Or if perhaps  you aren't a thrill seeker, you can also take a virtual ride on Cedar Point & Lake Erie Train…
Have a TREMENDOUS Thursday. I will be on the air today — local and live — from 3-7 pm on 98.7 WFGR. I'll have a "Social Distance Dollars" code word for you at 4:30 pm — giving you the chance to win $1,000 and get registered for the Grand Prize of $10,000! Tune in for details and to win cash!
If you have any comments on the above stories, please leave your remarks below…