One day down so far this work week…four more to go! Here are today's "Random Thoughts"…
THE NUMBERS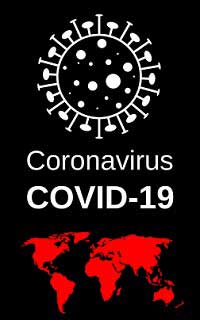 According to the website put together by the Michigan Department of Health and Human Services, as of Monday afternoon at 2 pm there are 17,221 confirmed cases of COVID-19 in the state of Michigan. That number jumped up by 1,503 in 24 hours.
Here in West Michigan, there are 177 confirmed cases in Kent County (up by 12), 44 in Ottawa (no change), 33 in Muskegon (up by 2), 15 in Allegan (up by 1), 15 in Montcalm (up by 1), eight in Ionia County (no change), seven in Barry County (up by 1), and two in Newaygo County (no change).
We have had a total of 727 deaths in our state due to COVID-19 (an increase of 110). We have had five deaths in Kent Conty and four in Muskegon County.
The U.S. has more than 368,000 reported cases and the death toll has passed 10,000.
Stay Home, Wash Your Hands, and Social Distance Yourself! Please stay healthy.
COVID-19 CONCERT
Lady Gaga and the World Health Organization have teamed up to put together a coronavirus support concert that will air on Saturday, April 18th.
Lady Gaga is bringing in all kinds of musical including Elton John, Paul McCartney, Eddie Vedder, Lizzo, Billie Eilish, Coldplay's Chris Martin, and Keith Urban. The all-star event will featuring stars performing from their own homes. The special will air just about everywhere. You will be able to find it on ABC, CBS and NBC, as well as on iHeartRadio platforms, Amazon Prime Video, Apple, Facebook, Instagram, TIDAL, TuneIn, Twitch, Twitter, Yahoo and YouTube.
The "One World: Together at Home" producers are not asking for donations. They already have funding in place. Lady Gaga said:  "We want to raise the money before we go on air. When we do go on air, put your wallets away, your credit cards away, and enjoy the show."
CELEBRITY DEATHS
There were quite a few Celebrity Deaths announced yesterday
Detroit Tigers legend Al Kaline has died at the age of 85. He died Monday at his home in Bloomfield Hills, MI. No cause of death was released. Read more here.
American actor James Drury, who starred as the title character in the NBC television western "The Virginian" from 1962-1971, has died on Monday of natural causes. He was 85. Read more here.
British actress Honor Blackman, best known for her portrayal of Pussy Galore in the 1964 James Bond movie "Goldfinger," died on Sunday, at the age of 94, of natural causes. Read more here.
Actor Jay Benedict, who appeared in several movies including "Aliens", has died from the coronavirus. He also played a friend of Luke Skywalker's in "Star Wars: A New Hope", but his scenes didn't make the final movie. He died on Saturday at the age of 68. Read more here.
REMEMBERING ZOOELLA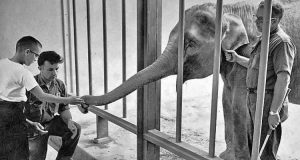 It was on April 7th, 1978, that John Ball Zoo's only elephant, an Indian elephant named "Zoella", passed away.
I did a blog post about Zooella and her zookeeper Harry Maxim. Such a sad story. You can read that post here.
DOG HELPS OUT FIREMEN
I'm not sure where the video is from, but for some reason the fireman were trying to pull down a tree.
All of a sudden they had some help at the end of the rope…
What a good dog!
GETTING CREATIVE
I love how people are getting creative during this time we are all asked to stay at home and social distance ourselves from others.
One couple in Dowagiac, MI got married in front of a full church crowd on Saturday, while still following social distancing guidelines.
Dan Stuglik and Amy Simonson were expecting about 160 guests at their wedding, but had to tell people not to come because of the coronavirus. So instead, they filled the church pews with 160 cardboard cutouts of their guests and exchanged vows. A local packing company provided the human-shaped cardboard cutouts.
Dan says, "I didn't like the idea of Amy having to walk down the aisle with no one in the pews, that seemed like a very lonely walk, so I wanted something to represent the guests."

Enjoy your Tuesday. Today is Beer Day. I might celebrate and have a cold one…or two! Join me today — local and live —  from 3-7 pm on 98.7 WFGR.
If you have any comments on the above stories, please leave your remarks below…