The countdown to Valentine's Day on Friday continues. Here are my "Random Thoughts" for Tuesday…
HEART-SHAPED BOXES OF BUD LIGHT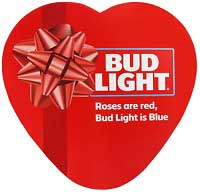 Bud Light has designed heart-shaped boxes that fit a 12-pack of beer for Valentine`s Day. The boxes are being offered at the Anheuser-Busch online store for $25. Unfortunately, the case doesn't include the beer.
Then why?! Don't be teasing me!
Surprisingly this item is SOLD OUT! I wonder how many guys are going to get empty Bud Light hearts! Oh the heartbreak!
NOT AT THE LIBRARY…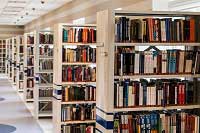 The police were recently called to the West Adams branch of the Sandusky, OH library (near Cedar Point), when another user spotted a man logged into one of the library's computers to watch X-rated content in full view of other library goers. When officers arrived on the scene, they found the 40-year-old sipping a Budweiser — with several empty cans stashed in a bag under the computer station.
The man initially tried to pass himself off as his brother, but eventually revealed his true identity and surrendered. He's been banned from all library facilities for 60 days and still faces open container charges.
Perhaps 60 days is not enough!
LET'S MAKE THE BASEBALL PLAYOFFS AS CONFUSING AS POSSIBLE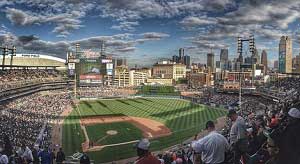 Major League Baseball is considering a change to its playoffs.
The proposal would increase the number of playoff teams in each league from five to seven, adding two wild card teams. The team with the best record in the league would get a bye and advance directly to the Division Series. Then it gets crazy.
The remaining six teams would each play a best-of-three series with all games in the better team's home park — meaning the wild card teams wouldn't get any home games. And teams would get to choose their opponents. The team with the second-best record would choose first, then the next best would pick, and the remaining two teams would play each other.
MLB wants to do a Selection Sunday-style TV show to reveal the playoff pairings.
Let's just keep things they way they are. My head hurts just reading the changes above!
A "FRIENDS" REUNION

It was on February 11th, 2002, that the six stars on NBC's television show "Friends" signed a deal for $24 million each for the series ninth and final season.
Over the years there has been talk of a possible reunion but it has never happened.
Until now!
It looks like the sitcom is returning for a one-time show to launch the streaming service HBO Max.
The entire cast has negotiated a sweet deal: A 60-minute unscripted program and each of their their bank accounts grow $4 million.
I'm a numbers person, so let's do a little math…. That's more than $65,000 per minute. Almost 1,100 bucks per on-screen second!
They will each make more in one minute than most people make ALL YEAR!
The last hold-out had been actor Matthew Perry. Because apparently his acting career has been just going so well! What has he been in lately?!
Have a GREAT Tuesday! I'm off to make less than 65 cents per minute! I'll talk to you this afternoon from 3-7 pm, local and live, on 98.7 WFGR!
If you have any comments on the above stories, please leave your remarks below…