Look at that! We made it to Friday and Valentine's Day! It's time for some "Random Thoughts". Make sure you read to the very end so you know about my upcoming disappearance…
HAPPY VALENTINES DAY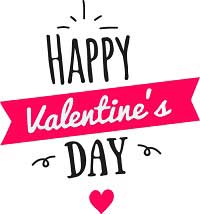 I'm hoping everyone has a GREAT Valentine's Day. Maybe  you are going out to a nice dinner this weekend with your sweetie.
I"m single, that means Valentine's Day for me will be probably a hamburger at a drive-thru somewhere! I'm fine with that though.
Let's hope your day doesn't turn out like this…
A survey from YouGov found that 7% of respondents have ended a relationship on Valentine's Day. That number jumps to 12% among 18 to 34 year olds.
And then there are the before and afters … 7% said they had ended a relationship just before Valentine's Day, and 5% said they broke things off immediately after the day of love.
How cruel and cold is that…to break up with somebody ON Valentine's Day!?
A CROC CONFESSION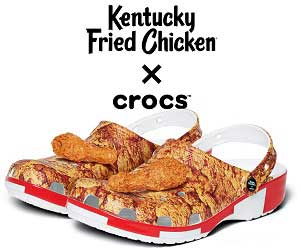 They have been around for years, but I have to confess…I have never owned a pair of Crocs!
I see a lot of people wearing them — both men and women.
The shoe was originally developed as a boating shoe. The first model produced by Crocs, the Beach, was unveiled in 2002 at the Fort Lauderdale Boat Show in Florida, and sold out the 200 pairs produced at that time They have since sold 300 million pairs of shoes
Well for you Croc lovers who also like KFC — there is a new style of Crocs just for  you!
KFC Crocs just debuted at New York Fashion Week. The Crocs feature fried chicken images and the KFC brand red and white stripe. Each shoe also has a fried chicken scented drumstick shoe charm attached to it. The $60 limited edition clog will be available for sale on Crocs.com this spring.
MORE BAD BEHAVIOR ON AN AIRPLANE
Yesterday I posted some pictures of women with long hair flinging their hair over the back of an airplane seat. I thought that was bad enough, but then I saw these two stories…
First a woman from Grand Rapids is in trouble.
She was flying from Fort Lauderdale, FL, to Grand Rapids, MI, back in December when she interfered with a flight crew and hit a flight attendant. She is now being charged with two counts and could get up to 20 years in a federal prison.
The indictment stated that the woman had also tried to intimidate 3 other flight attendants in a way that kept them from being able to do their jobs with the other passengers. The defendant was disruptive, unruly and disobedient during the flight.
If convicted, she could be looking at prison time plus three years on supervised release and have to pay a fine of $250,000.
You can read more about this on the 98.7 WFGR website.
I also saw this video this morning…
It shows a woman reclining her seat all the way back, into the lap of a man seated behind her.
The female passenger was traveling from New Orleans to Charlotte, NC, on January 31st.
She had reclined her seat as far back as it could go. She apparently moved it up to accommodate the man eating his meal but shifted it back once he finished eating.
The male passenger was all the way in the last row of the plane where the seats don't recline. He retaliated by punching the back of the woman's seat repeatedly. She was the person who recorded the video, which has since gone viral, with more than 2.4 million views.
I love when the guy asks her "what's your problem?" She responds with "I don't have one". Of course you don't, you are reclined back, and you don't have the seat in front of you sitting in your lap!
I'm not sure who is more rude in this video…the reclining woman or the seat punching man.
I think they are both to blame and the two were both acting very childish.
Just a few more reasons why I prefer to drive to my vacation destinations!
MY DISAPPEARING ACT
Today will be the last daily "Random Thoughts" for a few days…
If you regularly read my blog, you know that 2020 has been off to a pretty rough start for me with too many deaths and illnesses.
I haven't had a vacation in quite a few years. I was able to work it out so that I could take a few days off next week.
I'm going to try to do something I haven't done in a LOOONNNNNGGGGG time. I am going to "unplug"!
That means there won't be a "Random Thoughts" for a few days. I doubt I'll make it the whole week, but we will see!
I also am going to try to avoid much social media.
I just need some time to kick back, relax, clear my mind, and work on a few things that have been pushed to the "back burner" for way too long!
Jay Michaels will be filling in for me on 98.7 WFGR from 3-7 pm next week. Don't worry, I haven't been fired or let go! I'm just taking some time off. I WILL BE BACK!
Have a GREAT weekend. I'll talk to you this afternoon from 3-7 pm, local and live, on 98.7 WFGR with an "Awesome 80s Weekend". I'll be playing all of your favorite songs from the 80s!
If you are looking for something to do this weekend, you can find my "10 Things To Do This Weekend" list here.
If you have any comments on the above stories, please leave your remarks below…