It's February 26th…a date that I will never forget. Here are my "Random Thoughts" for today…
FEBRUARY 26, 2009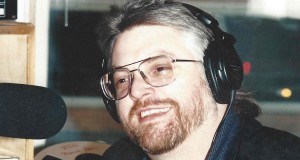 February 26 is one of those dates I will always remember. It started out a little differently than normal and then just got worse.
Let's start the day before, on Wednesday, February 25th of 2009. Rich Beckett and I had just wrapped up our 9 am to Noon airshift on Newsradio WOOD 1300. Another "Rick and Scott Show" was done. We wrapped up a few things around the station, and then about 1 o'clock I was ready to leave to go home. We both had a couple of scheduled days off (on Thursday and Friday). I said good bye to Rick and told him I would give him a call on Sunday evening. I was heading down to St. Louis, MO for the weekend. I had a friend who — as an adult — was getting his tonsils out on Thursday. I was driving down on Wednesday afternoon to be there to take him to and from the hospital the next day.
On Thursday morning things went as scheduled. I drove my friend to the hospital for his successful tonsillectomy. He was released from the hospital later that afternoon. I drove him back to his house and was staying with him. It was a pretty low key evening for both of us — just being lazy around the house.
About mid-evening I received a call from Phil Tower, Program Director at WOOD Radio. He told me that he had been informed that Rick was having some medical issues…possibly a heart attack. Knowing Rick's bad eating habits, I made a comment to Phil that hopefully it was just heartburn or indigestion from something Rick had consumed earlier in the day.
About 45 minutes or so after the initial call, the second call came in. This time it was Phil telling me of Rick's passing.
We made the decision to not break the news until later on Friday, giving everyone a chance to regroup and make some decisions while also allowing Rick's family time to deal with the things they needed to get accomplished. Rick and I were scheduled to be off on Friday anyway, so no one would think anything of our absence as we had told them on Wednesday that we'd be off for a few days.
It was a time of pure shock and disbelief for me. I never thought that my conversation with Rick before leaving the radio station the day prior would be my last with him. My mind then went on to think about a tribute show, getting back home, what happens to me? How can the "Rick & Scott Show" continue with no Rick. Was I out of a job?
By 4 am the next morning everything changed. Someone in the medical field had contacted at least one of the local TV stations and tipped them off about Rick's death. When they hit the air that Friday morning, it was their lead story. So much for being able to regroup and try to be prepared for this. My phone started ringing non-stop.
WOOD Radio was forced to make the announcement on their morning show with Gary Allen and Steve Kelly.
I did a call in with them and we talked about Rick's passing. I then hit the road to head home to work basically non-stop on a tribute show — scheduling phone interviews with family, friends, and former co-workers. I also had to dig through hours of audio and edit everything down for playback on Monday's show. I'm not sure I slept more than maybe an hour or two that entire weekend.
It's hard to believe it has been 11 years already. It still seems like just yesterday I was getting that dreaded phone call.
I have another post here on my blog where you can read more about Rick's death and also hear all three hours of the Tribute Show audio. I also have a lot of other "Rick and Scott Show" audio posted in the Audio Vault section of my blog.
February 26, 2009…a day I will never forget. I'm sure there are others that feel the same way.
It is so weird for me to realize that of all the people I worked with on "The Rick and Scott Show" over the years, I am the only one still doing radio. I've been on the radio airwaves in Grand Rapids for 31 years in September of this year. Wow, and to think I'm only "39"!
Enjoy your Wednesday. Keep ol' Rick Beckett in your thoughts today and hopefully remember a laugh or two that you had listening to our show. I will talk to you this afternoon from 3-7 pm, local and live, on 98.7 WFGR. And, because it's Wednesday, it will be another "One Hit Wonder Wednesday" at the radio station.
If you have any comments on the above stories, please leave your remarks below…