Well look at that…we finally made it to Friday!
WEEKEND WEATHER
The weather continues to be the hot topic today.
Here is the latest Facebook post from the National Weather Service in Grand Rapids…
With the animation you can see just what the prediction is for the start and end times of this storm, as well as what type of precipiation we will be getting. It looks like a mixture of freezing rain and sleet for the Grand Rapids area.
I'm  already planning on losing power!
Make sure you have gas for your generators and food for your home!
If you have the chance, I'd recommend hitting the grocery store early today. I was just at Meijer about an hour ago and it was already getting crazy. Apparently everyone has decided to hit the store and stock up for the weekend. I can only imagine how busy it will be this evening.
If we do end up with nasty weather and power outages, you can keep an eye on the outages at the Consumers Energy Outage page.
BE A HOTDOGGER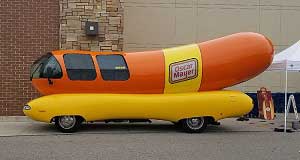 Oscar Mayer is now hiring!
They are looking for recent college grads who want to become a "hotdogger".
What is a "hotdogger"? Well that the person who drives the Oscar Mayer Weinermobile around from place to place. I think this would be a very cool job. I just wish they'd hire old farts like me. I might apply! I wonder if they'd let me take my dog Moose with me?
I think it would be fun to drive that big hotdog around…in the nice weather. Not sure how that thing would handle in the snow or icy conditions.
That being said, the Weinermobile is scheduled to make an appearance this weekend in West Michigan. We will have to wait and see if the weather changes that. At this point the schedule is:
Saturday, January 11th, 2020
10:00 am-12:00 pm – Family Fare, 2275 Health Dr., SW, Wyoming, MI
2:00 pm-4:00 pm – Family Fare, 2900 Burlingame Ave., SW, Wyoming, MI
Sunday, January 12th, 2020
10:00 am-1:00 pm – Family Fare, 2245 84th St. SW, Byron Center, MI
CELEBRITY DEATH
Another Celebrity Death…
Actor Edd Byrnes has died at the age of 87 from natural causes. He passed away at his home in Santa Monica, CA.
In 1958, he was cast in the TV series "77 Sunset Strip" where he played the wisecracking Kookie.
Twenty years later, in 1978, he starred in the movie "Grease". Byrnes played Vince Fontaine, who was a Dick Clark-like character who hosted the National Dance-Off at Rydell High with John Travolta and Olivia Newton-John.
Read more about Edd Byrnes here.
MAKING SNOW ANGELS
We all know how to make snow angels, but I never recall that actual learning process.
Here is a funny video of a dad trying to teach his young child how to make one…
I'm sure Dad was probably telling the child to "move your arms up and down"… and the kid was just doing what he was told! Too funny.
HOW MANY MEN DOES IT TAKE TO MOVE A POLE BARN?
In Ohio recently, an Amish farmer needed to move his pole barn.
Instead of taking it down and resassembling it in a new location, he just asked his Amish friends for help…all 250 of them!
Here is an incredible video showing all the men just lifting up and carrying the barn to it's new location…
HAVE A GREAT WEEKEND
Be safe out there this weekend. Remember the words of Rick Beckett: "Don't Drink and Drive. Don't Do It. Don't be an Idiot!"
I will talk to you this afternoon from 3-7 pm on 98.7 WFGR.
If you have any comments on the above stories, please leave your remarks below…