Let's get another week started!
HAPPY MONDAY THE 13TH!
Today is Monday, the 13th! I've always wondered why we always seem to mention Friday, the 13ths, but Monday the 13ths never get even a second glance!
There are a variety of reasons why a Friday the 13th is bad and how it orginated. In Hispanic and Greek cultures they even have a bad Tuesday the 13th, but apparently Monday the 13th is not a problem…well any more so an issue then every other Monday.
You can read more about the history of Friday the 13th here.
IT RUBBER DUCKY DAY
Here's something to celebrate today…
According to the DaysOfTheYear.com website, today is Rubber Ducky Day!
The website tells us a brief history lesson about the Rubber Ducky:
"The History of the Rubber Duckie, at least its origins, are lost to the mists of time, but what is known is that they first appeared prior to World War I, and were actually shaped like a broad variety of animals. Rubber Duckies were just the most popular of the varieties. During the era of the World Wars, rubber was too valuable a commodity to be used on simple toys, so plastic and vinyl began to be used.
Landon Smart Lawrence was the first to patent a design for these illustrious toys, specifically the variety that was weighted so that, while still buoyant, it would always stand up the right way in the water. While it was a patent for a broad variety of toys, it was the duck that was included in the design. Rubber Duckies also have the distinction of being one of only 53 toys that are included in the Toy Hall of Fame, first established in 2013."
I can't help but think of a song I had on a 45 rpm record as a kid. It was called "Rubber Ducky" and it was performed by none other than Ernie from "Sesame Street". Crank the speakers and sing along…
Is it wrong that I still remember EVERY word to that song?
Well, that will be stuck in our heads all day now!
FARRELL'S ICE CREAM PARLOUR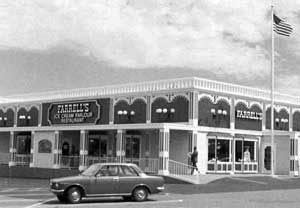 Do you remember the Farrell's Ice Cream Parlour that we used to have in Grand Rapids? It was located in the parking lot of Woodland Mall.
As I kid I remember going their for special occasions. Always a fun time. I loved when someone ordered the huge silver bowl of ice cream called "The Zoo". Bells would ring, sirens would go off, and it was just pure craziness.
When we went to leave, I could usually persuade my parents to buy me one of those jawbreakers that were the size of a baseball. I never ever finished one of those things — usually after a day or two of licking it, my tongue was so sore and raw, that I didn't event want to touch that thing again. But I always forget about that agony by the time we went back to Farrell's again…and I usually begged for a new jawbreaker before we left on the next visit.
The Grand Rapids' Farrell's closed sometime in the mid to late 70s. There were still a few located around the country for many years.
Sad news though…I just discovered this article from about 7 months ago. The very last Farrell's Ice Cream Parlour, located in Brea, CA, has closed its doors.
At one point there were more than 130 locations worldwide! I have never seen or been to any other location but the one in Grand Rapids. I sure do miss that place.
Here is an old Farrell's Ice Cream Parlour commercial from YouTube…
Here is another promotion video from the 70s.
You can read more about the closing of the final Farrell's Ice Cream Parlour here.
Do you remember that place? Leave your comments below. I'd love to hear about your memories of Farrell's.
A SMILE OR TWO TO START YOUR MONDAY
I have talked about — and showed pictures and videos of — my little dog "Moose" many times. He's my little (b)rat terrior. I love him dearly.
He's not very talented though when it comes to tricks. He does know how to "high five", but that's really about it.
I'm always so intrigued by the dogs that run the agility courses. It's amazing they remember just where to go and how to do everything. I get confused just watching (but it doesn't take much to confuse me!). Most dogs do so well…
But not all dogs! Here is a video of a dog named Olly…
You have to admit, Olly gave it his all and definitely entertained the crowd — and hopefully put a smile on your face too!
Now get out there and start your week. Have a great Monday the 13th!
If you have any comments on the above stories, please leave your remarks below…