After a day off because I just ran out of time…I'm back!
WEEKEND WEATHER
How much snow did you get at  your house?
Up here in northern Kent County, I have somewhere in the 6-8″ range. It's really tough to get an accurate total because I'm surrounded by trees. Some areas are about 8″ deep and then there are other places (just a few feet away) that have only a few inches.
Here is the information from the National Weather Service in Grand Rapids. I think this graphic is pretty accurate, at least in my area…
Dear Wintery Weekend Weather,
It's been great having you visit for the weekend, but PLEASE don't over stay your welcome.
Thank You!
Scott
PRONTO PUP WEEKEND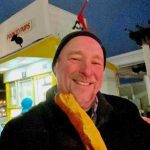 After I was finished on 98.7 WFGR on Saturday, I made the trek out to Grand Haven to get a Pronto Pup (or two).
On my way out the roads were just wet. It was nasty driving back home about 10 pm.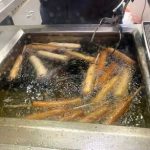 I had a few people set me straight…I kept referring to Pronto Pups as "corn dogs". Apparently the batter they use does not any corn meal, so technically it is not a corn dog. It is a batter of some  kind. I don't care what it's made up of…they are just good.
I had to order two Pronto Pups to hold me through until summer (although that was definitely not enough). The line was only about 5 minutes long.
Pronto Pup is open again today until 8 pm.
Here is the Pronto Pup Facebook page for more information.
LAKE MICHIGAN WAS ANGRY
While I was out in Grand Haven last night, I had to swing by the State Park and check out Lake Michigan.
It was looking pretty angry out there. Here is a video I posted on my Facebook page…
This was the first time I have been out to see the pier all lit back up after the restoration. It looks great. It's nice to see it back to how I remember it all those years.
DO YOU SUFFER FROM THE SUNDAY BLUES?
Do you get the Sunday blues?
Seems a lot of us do. In fact, 88% of Americans responding to a new survey said they had a feeling of anxiety when thinking about Monday morning.
According to the research, the exact time those Sunday Blues hit is … 3:58 pm.
AND OTHER SURVEY
While we are on the subject of surveys…
Do you pee in the shower?
Believe it or not, if you DONT't, you're in the minority, at least according to a new survey.
This survey comes out of the UK where they found that 76% of those polled said they peed in the shower.
How do you think this survey would turn out if they surveyed people here in the United States? They same, better, or worse?
Let's do our own survey here. You can answer honestly, no one will know how you answered the question…

Loading ...
Enjoy the remainder of your weekend. Try not to get the Sunday Blues!
If you have any comments on the above stories, please leave your remarks below…