Welcome to the start of another week! Here I go with some Random Thoughts…
MARTIN LUTHER KING JR. DAY
Today is Martin Luther King Jr. Day — a federal holiday marking the birthday of Martin Luther King Jr. It is observed on the third Monday of January each year. King's birthday is January 15.
Many federal and state offices will be closed. There will be no mail delivery and many banks will be closed too.
There are several events happening around west Michigan today to honor Martin Luther King Jr. You can find that list on WOOD TV-8's website.
TIME LAPSE OF SNOW IN CANADA
Here in west Michigan most places received about 6-8″ of snow over the weekend.
They had a huge snow storm in St. John's, Newfoundland. Here is a time lapse video of the snow storm caught on a Nest camera…
I can't even imagine opening my front door and seeing that much snow!
LOTS OF SNOW = CHEAP BEER
Anheuser-Busch is offering a $1 rebate for every inch of snow that falls in certain cities between January 1st and March 20th this year. It's call the "Busch Snow Day" rebate and is being offered in Minnesota, Wisconsin, Iowa, Michigan, North Dakota, Nebraska and New York. The rebates can be used onBusch, Busch Light, Busch Ice and Busch NA.
For more information, check out the Busch Beer Website.
Bring on more snow and cheap beer!
NEW POP TART FLAVOR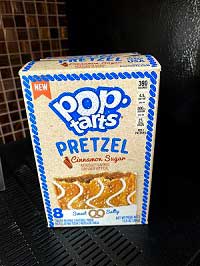 I always like to try new food items.
Over the years I've consumed my share of Kellogg's Pop Tarts. The brown sugar cinnamon are my favorite variety.
I was excited when I saw a new flavor on the shelves at the grocery store — Pretzel Cinnamon Sugar!
I really like pretzels and because I already love the brown sugar cinnamon Pop Tarts, I thought this would be spectacular combination!
Or not! Normally I eat my Pop Tarts at room temperature. No need to put them in a toaster to warm them up. So I gave the new Pop Tarts a try the same way…I was not impressed. The Pop Tarts are kind of doughy. Softer than normal Pop Tarts. I could taste the pretzel flavor but I just did not care for the consistency or the taste.
Let's try Plan B: Maybe these Pop Tarts really need to be toasted to get the most flavor out of them. So into the toaster they went.
Warming them up just made them even softer and more doughy. And the taste? Not much of a difference.
Needless to say, I'll be going back to my regular brown sugar cinnamon Pop Tarts, but I will keep my eye out for new flavors to try. I really used to like the A&W Rootbeer Pop Tarts they sold about a year ago. They could bring those back anytime!
SUPER BOWL
We now know the match up for he Super Bowl 54. It will be the Kansas City Chiefs and the San Francisco 49ers battling for the Lombardi Trophy in Miami in two weeks. The Chiefs haven't been in the Super Bowl in about 50 years and their head coach Andy Reid hasn't been there in 15 years.
Odds-makers see the Kansas City Chiefs as the early favorites over the San Francisco 49ers.
The Super Bowl is Sunday, February 2nd.
Have a GREAT Monday. I'll talk to you from 3-7 pm on 98.7 WFGR!
If you have any comments on the above stories, please leave your remarks below…