We made it through Monday! Let's get rolling into Tuesday with today's "Random Thoughts"…
MOM IS BACK HOME!
Just a quick update on my mom, Gloria Winters — she's back home! I was able to drive her back home yesterday evening. She will continue with her chemotherapy treatments, but it will be at an outpatient facility, instead of staying in the hospital. Our family thanks you for all your continued prayers. Everyone has been so nice and helpful in this most recent medical journey. Also big thanks to the medical staff at Spectrum, who treated my mom so wonderfully. She has nothing but good things to say about everyone who came in to poke and prod her all weekend! Your attention to detail made her feel so comfortable and confident with her treatment and recovery.
"THE NEW PHONEBOOK'S HERE"
Do you remember the 1979 movie, "The Jerk", starring Steve Martin?
I love this scene where he gets all excited about the new phonebooks…
I will admit, I was always a little excited to get the new phone book every year. I would go through it, almost page by page, to check out the ads and coupons. And you have to admit, the first time you see YOUR name printed in the phone book, it was like a passage into adulthood.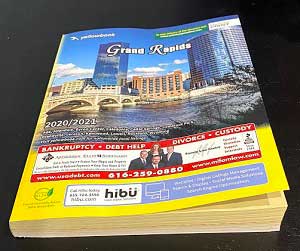 Last week I got the new phonebook delivered at my mailbox. Let's just say I was less than impressed.
What used to be a good sized book that was a couple of inches thick, has been reduced to book smaller than an average 8-1/2″ x 11″ sheet a paper and less than 3/4″ thick.
The yellow pages still have the same format with phone numbers and ads, although they are printed even smaller than before to fit the newer size. As for the white pages…oh they have some white pages, but mostly it is business listings. Many people have gotten rid of their landlines and only have cellphones…and those numbers are not published.
There was not one person with the last name of "Winters" in the new phone book.
"Smith" is the most popular last name in the United States. There must be hundreds of them in the new phonebook. Nope, guess again. Only 17 people with the last name of "Smith" were listed in the new Grand Rapids Yellowbook.
Unfortunately, like in the prior years — I won't even put the phonebook in a drawer or on top of the refrigerator. It has a special place in my home that I place it every year when I get it — it's call the trash can!
Maybe it's time for phonebook companies to save the time, money, and trees and just do away with the phonebook — just like how the landline is slowly nearing extinction.
THE SUPER BOWL JUST GOT LONGER
It looks like Super Bowl 54 is going to last just a little longer on Sunday.
FOX Sports has added more commercials to the game.
FOX announced a few months ago that advertising space for the game between the Kansas City Chief and the San Francisco 49ers was sold out.
After that time, some heavy hitting sponsors, with deep pockets, came forward and wanted to advertise. We all know how money talks.
Each 60-second commercial costs around $11 million. The National Football League devised a way to increase commercial slots. A TV executive said  "We have had extraordinary demand this year in the Super Bowl, beyond any expectation. We've been working daily with the NFL to figure a way to expand the inventory."
In some years the commercials were the best part of the game. In the past, we had to wait until the game to see the ads, but now many of them are released early. By Friday we should be able to watch almost all of the commercials online. I'll post some links later this week for you to see the spots in advance.
HAPPY BIRTHDAY
Today is Peter Schilling's 64th Birthday.
His big hit song was "Major Tom".
Many of you haven't heard this verson of "Major Tom" since The Rick and Scott Show on 98.7 WGRD back in the 90's!
Here is the Apollo 13 version of "Major Tom"
CARPOOL LANES
I'm glad we don't have carpool lanes here in Michigan.
If you aren't familiar with how they work — some areas have lanes of road that are just for those with more than one person traveling in the car. The "carpool" lanes were set up to encourage people to ride together on their way to and from work. The hope was, by giving them an express lane, more people would ride share.
Recently police in Arizona pulled over a driver whose passenger looked a little out of sorts.
The 62-year-old driver had a skeleton sitting in the passenger seat so he could use the carpool lane. The skeleton was wearing a hat and was tied to the seat. The Arizona Department of Public Safety tweeted a photo of the skeletal passenger and wrote, "Think you can use the HOV lane with Skeletor riding shotgun? You're dead wrong!"
Think you can use the HOV lane with Skeletor riding shotgun? You're dead wrong! ☠︎ One of our motor troopers cited the 62-year-old male driver for HOV & window tint violations on SR-101 near Apache Blvd this morning. #NiceTry #YoureNotHeMan #AZTroopers pic.twitter.com/wQYY831mNY

— Dept. Public Safety (@Arizona_DPS) January 23, 2020
I'm just hoping the skeleton wasn't real!
Enjoy your Tuesday. I'll be back on the air this afternoon from 3-7 pm on 98.7 WFGR. (I was off on Monday to take my Mother home from the hospital). A BIG THANK YOU to Jay Michaels, who has made himself available to fill in for me (with very short notice) on several occasions  in the last few weeks. THANK YOU so much Jay!
If you have any comments on the above stories, please leave your remarks below…