Welcome to a new feature on the Scott Winters Blog… Random Thoughts!
Every day I have so many snippits of thought that I'd like to share. Instead of posting them periodically on Facebook (if appropriate), I have decided to just do a daily post here on the Scott Winters Blog and put them all on here.
They will include news items, links to cool videos and stories, things going on in the area, and just… random thoughts.
I hope your weekend is off to a good start. My brain is engaged… here we go…
IT SHOULD BE "2020" NOT JUST "20"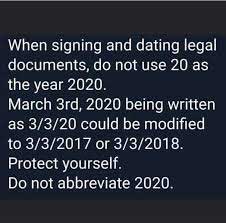 You've probably seen this posted all over social media. When writing out the year "2020", make sure you use all four digits. For many of us we have always just used the last two digits to represent the year. So today would be 1/4/20. For safety and security they are now recommending use 1/4/2020 instead.
Here's why…
If you write a check or sign and date a document with just the last two digits of "20", someone could them come along and add two more. That could make the date anywhere from 2000 to 2099.
So, when you are writing me all those checks this year, make sure you write the date as 2020 — and make them payable to "Scott Winters".
CHRISTMAS DECORATIONS
Have  you taken down your Christmas decorations yet? Most people take them down between Christmas and New Years.
I didn't realize it, but there is actually a tradition to wait until January 6th.
According to an post on Western Mass News, here's why: "The 12 days of Christmas don't actually start until Christmas Day. According to the tale in the Bible, the three kings followed the path of the Star of Bethlehem across the desert for 12 days, starting on Dec. 25. The three kings are said to have actually arrived to visit baby Jesus on Jan. 6, signaling the end of the Christmas celebrations.
Tradition says it's actually unlucky to take your tree down before this date, so enjoy the coziness of your Christmas decorations a little longer!"
You can read the full article here.
With the 1st falling in the middle of the week, I've already given everyone a few extra days to take down their decorations this weekend. If I drive by your house next week and you still have your Christmas tree up and I see it all lit up in your livingroom…I will be laughing at you!
NEW YEAR'S EVE FIREWORKS
There were a lot of fireworks going off around the world at the stroke of midnight on New Year's Eve, including downtown Grand Rapids. Some places went all out. Here is what it looked like in Australia…
With all the noise and smoke some places are looking for alternatives to the loud "booming" fireworks. Many people and dogs will appreciate that!
I thought this was very cool. In Shanghai they used drones with lights and choreographed a fantastic light show. Here is that video…
There are reports that say this display was actually recorded a few days prior to New Year's Eve. I don't care when it was done…it's still pretty damn impressive!!
FINALLY A HOT TUB I CAN AFFORD
For years I've wanted a hot tub. I just have never really been able to justify spending all that money. I always enjoy sitting in a hot tub, especially in the winter when it's cold outside, but you are toasty warm in the water. I have the perfect place for one just off to the side of my deck.
And let me stop and say this right now…public hot tubs gross me out. I'd much rather sit in a privately owned hot tub (like my own!) than a tub that many people have used over time. Yuck, yuck, yuck! I don't care how many chemicals you put in that water. It would be like sitting in everyone's bath water. How disgusting.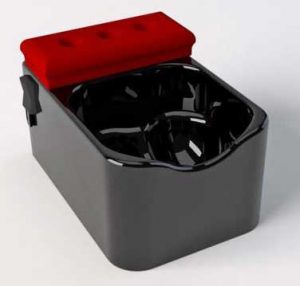 Well now there is a hot tub I might be able to afford…and it's just for one certain part of my body!
The website odditymall.com is offering up what they are calling at "Testicuzzi".  It's a battery powered mini Jacuzzi for your balls! I'm not kidding! It is actually available.
The description on the website says, "There are times when your body needs a Jacuzzi after long days of hard laborious work, and then there are times when your balls need a good Jacuzzi session after getting hit by a baseball, an accidental kick from a child, a long bike ride, a long horse-ride, and more. This product is meant for the latter situations. It's a tiny (no offense) Jacuzzi meant specifically for your a set of balls to placed in for a nice relaxing spa session."
It will set you back $40. I may — or may not — be ordering on soon!
A $5000 CHICKEN TENDER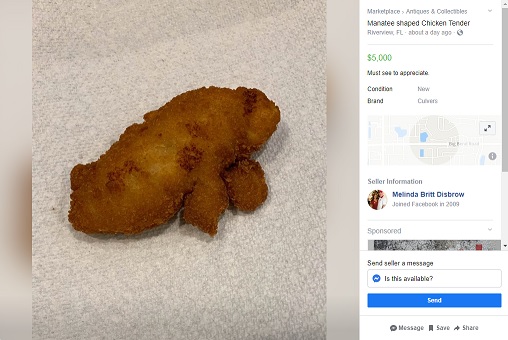 And just to prove that people will buy just about anything now days…
A woman in Florida is selling a chicken tender that looks like a manatee. And it is selling for $5,000!
Melinda Britt posted the edible manatee-looking chicken piece on Facebook Marketplace this week. She found it in her order at Culver's Restaurant.
"I saw the tender in the bottom of the bag and went to my coworkers and said this looks like a manatee, doesn't it look like a manatee and everyone agreed."
You can read the whole story AND see a video of the nugget on the 13 On Your Side website.
And here is the link to follow it on Facebook Marketplace.
Time for me to head out. I'm off to Culver's to see if I can find any food that looks like something. If I do, I might post it online to sell as well. I could use an extra $5,000! I could pay off the Christmas bills!
Have a GREAT weekend. Be safe. I'll talk to you this afternoon from 2-6 pm on 98.7 WFGR.
If you have any comments on the above stories, please leave your remarks below…