"Random Thoughts" for Friday, July 10th, 2020
Woo hoo!! The weekend is almost here. This week flew by for me. I hope it did for you as well, despite the heat. Here are my "Random Thoughts" for Friday!
WAS THAT MY LAWN I JUST HEARD?
It's been a hot and dry stretch of weather here in West Michigan.
The rain we received in the last 24 hours was very welcome. I think I actually heard my lawn say "Ahhhh" after getting a nice drink of fresh rain water.
Everything was starting to turn a shade of light brown. The rain should help green everything back up.
Rain continues today with temps a little cooler…
The weather for the weekend doesn't look to bad. On Saturday it will be sunny with a high near 86. We do have a 30% chance of showers and thunderstorms on Sunday, mainly after 2 pm. Otherwise it should be partly sunny with a high near 81.
WIN ICE CREAM FOR A YEAR!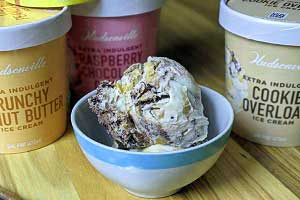 July is National Ice Cream month. What better way to celebrate than possibly winning a year's supply of ice cream from Hudsonville Ice Cream!
Hudsonville Ice Cream is celebrating with a Sweetest Summer Ever sweepstakes. They are giving things away all summer long.
To get registered for a year's supply of Hudsonville Ice Cream and to get some coupons, click here.
Hudsonville Ice Cream has also introduced their Extra Indulgent Ice Cream. Their website says, "We start with our richest and creamiest ice cream and pack it full of extra pieces and swirls for an ice cream experience that's extra indulgent. With seven irresistible flavors, it's hard to choose just one." The flavors include Blueberry Donut, Cake Batter, Cookie Overload, Crunchy Peanut Butter, Mint Cookie Dough, Salted Caramel Brownie, and Raspberry Chocolate Chunk.
You scream, I scream. We all scream for Ice Cream!
ROAD TRIP EARLY TOMORROW MORNING?
The history of The Palace of Auburn Hills will come to an end bright and early on Saturday, July 11th, 2020 at 8 am.. Eight hundred pounds of dynamite will reduce the building to a pile of rubble.
The 22,000-seat arena opened on August 13th, 1988, with a Sting concert. It closed its doors on September 23rd, 2017 after a Bob Seger performance.
In those 29 years, The Palace hosted many concerts and sporting events.
To read more about the implosion, click here.
You will also be able to see the implosion live right here. Just come back to this page on Saturday morning a little before 8 am to watch the live stream.
THEY KEEP TRACK OF EVERYTHING!
According to adult toy company LoveHoney, sales have been very good over the last few months — especially in these cities: Elizabeth, NJ (which saw a 500% increase in adult toys purchased during lockdown); Providence, RI (up 482%); and Moreno Valley, CA (up 452%). Honorable mention to the only Michigan city on the list — Ypsilanti.
The cities having the least amount of fun: Salinas, CA; Pittsfield, MA; Copperas Cove, TX; Westchester, OH; Burnsville, MN; and Brainerd, MN. Seems sales in these cities dropped by more than half since March.
To see the complete report (WARNING: Not Safe for Work!), click here.
TODAY IS…
Today is Piña Colada Day!
And let's celebrate with a drink and a song…
They probably hoped we wouldn't notice that Rupert is singing into an unplugged microphone in this video!
A LOOK BACK
On this date in 1985, after many complaints about "New Coke", Coca-Cola resumed selling Coke made with the old formula. It was given a new name: "Coca-Cola Classic." The company would continue to sell "New" Coke..
Find out what else has happened on July 10th.
WRAPPING UP
Have a FANTASTIC Friday! I will be on the air this afternoon — local and live — from 3-7 pm on 98.7 WFGR!
Remember the words of Rick Beckett: "Don't Drink and Drive. Don't Do It. Don't Be an Idiot!"
Have a fun and safe weekend. I'll be back on Monday with more "Random Thoughts"!
If you have any comments on the above stories, please leave your remarks below…