"Random Thoughts" for Monday, July 13th, 2020
Are you superstitious? I'm not, but I do always wonder about a week that kicks off on "Monday the 13th". Let's hope it's a good week. Here are my "Random Thoughts" for Monday…
CELEBRITY DEATH
This was a shocker to wake up to this morning…
Actress Kelly Preston's quiet battle with breast cancer has ended. She died on Sunday, July 12th, 2020 at the age of 57.
She was married to actor John Travolta for nearly 29 years. She was diagnosed with cancer about 2 years ago, but chose not to reveal that to the public.
Kelly is probably best known for her role in the movie "Jerry Maguire" as Jerry's girlfriend, Avery Bishop. She also appeared in "For Love of the Game", "The Cat in the Hat", "Battlefield Earth", and "What a Girl Wants." Her last film was "Gotti" in 2018, where John played the mob boss and she played his wife, Victoria Gotti.
John and Kelly had 3 kids together: Jett, Ella Blue and Benjamin. Jett, who had autism, died in 2009 after suffering a seizure.
Read more about Kelly Preston here.
DON'T FORGET YOUR MASK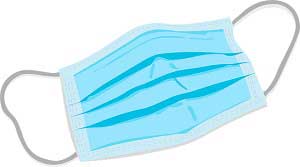 Beginning today, Governor Gretchen Whitmer is mandating that masks must be worn in additional spaces beyond just indoor spaces. We must now wear a mask outdoors if we are not 6 feet from non-household members. Masks must also be worn while using public transportation, a taxi or an Uber/Lyft.
Whitmer has also said businesses must deny service to those not wearing masks or risk losing their license.
Meanwhile, one sheriff in west Michigan has stated that he won't be investigating complaints against the Governor's Executive Orders. In a statement released over the weekend, the Van Buren County Sheriff and his department stated:
"In response to the Michigan Governor's 147th executive order of 2020, the Van Buren County Sheriff's Office will not be investigating violations of this order or the previous orders. Furthermore, the Sheriff's Office recommends following the guidelines set forth by the CDC. Those guidelines include wearing a cloth face covering in public settings, socially distancing, and frequent handwashing.
The Van Buren County Sheriff's Office will investigate any violation of the Michigan Compiled Laws to safeguard the citizens of Van Buren County. We hold true to the oath of the office of the Sheriff. Violations of the Michigan Governor's order should be referred to the Office of Michigan Attorney General or the Michigan State Police.
The Van Buren County Sheriff's Office will strive to protect its citizens and ensure that the constitutional rights and civil liberties given to every American are protected. We will dedicate our services to investigating crimes against persons and property and we will not pull valuable resources away from that to investigate complaints against the Governor's Executive Orders."

BE PART OF "LIFE IN A DAY 2020"
How would you like to be a part of a historic global documentary that is be produced by Ridley Scott? Well here is your chance…
All you have to do is on Saturday, July 25th, 2020, film your day and upload your footage. If  your video is selected, and you may become part of a historic documentary that is being made as a time capsule of the year 2020.
Anyone can participate. Video submissions from all over the world will be edited together to create a feature film, produced by Ridley Scott, directed by Kevin Macdonald, filmed by you, and premiering at the 2021 Sundance Film Festival.
How cool would it be for a video from west Michigan to be included in this project! Get those cameras ready for Saturday, July 25th! Read more here.
TODAY IS…
Today is French Fries Day!
To celebrate, I know there are some restaurants giving away free French Fries today!
A LOOK BACK
On this date in 1984, in Arkansas, Terry Wallis was injured in a car accident and was left comatose. He came out of the coma in June, 2003. (He remains disabled from injuries suffered during the original accident, including the motor disorder dysarthria.)
Can you imagine waking up after 19 years had gone by? That would be so weird. Just think off all the things that have happened in our lives in the last 19 years.
Find out what else has happened on July 13th.
WRAPPING UP
Have a MAGNIFICENT Monday! I will be on the air this afternoon — local and live — from 3-7 pm on 98.7 WFGR!
If you have any comments on the above stories, please leave your remarks below…