Wow, it is really Monday already? Where did the weekend go?!
Now that the summer months are here, there will be limited "Random Thoughts" on the weekend. Sometimes it is just too nice to sit in front of a computer and put together a blog post, unless there is something that really needs to be addressed that day.
So, after a few days off from "Random Thoughts" — I'm back!
THE NUMBERS
As of today, I will no longer be updating the COVID-19 numbers here in the state of Michigan.
Those numbers are still available through the www.michigan.gov/coronavirus website if you are interested.
We are not in the clear yet. There are still new cases and deaths reported every day, but our state is slowly starting to re-open — with precautions. It's still a good idea to stay home unless you really have to venture out, avoid large crowds, wash your hands, and social distance yourself! Please stay healthy.
RESTAURANTS AND BARS RE-OPENING
Today is the day that restaurants and bars can begin to re-open after only being able to serve take-out or to go orders since March.
Of course there will be new precautions that have to be implemented, including the businesses only operating at half their capacity.
Are you looking forward to being able to head to a restaurant or bar this week? If I have time, I would love to go have a nice sit down meal somewhere!
I'm sure there will be some that still won't feel comfortable going out in public, but that is fine. People have to do what they feel comfortable doing.

Loading ...
CELEBRITY DEATH
The first U.S. male gymnast to win a world championship gold medal has died. Kurt Thomas passed away on Friday at the age of 64. He had a stroke May 24th, that was caused by a tear of the basilar artery in the brain stem.
After competing in the 1976 Montreal Olympics, Thomas won the floor exercise in the 1978 world championships in Strasbourg, France, for the first U.S. men's title. In the 1979 worlds in Fort Worth, Texas, he successfully defended the floor exercise title and won the horizontal bar while adding silver in the all-around, pommel horse and parallel bars.
He also captured the American Cup three times, but lost a chance for Olympic gold when the United States boycotted the 1980 Moscow Games.
Read more about Kurt Thomas here.
AMAZON UPDATE
After originally giving me a delivery date of Thursday, my package finally arrived on Saturday.
According to the tracking data, the package arrived at the Walker facility on Thursday and again on Friday morning. it then just sat there until it was finally "out for delivery" on Saturday.
I'm never believing Amazon on any of their delivery dates from here on out. The last few times I've ordered from them, the orders have been late to arrive, or showed as "delivered" — just not at my house!
WOULD YOU RIDE THIS?
Here's a ride I've never seen before…
Would you even consider riding this thing? I'll pass. Way too many moving parts for me!
Well don't worry, the ride is a fake. Someone from wired.com actually took the time to analyze this video, figure out the g-force and everything else. Way too much math involved for me in this explanation. Check out the facts here.
LOONEY TUNES REBOOT — WITHOUT THE GUNS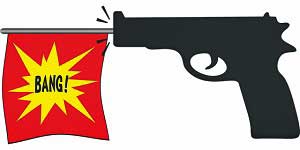 Growing up I loved watching Looney Tunes cartoons.
Well with the debut of the new HBO Max streaming service it looks like Looney Tunes is getting a reboot!
However, Elmer Fudd and Yosemite Sam Barred From Using Guns. Wait? What?
Peter Browngardt, the executive producer of the upcoming series, revealed in a recent interview that both Elmer Fudd and Yosemite Sam would not be in possession of their guns. Browngart says the show isn't "doing guns" in an attempt to steer clear of the violence and the controversial gun laws that have been at the forefront of discussions across the country.
So, while guns won't be featured, Browngart said there would still be other cartoony violence. For example, the famous Acme TNT will still be seen throughout the series.
You can't have a gun, but you can still blow things up apparently.
TODAY IS…
Today is Best Friends Day!
According to recent surveys, people typically h ave 4.3 best friends, 7.2 good friends, and 20.4 acquaintances.
Say hello to your best friend today. And if you don't have one, maybe now is the time to make a new best friend. We could all use one in these times.
A LOOK BACK
On this date in 1953, a record 125 tornadoes hit in the state of Michigan, the highest one day count. Beecher, MI was hit by an F-5 tornado, killing 116, injuring 844, and destroying 340 homes.
You can read more about the Beecher tornado here.
Find out what else has happened on June 8th.
WRAPPING UP
Have a MAGNIFICENT Monday! I will be on the air this afternoon — local and live — from 3-7 pm on 98.7 WFGR! I'll talk to this afternoon!
If you have any comments on the above stories, please leave your remarks below…