We made it to Friday! Let's get right into my "Random Thoughts" for today…
FRIDAY THE 13TH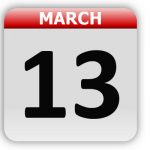 With everything that is going on in the world with the Coronavirus, Friday the 13th doesn't seem so bad.
We only have two Friday the 13ths in 2020…today and then another in November.
Now on with our day!
IS THERE ANYTHING CANCELLED DUE TO THE CORONAVIRUS?
It's almost easier to list what is not cancelled at this point.
As of last night here in Michigan, Governor Gretchen Whitmer is closing all of the state's public and private schools, effective Monday. They will remained closed for three weeks through April 5 to combat the spread of a rising number of coronavirus cases. Some schools closed starting today.
Other things that are cancelled here in West Michigan:
Michigan High School Sports have all been cancelled.
LaughFest has cancelled the final three days of their events.
Irish on Ionia, scheduled for Saturday, will be rescheduled for later this summer
The St. Patrick's Day Parade in downtown Grand Rapids, that was scheduled for Saturday, has been cancelled.
The Grand Rapids Griffins games for this weekend have been called off. The American Hockey League has announced the suspension of play until further notice.
The Grand Rapids Drive has cancelled their upcoming games
Nationally the following has been cancelled or postponed:
NCAA March Madness: Canceled
MLB: Opening of season delayed for at least two weeks
Major League Soccer: On hold for 30 days
NHL: Suspended
NBA: Suspended
PGA Tour: Suspended
Boston Marathon: Postponed to autumn
NASCAR: Holding races in Atlanta and Miami without fans
Disney theme parks: Closed
St. Patrick's Day Celebrations: Cancelled in many cities
Cruises: Viking Cruises has cancelled all scheduled sailings on its ships through April 30th. Princess Cruises has suspended its operations for two months. All 18 Princess ships will be docked until May 10th.
Even a few movies have been delayed due to the Coronavirus…"Fast and Furious 9″ has been postponed until April 2021 and "A Quiet Place II" has been delayed indefinitely.
POSSIBLE EXPOSURE TO CORONAVIRUS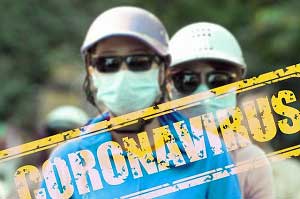 There are now 12 confirmed cases of COVID-19.
The new positive cases are in Ingham, Kent, Montcalm, Oakland, St. Clair and Washtenaw counties.
Michigan Health officials have released locations across the state, including in West Michigan, that may have been exposed to COVID-19. Anyone who was at the following locations on the dates and times listed below should be on alert for symptoms of the Coronavirus.
Sunday, March 1:
Detroit Metropolitan Airport in Romulus, time and locations inside the airport to be determined.
Wednesday, March 4:
Detroit Metropolitan Airport in Romulus, time and locations inside the airport to be determined.
Thursday, March 5:
Burger King, 27700 23 Mile Road in Chesterfield Township, from 12:15 p.m. to 12:35 p.m.
White Castle, 27760 23 Mile Road in New Baltimore, from 12:15 p.m. to 12:35 p.m.
Hobby Lobby, 4715 24th Avenue #100 in Fort Gratiot Township, at 1 p.m.
Friday, March 6:
Poole's Tavern, 157 E. Main Street in Northville, from 12:30 p.m. to 1 p.m.
Five Guys, 3561 28th Street SE in Grand Rapids, from 6:30 p.m. to 7 p.m.
Saturday, March 7:
Tap Room, 201 W. Michigan Avenue in Ypsilanti, from 1 p.m. to 3 p.m.
MSA Woodland, 2100 28th Street SE in Grand Rapids, from 12:30 p.m. to 1:30 p.m.
Texas Roadhouse, 3776 28th Street SE in Kentwood, from 4:30 p.m. to 6:15 p.m.
USA Hockey Arena, 14900 N. Beck Road in Plymouth, from 5:30 p.m. to 10:30 p.m.
Sunday, March 8:
Subway, 6260 28th Street SE in Grand Rapids, from 11:30 a.m. to 12 p.m.
Jimmy Johns, 5925 28th Street in SE in Grand Rapids, from 11:30 a.m. to 12 p.m.
Burger King, 1515 E. Grand River Avenue in Portland, from 3:45 p.m. to 4 p.m.
Symptoms including cough, fever and shortness of breath. If you develop any symptoms, stay at home and immediately call a healthcare provider or hospital before arriving so the appropriate measures can be taken.
PLEASE STOP HOARDING TOILET PAPER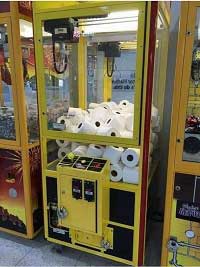 I still find it hard to believe that off all things people have decided they need to hoard at this time…they chose toilet paper!
I think I'm good as far as the supply I have on hand here at the house, but I know some people who are legitimately running low and need to buy a few rolls. They can't find any TP in the area to buy. The shelves are "wiped" clean!
Let's do the math here. Let's say you have to be quarantined for 30 days. I"m guessing that unless you have some severe issues, you can probably get by with a roll of toilet paper per day. That means for each person, there is no need to stockpile more than 30 rolls of toilet paper. I've seen pictures of people with carts overflowing with packages of this stuff.
Just stop. Leave some on the shelves for the people who really do need to purchase a few rolls to get them by in their normal day lives.
HERE'S A TUNE TO GET CAUGHT IN YOUR HEAD
Chicago radio personality John Landecker posted this video on his Facebook page and gave us permission to share it…
A PUZZLE TO KEEP YOU BUSY
OK, here is something to keep your mind of the Coronavirus for a few minutes. Can you solve this puzzle…
What do the following words have in common?
Assess
Banana
Dresser
Grammar
Potato
Revive
Uneven
Voodoo
I'll give you the answer in tomorrow's "Random Thoughts".
Have a FANTASTIC Friday! Remember the words of Rick Beckett: "Don't Drink and Drive. Don't Do It. Don't Be an Idiot!" I will talk to you on the air — local and live — from 3-7 pm this afternoon on 98.7 WFGR!
If you have any comments on the above stories, please leave your remarks below…