I hope you had a good weekend, despite everything that has been cancelled. What a crazy time we are living in right now. Here are my "Random Thoughts" for Monday…
BARS AND RESTAURANTS TO CLOSE, EXCEPT FOR TAKE OUT ORDERS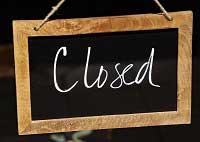 On Sunday evening, the Kent County Health Department asked restaurants and bars, to limit their capacity to half (50%) of their legal fire code capacity.
This morning Michigan's Governor, Gretchen Whitmer, followed the actions that similar states enacted over the weekend.
Effective at 3 pm today (Monday), restaurants and bars will have to shut down. Restaurants will still be permitted to make food for carry-out and delivery. Michigan joins four other states — Illinois, Ohio, Massachusetts and Washington — where bars and restaurants are ordered to close.
Fitness centers will also be included in this order.
STORE SHELVES SLOWLY RECOVERING
I was at the grocery store on Sunday evening, and it looked like the stores are slowly starting to recover.
The shelves were fairly well stocked. Toilet paper, bread, and eggs were still in short supply or completely gone. The produce department was in pretty good shape, and there was some meat in the meat cases.
Of course with today's order to close all restaurants this afternoon, that may all change. People will probably be heading to the stores to stock up on food to make at home.
Now is a good time to support your favorite restaurants with take out orders. These businesses will be hurting now that they can't have dine-in service.
We are living in crazy times right now. I have never experienced anything like this before in my time.
ELTON JOHN CANCELS GRAND RAPIDS AND DETROIT SHOWS
Sir Elton John has just announced he has postponed his April 23 Van Andel Arena concert and his May 1 and 2 Little Caesars Arena shows. John says he will reschedule them for sometime in 2021.
A GOOD SOURCE FOR INFORMATION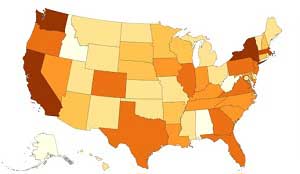 All of the local media outlets are doing a great job on keeping everyone up to date on what is happening locally.
If you need information about the virus itself, the Centers for Disease Control and Prevention (CDC) have set up a website with a lot of resources.
You can find that website by clicking here.
The last count I have heard is that we have 53 confirmed cases of the coronavirus now in the state of Michigan. Here in West Michigan there are five cases in Kent County, one in Montcalm and one in Ottawa county. The majority of the other confirmed cases are on the east side of the state, although there is one confirmed case up in Charlevoix county. No cases have been reported in the Upper Peninsula. The U.S. death toll has risen to 69 with the total number of cases surpassing 3,770. The global death toll has surpassed 6,500.
I find it interesting that cases of COVID-19 have been reported in 49 states and the District of Columbia. The only state with no confirmed cases is West Virginia.
GAS PRICES REMAIN LOW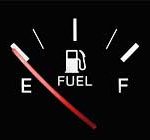 It looks like gas prices are remaining under the $2.00 mark. I have even seen a few stations dropping below the $1.90 a gallon mark.
Looking at the map from GasBuddy.com this morning, it looks like you can even find a few stations with gas prices below $1.80 a gallon!
Fill up that tank!
HERE'S A JOKE FOR YOU
OK, let's take a little break.
Here is another bad joke from the website NiceOneDay.com…
Want to hear a joke about paper?
Nevermind, it's tearable!
Where is the rimshot when I need it! I'll be here all week!
Get out there and let's get this strange week started. Wash those hands, and stay safe and healthy.  I will talk to you on the air on this afternoon — local and live — from 3-7 pm on 98.7 WFGR!
If you have any comments on the above stories, please leave your remarks below…