How is everyone doing? Are you hanging in there and keeping yourself busy? Here are some "Random Thoughts" for Sunday…
THE  NUMBERS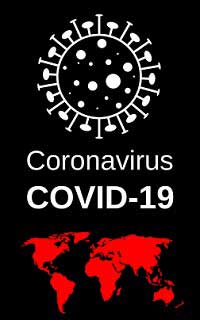 According to the website put together by the Michigan Department of Health and Human Services, as of Saturday afternoon at 2 pm there are 787 confirmed cases of COVID-19 in the state of Michigan.
Here in West Michigan, there are 21 confirmed cases in Kent County, two in Ottawa, one in Montcalm, and one in Barry County.
We have had a total of five deaths in our state due to COVID-19.
There still are no reported cases in the Upper Peninsula. I'm sure this will change as more testing becomes available.
LAUGHTER IS THE BEST MEDICINE
Medical science says that laughter produces chemicals in the bodies that relieve stress and enhance one's physical and mental health.
We all need that right now, but I've noticed some people are still not ready for that.
I posted a couple of things on Facebook trying to be funny and was surprised at some of the comments and messages I received. I was just joking!
I made a comment about maybe there being a connection between toilet paper and the coronavirus. There is NO connection, but it would be funny if there were. That would be karma for all those who went out and stockpiled TP and left none for the rest of us!
TOILET PAPER SHORTAGE
I still can't believe how tough it is to find toilet paper.
How many rolls do you people need? In the past there was always a large amount of toilet paper on the shelves. There was never any issue and yet everyone was stocked up.
Now, people are lining up to get this stuff. Are there people who are just now discovering toilet paper and thus the shortage, or is it just a bunch of selfish individuals that feel the need to buy up every roll they find on the shelf and have more than a year's supply in inventory at their home?
PLEASE, stop hoarding this stuff. Leave some for the rest of us. I still have a few rolls, but I do know some people who are running low and would just like to get a couple of rolls (not a pallet's worth) to have it when they need it.
I did find this clip from "The Tonight Show" with Johnny Carson from when we had a butt wipe and gasoline shortage back in the early 70s…
BATHING THE DOG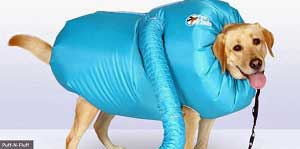 If you are looking for something to keep yourself busy — how about giving the dog a bath?
Most dogs hate this activity but sometimes it just has to be done.
I did find this product online to help you dry your dog after you have them all clean. It was invented by a 9 year old girl. It's call the Puff N Fluff Dog Dryer!
It's like an air suit that hooks up to your hairdryer and makes your dog look like a mini Goodyear blimp!
Here are my thoughts on the product…
First, it looks ridiculous! I would be laughing so hard that I wouldn't be able to get anything accomplished. I'm sure the dog wouldn't be a big fan either.
Second, I can only imagine the hassle it would be to try to put this thing on a wet dog. I struggle with my little dog "Moose" just to put his small little sweater on when he's dry. What would it be like to try to get his head and four legs into something like this while dripping wet.
I think I'll stick with the old towel dry method, but if you are interested in this invention, here is more information.
Wash those hands, and stay safe and healthy.  Has anyone else's hands started to dry out because we've been washing them so much? Now I have to use hand lotion about as often as I use hand sanitizer! There's an invention for someone — a hand lotion WITH hand sanitizer build into it!
If you have any comments on the above stories, please leave your remarks below…