I hope everyone had a great weekend. I think this is going to be a roller coaster week — starting with the snow we saw on the ground this morning. Here are today's "Random Thoughts"…
THE  NUMBERS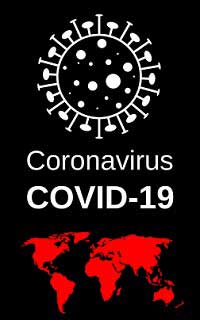 According to the website put together by the Michigan Department of Health and Human Services, as of Sunday afternoon at 2 pm there are 1,035 confirmed cases of COVID-19 in the state of Michigan.
Here in West Michigan, there are 20 confirmed cases in Kent County, six in Ottawa, one in Montcalm, and one in Barry County.
We have had a total of eight deaths in our state due to COVID-19. One of those was in Kent County.
It looks like a confirmed case in Chippewa County will be added to the numbers today, breaking the streak of no reported cases in the Upper Peninsula.
Hang in there. We will get through this.
LIFE AS WRITTEN BY A 4TH GRADER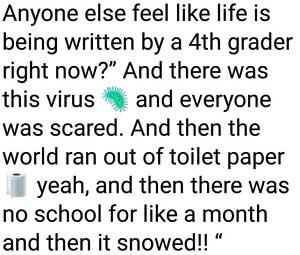 I saw this meme posted on social media last week and it made me laugh.
I didn't share it because the last part of the story was incorrect…we had no snow.
Until this morning!
I have had enough of winter. With all that is going on, I think we all are just ready to move on into spring and summer and get all of this behind us!
The good news it that the forecast for today is for partial clearing this afternoon and a high in the mid 40s. Hopefully that will melt the snow as quickly as it got here.
I actually have some tulips poking up through the ground. This is also some "green" on the tips of my burning bushes.
Let's get over this little speed bump in the weather and onward to spring!
STEVE MARTIN PLAYS THE BANJO FOR YOU
I don't know how many people realize that comedian Steve Martin is actually a great banjo player.
He recorded this song and posted it to Twitter on Saturday for your enjoyment…
Banjo balm. pic.twitter.com/eQ6jUkHSHm

— Steve Martin (@SteveMartinToGo) March 21, 2020
NEIL DIAMOND SINGS A NEW VERSION OF "SWEET CAROLINE"
On Sunday, Neil Diamond also posted a video of himself on Twitter.
He has changed the words of "Sweet Caroline" to reflect our currently situation.
"Hands…washing hands"…
Stay safe out there! "Hands… washing hands.." 🎶 pic.twitter.com/QaRB1qZshp

— Neil Diamond (@NeilDiamond) March 22, 2020
I think it's great that celebrities like Steve Martin and Neil Diamond are doing things like this to help us get through this.
PAWS WITH A CAUSE NEEDS YOUR HELP
This is not a good time for many people and organizations.
Paws with a Cause had scheduled their annual dinner for April of this year. This event raises funding for a big part of the Paws With A Cause organization.
Due to the coronavirus that dinner had to be cancelled.
So this year they are doing an online event that will run through Friday.
Here is a video that I did to explain everything and to get it kicked off…
Every dollar up to $5,000 will be matched TODAY ONLY!
Make your gift at https://justgiving.com/campaign/comestaygive
Wash those hands, and stay safe and healthy.  I will talk to you this afternoon — local and live — on 98.7 WFGR. Please join me.
If you have any comments on the above stories, please leave your remarks below…