Happy Tuesday. Today is "What If Cats and Dogs Had Opposable Thumbs Day". That's an interesting thought. My little (b)rat terrier Moose gets into enough trouble WITHOUT an opposable thumb! Here are today's "Random Thoughts"…
TORNADO IN TENNESSEE
I always hate when a thunderstorm rolls through after dark. It makes it almost impossible to see what the clouds and sky are doing.
Just after midnight last night, a tornado hit parts of the state of Tennessee including areas near downtown Nashville.
Here is a video of the damage from NBC News (click on the picture to see the video)…
Unfortunately the death toll has risen since that report was put together. As of late this morning, the number of dead is up to 19 people.
My thoughts and prayers for all those in Tennessee today.
THE GROUNDHOG WAS RIGHT!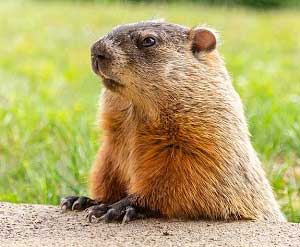 On Sunday, February 2nd, Punxsutawney Phil was pulled out of his burrow to see if he would cast a shadow or not.
He DID NOT see his shadow, so he predicted an early spring for 2020.
It appears he was right!
Not only have we been having some very spring like weather, but we are about to have the earliest spring of our lives.
While "meteorological spring" started on Sunday, March 1st, the Spring Equinox happens on Thursday, March 19th. That makes it the earliest date for the start of spring in 124 years . The last time spring arrived that early was 1896!
I guess we will have to wait and see what the rest of March has to dish up for us.
SPRING WEATHER MEANS MOTORCYCLES
I've already seen a few of them out there. The nicer weather will soon mean more and more motorcycles on the road.
Please be careful while driving and look out for our friends and family who use a motorcycle as a mode of transportation in their lives.
It doesn't take much to hide a motorcycle in a blindspot.
In this video, a Canadian police officer hides a motorcycle behind a pen. Yes, just something as small as a pen…
THE SPRING REAL ESTATE MARKET

Every spring, once we have a few nice days, the real estate market kicks off. That time is usually around mid-March.
In the next week or two, you will start to see the real estate market gearing up for a great selling season.
What does this mean?
It means now is the time to start thinking about buying or selling a home. Be prepared for the peak buying and selling season.
For Sellers: Many buyers will be out looking for a new home in the next month or so. If you are thinking about selling, now is the time to get it ready and listed, so it is available for buyers to see.
For Buyers: The competition for homes will increase. Nice homes, that are reasonably priced, will usually have multiple offers and will sell fast. You need to be prepared to put together the best offer possible. Now is the time to get your pre-approval letter and your finances in order.
As many of you know, I am a licensed Realtor here in the state of Michigan. I would be more than happy to help you buy or sell your home. Now is the time to get this process started. Let's talk. I can be reached at (616) 447-3657. I work out of the Berkshire Hathaway HomeServices office in Rockford, but I cover the entire west Michigan area. I can also be reached through email at scottwinters@grar.com.
I look forward to hearing from you.
JOKE OF THE DAY
It's another dad-type joke from the website NiceOneDad.com.
What do you call a fake noodle?
An impasta!
Have a SUPER Tuesday. I will be on the air — local and live — from 3-7 pm on 98.7 WFGR. I have more things to give away today…including passes for tubing at Cannonsburg Ski Area AND tickets to go off to the West Michigan Home and Garden Show this weekend.
If you have any comments on the above stories, please leave your remarks below…